The Astros are next in our Offseason In Review series.
Major League Signings
Notable Minor League Signings
Extensions
Trades and Claims
Notable Losses
Summary
It was a quiet offseason for Astros GM Ed Wade, who added some middle infield pop, extended Wandy Rodriguez, and acquired a few arms via trades and claims.
For about $7MM, Wade revamped his middle infield with Hall and Barmes.  Not many teams considered these players middle infield regulars, which might be a red flag.  Wade is taking an offensive-minded approach to second base and shortstop, and both players have 20 home run ability.  Of course, they both have .300 OBP ability too, so I'm not sure that the lineup will benefit much.  Once again, this appears to be an Astros lineup littered with easy outs.  Barmes, who broke a bone in his hand in March, is in line for a late April debut.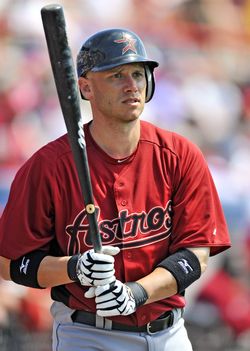 I can't complain too much about the Hall and Barmes pickups, as they're not blocking anyone.  Still, the Rockies got the better end of the Barmes-Paulino swap.  Why would the Astros rid themselves of a 27-year-old with a 96 mile per hour fastball and 8.1 career K/9?  Barmes (pictured) was a non-tender candidate for Colorado.
The Astros' barren offense is a shame, because their rotation has the potential to be solid (early returns aside).  Myers and Rodriguez form a strong one-two punch, J.A. Happ and Bud Norris have flashed 4.00 ERA skills, and Jordan Lyles is one of the 50 best prospects in baseball.
Extending Rodriguez was a win for Wade, as Wandy would have been one of the better free agent starters available after the season.  The price was reasonable, though I'm not sure what conditions cause his $13MM option for 2014 to vest.  In the cases of Rodriguez and Brett Myers, the extensions could improve their trade value for certain suitors should Wade look to improve his farm system this summer.
The Astros have a consensus bottom-five farm system, which must be improved if the team is to return to prominence.  Grabbing a couple of arms to try in the Rule 5 draft made sense.  Lindstrom was traded for prospects, though his salary might have been the Astros' motivation in trading him.  I don't mind a non-contender having an unproven bullpen, but I hope Lindstrom's potential $3MM salary didn't force Wade to settle for less in trade. 
The Astros finally committed to a rebuild last summer, trading two of their best-known players in Roy Oswalt and Lance Berkman (though neither had much trade value).  This summer Wade will face tougher decisions on whether to move Rodriguez, Myers, Hunter Pence, and Michael Bourn, making the team even worse in the short term for the greater good.
Photo courtesy of Icon SMI.