The Royals are next in our Offseason In Review series.
Major League Signings
International Signings
Darwin Castillo, Igor Feliz
Notable Minor League Signings
Extensions
Trades and Claims
Notable Losses
Summary
Once again Royals GM Dayton Moore spent the offseason focusing on the long-term health of the organization.  Moore accommodated Greinke's trade demand, moved Royals mainstay DeJesus, locked up Butler, and dabbled with a few stopgap free agents.
There is a sense that Greinke forced the Royals' hand with his trade demand, but as ESPN's Keith Law points out, they weren't obligated to do anything.  Law felt the package received from Milwaukee was more about "bulk and fit, but not impact."  Granted, Law likes Jeffress and Odorizzi less than other prospect gurus, but it was surprising to see the Royals trade two years of an ace starter and not receive one top 50 prospect in return.  Perhaps the Royals felt that Greinke's desire to move on would adversely affect his 2011 performance and reduce his trade value, and that their backs were up against the wall due to the pitcher's no-trade clause.  He'd already rejected a trade to the Nationals that might have been superior.
Law was also down on the DeJesus return, as Mazzaro does not project as even a "medium-impact pitcher" in his mind.  Baseball Prospectus' Kevin Goldstein profiled Mazzaro as "a solid fourth starter who can eat up innings," ranking him tenth among the organization's strong group of 25-and-under players.  Ten Royals prospects appeared on a top 100 prospect list compiled by Law, Goldstein, or Baseball America, so the Royals can be forgiven for not shooting for the moon for one year of DeJesus, who was coming off thumb surgery.  Not that a team can ever acquire too much upside, but innings guys are needed too.
Meche made the classy decision to forfeit the $12MM remaining on his contract, preferring not to have the Royals pay him to rehab from shoulder surgery.  Moore did not spend the found money on pointless free agent signings, though on January 18th there wasn't much out there anyway.  Moore's free agent strategy was to commit the paltry sum of $7.75MM to Francoeur, Chen, Francis, and Cabrera.  These four aren't going to take playing time from top prospects, and Francis could even have trade value if he stays healthy.  Moore has been knocked for finally signing his boy Francoeur, but at that price there's little harm in seeing if he has another 2007 in him.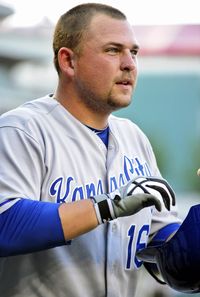 Unlike many extensions, I don't believe the Butler contract was about arbitration savings.  The deal pays Butler (pictured) $19MM for his three arbitration years, which represents minimal savings over what he might have gotten year-to-year assuming campaigns in the .300, 20 home run, 80 RBI range.  Instead, the contract is about projection: the arbitration years become a bargain if Butler develops more power, which seems possible since he turns 25 this month.  Plus, the Royals have a free agent season for $8MM and a club option for another at $12.5MM.  At worst the contract provides mild savings and a free agent year, but there is potential here for big savings.  And if Kila Ka'aihue and Eric Hosmer both prove big-league capable soon, that's a good problem to have.
The Royals have the consensus top farm system in baseball by a wide margin.  Moore has earned the opportunity to build a competitive club around his top young players as they graduate to the Majors beginning this year.  The Royals have lost consistently since Moore took over in 2006 and while they're a lousy team again this year, their farm system should catalyze a turnaround in the near future. 
Ben Nicholson-Smith contributed to this post.  Photo courtesy of Icon SMI.