The Nationals are next in our Offseason In Review series.
Major League Signings
International Signings
Notable Minor League Signings
Extensions
Trades and Claims
Notable Losses
Summary
After the 2009-10 offseason, I wrote that I'd have liked Nationals GM Mike Rizzo's offseason if we could eliminate the top two signings, the $21MM given to Jason Marquis and Ivan Rodriguez.  A year later, it's much harder to excuse the $142MM spent on Werth and LaRoche.
With any seven-year free agent contract, the team is really just paying for the first three seasons and hoping the player doesn't become a complete albatross in the final four.  The players can provide value at the tail end of these megadeals, but it's more of a bonus than an expectation.  I can see Werth remaining an elite player through his age 34 season, and as he hasn't missed significant time since '07 I can see him remaining healthy too.  Though Werth's seven-year term shocked the baseball world, I could justify the signing for a team on the cusp of contention.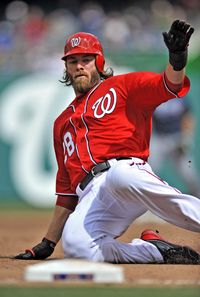 My beef with the Werth signing is the Nationals' timing.  They don't have the rotation to contend in 2011, and while the 2012 team should be better I'm not confident they'll be ready then either.  Assuming the team's top young players will really start to come together after the '12 season, why not make your huge free agent strike then?  The Nationals actually tried to make their free agent splash earlier, with big offers to Mark Teixeira and Torii Hunter in past offseasons.  I don't have a problem with accelerating the timetable, for example if the Nationals signed Werth and went on to add Zack Greinke and Shaun Marcum.  But win-now moves have to come as a package deal for a team like the Nats. 
Did the Nationals "have to overpay" to get Werth and make the team more appealing for future free agents?  I agree with ESPN's Keith Law that the concept is nonsense.  Not because players rarely take discounts, but because they don't do so because they liked the team's crazy free agent expenditure.  Were players lured to the Rockies, Astros, Giants, and Cubs because those teams went overboard for Mike Hampton, Carlos Lee, Barry Zito, and Alfonso Soriano?  Many bad teams have turned things around without the luxury of a signature, excessive free agent signing. 
The LaRoche contract pales in comparison to Werth's, but I still don't consider it money well spent.  The Nationals went well beyond LaRoche's previous contract, despite his 2010 decline in walk rate and increase in strikeout rate.  Similar to Marquis, these are not interesting players at ten-figure prices.   
Rizzo's other free agent signings were acceptable purchases for a rebuilding club, with a little bit of upside sprinkled in.
I expected the Nationals to bring in a credible starter for Willingham, but Rodriguez does have the potential to develop into a premium late-inning reliever.  The Morgan trade struck me as selling low, and if the center field alternatives are Ankiel and Hairston, why not give him a chance to rebuild value?  I understand the Gorzelanny trade, as the lefty can chew up big league innings and has mild upside.  However, Morris might have been able to help the Nationals' bullpen this year, and I'm not sure why a rebuilding team gave up on Burgess.
The Nationals would not agree that their window for contention is likely to open in 2013.  I respect that, but if the plan is to win now I expect the team to be aggressive in improving its pitching staff at the trade deadline and during the 2011-12 offseason after failing to do so this winter.
Photo courtesy of Icon SMI.