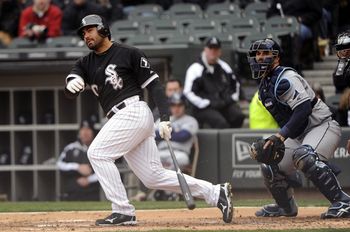 After two inconsistent seasons and hearing his name whispered in trade talks, Carlos Quentin is again looking like the slugger who finished fifth in AL MVP voting in 2008.  Quentin has a .256/.358/.535 line and 17 homers through Thursday and (along with Paul Konerko and Alexei Ramirez) is carrying a White Sox lineup that is still waiting for Adam Dunn, Alex Rios and Gordon Beckham to come to life.
Quentin is under team control through 2012 and avoided arbitration last winter by agreeing to a $5.05MM contract for this season.  The outfielder can expect a healthy raise (at least in the $8MM range) if he keeps hitting and looks for another one-year pact.  However, Chicago will have some money coming off the books this winter and Kenny Williams could look for some cost-certainty by locking up one of his team's young stars.
Perhaps even moreso than his bat, what may help Quentin's long-term prospects with the White Sox is his vastly improved play in the field this season.  Quentin has posted an above-average 3.2 UZR/150 in right field this year — a massive step up from his -35 UZR/150 last year or the -25.2 UZR/150 he put up in left field in 2009.  Nobody is suddenly confusing Quentin with Roberto Clemente in right, but if he can show that he can handle a corner outfield position, it gives him a place in a lineup that has first base and DH locked up by Konerko and Dunn.  It's possible Quentin may be shifted back to left when the White Sox eventually call up right fielder Dayan Viciedo and relegate Juan Pierre to the bench.
How big would a Quentin extension be?  Given that it would probably cover at least three free agent years, it would have to carry an average annual value of at least $10MM.  Williams and the White Sox could point to Quentin's history of weak defense, his shaky 2009-10 seasons and his age (Quentin turns 29 in August) as signs to not make too huge a commitment.  Quentin and agent Brodie Van Wagenen could counter with Quentin's good performance in 2011 as a sign that the proverbial light bulb has come on for the outfielder, and an argument could be made that with Konerko's advanced age (35), Viciedo an unproven quantity and so many other Sox hitters struggling, the club needs a proven power bat like Quentin going forward.
I can see Van Wagenen asking for a deal in the realm of five years and $60MM, but it's more likely that a Quentin extension would look more like a four-year pact worth $40-$41MM.  Quentin reportedly turned down a four-year offer from the White Sox after the 2009 season and while the value of that offer wasn't made public, it's possible Quentin has an eye towards seeing what he can get on the free agent market.
Photo courtesy of Icon SMI