It's easy to call Yunel Escobar's two-year, $10MM extension a win for Toronto, but there's more to the deal than that. Here's a closer look at the give and take between the shortstop, who gets guaranteed money, and the Blue Jays, who get extended team control and potential savings through arbitration.
The Deal
Escobar earns $5MM in 2012, his second of three arbitration seasons (he's coming from a $2.9MM salary in '11). He earns the same $5MM salary in 2013, his third and final arbitration season. The Blue Jays then have two club options worth $5MM each for 2014 and 2015.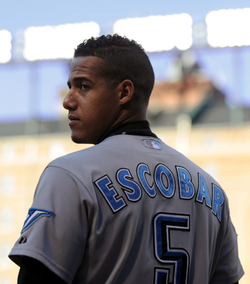 What Kind Of Player Is Yunel Escobar?
Escobar is an above average shortstop, though his numbers aren't dazzling in any one category. He hits for average (.288 career mark) and walks (9.6% career walk rate) with occasional power (.401 career slugging percentage). Over the course of his five-year career, he has been a slightly above average defender, according to UZR.
But compare the 28-year-old Cuban to the average shortstop and you see why the Blue Jays had interest in keeping him around long-term. Escobar has a .280/.357/.428 batting line this year, considerably better than the .261/.316/.374 line the average MLB shortstop has managed.
Hanley Ramirez, Troy Tulowitzki, Jose Reyes, Jimmy Rollins and Derek Jeter are the only shortstops who have produced more wins above replacement than Escobar since his 2007 rookie season. He has 14.7 WAR over the course of the past five seasons, including 1.9 so far this year (he's eighth among MLB shortstops so far in '11).
What's In It For The Blue Jays
Escobar was under team control for 2012-13 before yesterday's deal. With the options on the extension, the Blue Jays gain control of two additional years (2014-15), Escobar's age-31 and 32 seasons. These options are the key to the deal; it's hard to imagine the Blue Jays making this move without at least one option. 
There are also possible secondary benefits for Toronto, starting with potential arbitration savings. If Escobar continues playing this well, he could have set himself up for $5MM or more in 2012 and $7MM or more in 2013. Now, the Jays can be sure that they won't be paying Escobar exorbitant salaries in his last two arbitration years. 
Acquiring a shortstop, especially an above average one is never easy and the Blue Jays have assured themselves that they'll have a solid to very good shortstop for two to four years. At some point between now and 2015, prospect Adeiny Hechavarria figures to be MLB ready, but it never hurts to have too many MLB caliber shortstops.
What The Blue Jays Give Up
The Blue Jays have guaranteed Escobar $10MM for 2012 and 2013, though there's a chance he may not play well enough to earn that much through arbitration. An injury or a dropoff in production could have positioned Escobar for a lower salary or even made him a non-tender candidate, but the Blue Jays are now locked in at $5MM per season for 2012-13. 
Every extension is something of a gamble for the team and this one is no exception. However, GM Alex Anthopoulos said last summer that he believes position players are safer bets than their counterparts on the mound. "You look at the numbers, there's certainly higher risk of injury [for a pitcher] relative to a position player," he said. 
Though position players are generally safer investments than pitchers, Escobar's double play partner, Aaron Hill, has missed significant time since signing his extension in 2008 and the Blue Jays declined to exercise their three-year option for Hill this spring.
What's In It For Escobar
Escobar makes $2.9MM this year and had earned a little over $1MM as a Major Leaguer before this season. The $10MM guarantee dwarfs his previous career earnings and ensures he'll have a substantial paycheck for two more years even if he gets injured or starts performing poorly.
What Escobar Gives Up
His ceiling for potential earnings through 2015 is considerably lower than it was a week ago and he has postponed his chance for a lucrative free agent contract. Though $10MM for his two arbitration years is reasonable, the options for 2014 and 2015 appear team friendly. Alexei Ramirez, who is in the same service class as Escobar, had his free agent years valued at $10MM when he signed an extension with the White Sox this spring. 
The Verdict
The Blue Jays gambled last summer, when they gave up three players to acquire Jo-Jo Reyes and Escobar, who had zero homers and a .238 batting average at the time of the trade. Not only was Escobar performing poorly, he appeared to have strained relationships with some Braves people, including manager Bobby Cox.
Anthopoulos' initial move worked and the Blue Jays are now investing in Escobar for the second time in 12 months. This time, however, they're on considerably more familiar terms with the shortstop. Risk is a factor in every extension and Escobar has now assured himself of $10MM in income even if his production drops off. But if he continues playing at his current level, this deal will be solid for Toronto in 2012-13 and tremendous in 2014-15.
Photo courtesy Icon SMI.