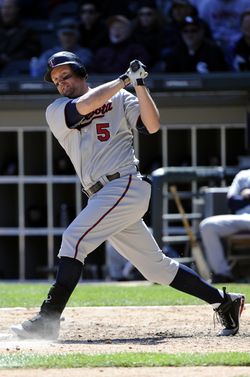 The Twins are currently one of the hottest teams in baseball, but despite a 9-2 stretch, they find themselves nine games out of first place in the American League Central. In a weak division, it's not unthinkable that they can make up enough ground to avoid selling this July, especially with Joe Mauer, Tsuyoshi Nishioka, Jason Kubel, and Jim Thome all nearing returns from the disabled list, but the odds are stacked against them.
Amidst lineups of career journeymen and minor leaguers, Michael Cuddyer has quietly heated up and is a name that could draw interest should the Twins ultimately fail to sneak back into contention. The Twins' swiss army knife entered play today hitting .303/.363/.462 since May 1, and that was before he belted his ninth homer of the year this afternoon — a three-run shot that raised his overall slash line to .273/.339/.432.
On top of his solid offensive production, Cuddyer has appeared all over the diamond, seeing time at third base, second base, first base, and in right field. His versatility and solid production from the right side of the plate make him a good comparable for two recent midseason trade commodities: Mark DeRosa and Casey Blake.
Blake was traded from the Indians to the Dodgers in 2008 after hitting .289/.365/.465 for the Tribe in the first half of the season. Cleveland sent DeRosa to the Cardinals in 2009 after hitting .270/.342/.457. Both overall lines are similar to Cuddyer's, and both players offered defensive versatility paired with solid right-handed production The Indians picked up Jon Meloan and Carlos Santana for Blake, and received Chris Perez and Jess Todd for DeRosa.
Cuddyer's $10.5MM salary is noticeably higher than that of either Blake ($6.1MM) or DeRosa ($5.5M) at the time of their trades, so Minnesota would likely have to kick in some money if they were to look for similar packages. Another deterrent could also be the fact that Cuddyer has played his whole career in a Twins uniform, and has become the heart and soul of that team as well as a fixture in the Twin Cities community. 
Still, another month of hot hitting will likely lead to lots of calls for GM Bill Smith regarding the long-time Twinkie, and could force him into making a tough, and probably unpopular business decision. With his salary as high as it is though, the Twins wouldn't offer Cuddyer arbitration this offseason, so getting something for him this summer might make the most sense if they can't turn things around. And, they could always call Cuddyer up this winter and re-sign him if they so desired.
Photo courtesy of Icon SMI.