After seeing top outfield trade candidates Carlos Beltran and Hunter Pence land with National League rivals, Braves GM made a splash today by acquiring center fielder Michael Bourn and cash from the Astros for center fielder Jordan Schafer, southpaw Double-A starter Brett Oberholtzer, righty Double-A starter Paul Clemens, and righty Triple-A reliever Juan Abreu.  The Astros announced the deal via press release.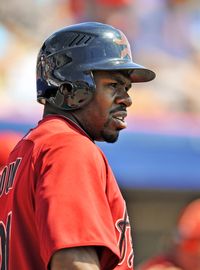 Bourn (pictured) is hitting .303/.363/.403 in 473 plate appearances, and he leads MLB with 39 steals.  He fills the Braves' need for a center fielder and leadoff man through next year.  The 28-year-old Scott Boras client has $1.45MM remaining on his contract this year and is arbitration eligible for 2012 before hitting free agency.  The Astros' outfield purge continues, as they sent Pence to the Phillies on Friday.  The Reds, Giants, Indians, and Nationals had also shown interest in Bourn.
Schafer, 24, figures to replace Bourn as the Astros' regular center fielder once he returns from the disabled list for a finger injury.  He owns a .223/.310/.303 line in 414 big league plate appearances, coming in '09 and this year.  Before the 2008 and '09 seasons, he was considered one of the best 50 prospects in the game, but an HGH suspension and wrist surgery dropped his stock.
None of the three pitchers are top 50 prospects, but they did rank ninth, 26th, and 27th respectively for the Braves on Baseball America's preseason rankings, and the team has a highly-regarded farm system.  Oberholtzer, 22, ranked ninth and is seen as a potential third or fourth starter in the big leagues.  Clemens and Abreu both have big upside and impressive fastballs.
Ken Rosenthal of FOX Sports broke the story, with Jayson Stark adding the prospects and Ken Davidoff adding the financial detail.  Photo courtesy of Icon SMI.