Last year it was Roy Oswalt, the year before Cliff Lee.  This year, Phillies GM Ruben Amaro Jr. continued his July 29th big-game hunting by landing All-Star right fielder Hunter Pence and $2MM from the Astros for prospects Jarred Cosart, Jonathan Singleton, and Josh Zeid, as well as a player to be named later.  The Phillies confirmed the deal through a press release.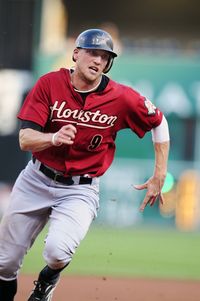 Pence, 28, was hitting .309/.356/.472 in 430 plate appearances entering tonight's game at Milwaukee.  He plays an average right field, based on UZR data since 2010.  Perhaps the face of the Astros franchise, Pence was not initially thought to be available this summer with the Astros in the middle of an ownership transfer.  He's much more than a rental, with $2.3MM remaining on his contract this year and team control through 2013.  Pence's agents at Beverly Hills Sports Council had a big arbitration win in January, bringing his 2011 salary to $6.9MM and raising the bar for '12 and '13.  The right-handed hitting Pence (pictured) fits perfectly into right field for the Phillies, who rank 14th in the NL with a .665 OPS against lefties after losing Jayson Werth during the offseason. The Braves, Indians, Reds, Red Sox, and Pirates were also in on Pence this month.
Cosart, 21, ranks as high as 17th by ESPN's Keith Law and as low as 43rd by Baseball America among the game's prospects.  He dealt with an elbow injury last year, but has the electric fastball and plus curveball of a future front-rotation starter.  Added bonus: he grew up just south of Houston, in League City, Texas.
Cosart's High-A teammate Jonathan Singleton, 19, was ranked #24 by Law and #41 by BA.  Law says Singleton has "one of the best swings in the minors."  Zeid, a 24-year-old Double-A righty, was ranked 23rd among Phillies prospects by BA prior to the season and has been exceptional out of the bullpen this year.  The player to be named later won't be a top prospect, tweets ESPN's Jayson Stark, and will come from a list of players currently in Low-A ball.  
In acquiring Cosart and Singleton, Astros GM Ed Wade added a couple of excellent prospects to a farm system generally regarded as one of the five worst in baseball prior to the season.  Whether or not the move is popular with fans, it's the right direction for the Astros.
Ken Rosenthal and Jon Paul Morosi broke the story, with Jayson Stark, Jim Salisbury, and Jon Heyman adding detail.  Photo courtesy of Icon SMI.