Despite a trade market thin on shortstops, the Cardinals may have accomplished their goal of upgrading at the position, as they acquired veteran Rafael Furcal from the Dodgers today for Double-A outfielder Alex Castellanos and about $2.5MM.  The 33-year-old had to waive his 10-and-5 rights for the deal to become official.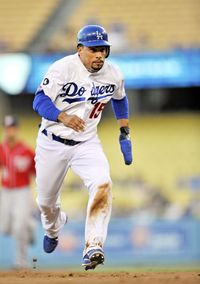 Furcal is hitting .197/.272/.248 in 152 plate appearances, but perhaps a change of scenery will rejuvenate his bat.  He was hampered by a broken thumb and oblique strain this season, each injury knocking him out for about a month.  Because of Furcal's 10-and-5 rights and the amount of money the Dodgers are sending, the teams needed his approval and the same from the commissioner's office regarding the money the Dodgers will be sending to the Cardinals.  Furcal, the first free agent signing by Dodgers GM Ned Colletti in 2005, had about $4MM remaining on his current contract.  Furcal effectively replaces Ryan Theriot at shortstop for the Cardinals; Theriot started at second base last night for the first time this season.
Castellanos, 24, is hitting .319/.379/.562 in 391 plate appearances this year, playing right and center field.
Fallout for the Dodgers: they can give prospect Dee Gordon an extended look at shortstop in the Majors, plus they save a little cash.  Reportedly, infielder Jamey Carroll will be staying put.
GMs Ned Colletti and John Mozeliak last hooked up on a trade in November, in the deal that sent Theriot to St. Louis, according to our Transaction Tracker.
Joe Strauss, Matthew Leach, Derrick Goold, Scott Miller, Tim Brown and Jon Heyman broke aspects of the story as it developed.  Photo courtesy of Icon SMI.