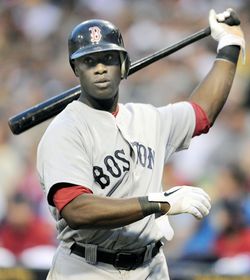 The Red Sox cut ties with veteran outfielder Mike Cameron yesterday, designating him for assignment after he hit just .149/.212/.266 in 105 plate appearances this year. "Rest assured I'll play again," said Cameron to Peter Abraham of The Boston Globe (Twitter link). "I'm not going out that way."
Despite his poor season and last year's injury riddled campaign (just 48 games), Cameron figures to draw interest based on his track record. He hit .250/.342/.452 with 24 homers as a full-time player just two seasons ago, and he went deep at least 20 times every year from 2006 through 2009. That power might be gone at 38 years old, but his three homers this year suggest that he might still be able to provide double digit long balls given enough playing time.
With approximately $3.625MM left on his contract this year, it's very likely that Cameron will clear waivers and hit the open market. Any team would then be able to sign him for the pro-rated league minimum, which is attractive to clubs on a budget. Let's look at some teams that could be potential suitors for Cameron…
Braves – Martin Prado is dealing with a staph infection and temporary fill-in Jordan Schafer is hitting just .222/.295/.310. Wilkin Ramirez, Atlanta's current righty outfield bat off the bench, has been unimpressive in limited playing time.
Cardinals – There's no way to replace Albert Pujols, but St. Louis was able to slide Lance Berkman over to first and stick Jon Jay in right field. The lefty bat is hitting .289/.340/.356 against southpaws, but Cameron could replenish some outfield depth.
Giants – This one is probably a long shot because their outfield is already crowded, but the game's worst offense (just 285 runs) is in desperate need of help, particularly in the power department.
Indians – Shin-Soo Choo will miss a substantial amount of time after having thumb surgery, and the incumbent righty hitting outfielder (Austin Kearns) has been ineffective both overall (.194/.282/.265) and against lefties (.244/.292/.267).
Mariners – Jeff Sullivan of Lookout Landing tackled this one.
Nationals – They've been looking for a center fielder basically all season, and if nothing else, Cameron would give them a platoon partner for Roger Bernadina (.208/.255/.271 vs. LHP).
Phillies – Ben Francisco has been disappointing against lefties (.200/.317/.314) this year, plus Cameron could give them platoon partners for both Domonic Brown and Raul Ibanez.
Pirates – It's strange to think of the Pirates as buyers, but they're over .500 and just two games back in the NL Central. Jose Tabata is on the DL and Matt Diaz has been a disappointment (.268/.297/.331).
Rangers – Julio Borbon is back in Triple-A and David Murphy can't hit lefties (.177/.235/.194), plus they could probably use the depth since Josh Hamilton and Nelson Cruz are known to visit the DL from time to time.
Rays – Matt Joyce and Sam Fuld have cooled off considerably, though the righty hitting Justin Ruggiano has done a swell job in limited playing time (.300/.328/.500). That might not last though.
Tigers – Ryan Raburn (.207/.244/.348) and Magglio Ordonez (.200/.268/.279) have been big disappointments, and Austin Jackson isn't tearing the cover off the ball either (.248/.312/.364). All three are right-handed and could be replaced, though Jackson figures to keep the center field job.
Twins – Injuries have decimated the Twins outfield, though at 8.5 games back of a playoff spot, they might be looking to sell off veterans rather than add one.
Jack Curry of the YES Network heard that the Yankees "probably" won't have interest in Cameron (Twitter link), but several other teams figure to come calling once he clears waivers and is available on the cheap. It's easy to see Cameron fitting on the 25-man roster of nearly even team, though the amount of playing time he'll receive is sure to factor into his decision.
Photo courtesy of Icon SMI.