If you find it hard to imagine the Rays without the long-term extensions they've handed out to players like James Shields (pictured) and Evan Longoria, you're not alone. Andrew Friedman, Tampa Bay's executive vice president of baseball operations, says extensions for key players are necessary for the Rays. 
"They are because for us we want to be able to extend our competitive window by as many years as we can," Friedman told MLBTR. "And to have a chance to keep our nucleus together for an extra year, an extra two years is critical for us."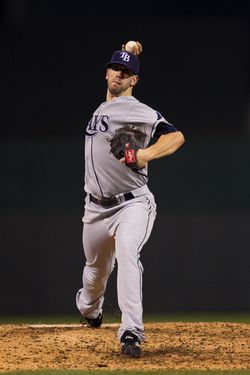 It's so important because the Rays play in the American League East against two of baseball's best and richest teams: the Yankees and Red Sox. Boston, for example, committed $154MM to Adrian Gonzalez on his recent extension and while the deal couldn't be going better for the Red Sox, it's not a realistic model for the Rays. $154MM is three times Tampa Bay's annual payroll, so Friedman has to look elsewhere for solutions.
One of the places Friedman looked was Cleveland. In the early 1990's, Indians general manager John Hart had a roster full of talented players, but this was before the Indians reached two World Series and won six division titles in seven years. Hart didn't have the financial leeway to consider the mega-extensions that players can command as they approach free agency. 
"We were running an entire crop through that were all going to hit arbitration within one or two years of each other and we never could have afforded it," he said.
Simply put, the Indians couldn't wait for players like Carlos Baerga, Sandy Alomar Jr., and Charles Nagy to advance too close to free agency, when their asking prices would skyrocket and the Indians' chances of controlling their core long-term would plummet. So Hart signed the trio to multiyear extensions early on in their careers, gambling that the relatively unproven group would develop into stars and contribute to Indians teams for years to come. 
The system worked. Baerga blossomed into one of the best second basemen in baseball, Alomar made six All-Star teams and Nagy posted a 3.86 ERA (115 ERA+) in 1100 innings through his arbitration years without earning more than $3.5MM in a season. It's been a while since those Indians teams took the field, but Friedman hasn't forgotten them. Though each era and division brings different challenges, the Rays used the Indians' approach as a loose model for their recent extensions.
"They vary from market to market and you can learn and you should learn from what other teams do," Friedman said, "but you have to mold that into a specific strategy for your market."
In Tampa Bay's case, the market is small. The Rays cut payroll by $30MM last offseason after having $72MM to work with a year ago. They have never spent over $72MM on payroll under Friedman, who was promoted to his current role in 2005. 
That means the Rays are willing to commit tens of millions to players with limited MLB experience, but it doesn't mean they'll gamble on anyone with talent and a willingness to sign on the dotted line. The Rays look for maturity and work habits in extension candidates, not simply on-field results and potential.
"We're all kind of elbow to elbow for six weeks of Spring Training and at least six months of the season, and so you get a chance to see a guy and assess how they go about their work," Friedman said. "That being said, it's far from an exact science and if it was I think the success rate for teams would be much higher."
The Rays have completed some deals that appear shrewd now, though they were risky at the time. No team succeeds with every extension (the Angels are paying former Rays starter Scott Kazmir $12MM this year on a deal Friedman signed), but Tampa Bay has more successes than failures under Friedman's front office (see table of extensions for current homegrown Rays). 

As Hart points out, players need to keep working after signing extensions and "you've got to get a little bit lucky that you don't have an injury." Now a special assistant in the Rangers' front office, Hart says the Rays have succeeded in committing to players who are talented and dedicated.
"They've had outstanding players with quality makeup," he told MLBTR. "Longoria? I love this guy. Wade Davis, you know, it's risky yet as a GM and as baseball people, you have to know your guys and you cross your fingers you don't have injury, but at the end of it, if these guys stay healthy, you've made a good baseball decision."
After a few years it's easy to distinguish good baseball decisions from bad ones. Part of the challenge for the Rays is determining which relatively inexperienced players will respond well to extensions – without the benefit of hindsight.
"So many of these deals for young players, especially zero-plus, one-plus and even two-plus players, odds are they aren't going to work out," Friedman said. "You have to get to know the player as well as you can, get to know their makeup and make the best decision you can knowing that they're not all going to work out."
The goal, Hart says, is to find players who can "bite down" and perform even after the life-changing experience of signing for millions. The teams, meanwhile, do some biting down of their own. There are always concerns about signing unproven players to generous extensions, but it's one way for small market franchises to extend their competitive window on budget.
Photo courtesy Icon SMI.