Johnny Damon turned 38 over the weekend, but he can still hit. In fact he may be the best available designated hitter of the offseason not named David Ortiz. Now just 277 career hits away from 3,000, Damon's probably two full seasons away from making history.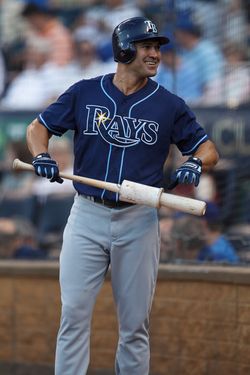 He hit .261/.326/.418 with 16 homers and 29 doubles in 582 plate appearances as the Rays' DH in 2011. Relative to the league as a whole, he hit well (110 OPS+), but DHs averaged a better batting line this past season: .265/.340/.429.
It's worth noting Damon has played in at least 140 games every season since 1996. Or, put another way, the last time he appeared in fewer than 140 games, he was 21 years old and Vince Coleman, Mark Gubicza and Juan Samuel were his teammates.
Agent Scott Boras will surely tell teams Damon adds value through leadership in the clubhouse and on the field. Boras told ESPN last offseason that championship caliber players like Damon "can be a force in the locker room and around young players."
Damon hasn't played the field regularly since 2009, so don't expect him to play much defense in 2012, his age-38 season. Jim Thome will be wielding a glove next year, so anything's possible, but Damon will probably DH. Fortunately for him, he's a Type B free agent and won't be tied to draft pick compensation.
Recent history suggests Damon will sign a one-year deal late in the offseason. He signed an $8MM contract with the Tigers in February of 2010 and signed a $5.25MM deal with the Rays last January. Budget-permitting, the Rays could be a fit again. If not, the Orioles, Blue Jays, Athletics and Twins may have interest in signing Damon to another modest one-year deal as he approaches 3,000 hits.
Photo courtesy Icon SMI.