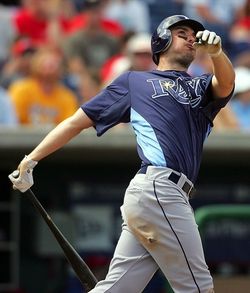 When it comes to signing young players to long-term contract extensions, no team has been as aggressive as the Rays in recent years. Left-hander Matt Moore became the latest to cash in when he signed a five-year, $14MM contract earlier this month despite having just 17 days of service time to his credit. Evan Longoria, James Shields, Ben Zobrist, and Wade Davis are also signed to similar contracts, and next in line could be outfielder Matt Joyce.
Joyce, 27, was acquired from the Tigers for Edwin Jackson three winters ago. The 2011 season was the first time he spent a full season in the Majors, and he rewarded the Rays by making the AL All-Star Team and hitting .277/.347/.478 with 19 homers and 13 steals. In 1,097 career plate appearances spread across 321 games (three games shy of two full seasons), Joyce is a .259/.345/.482 hitter with 64 doubles and 44 homers. The advanced metrics rate his corner outfield defense as a touch better than average.
Back in October, Tommy Rancel of ESPN Florida suggested that Zobrist's contract – four years, $18MM with two club options – could serve as a blueprint for a Joyce extension. Zobrist signed that deal one year before he was due to become arbitration-eligible, which is where Joyce is now. Zobrist was coming off an MVP caliber season (.297/.405/.543 with 27 homers) at the time though, and he offered much more defensive versatility. As a switch-hitter, he also didn't have the same platoon problem as Joyce, a left-handed bat with a .196/.280/.322 career line against southpaws. The blueprint could work, but the dollar figures will need some tweaking.
Unlike his teammates, Joyce could offer the club a true hometown discount since he grew up in the Tampa area. He also didn't receive a huge signing bonus as a 12th round pick in 2005, so getting some financial security at age 27 could be more appealing to him than most. The Rays love club options, so expect any deal with Joyce to contain a few of them, perhaps even as many as three. The Rays lost Carl Crawford to free agency last offseason and could lose B.J. Upton next offseason, but Joyce and fellow extension candidate Desmond Jennings form a solid outfield core going forward. One way or the other, Tampa controls the duo's contractual rights through 2015.
Photo courtesy of Icon SMI.