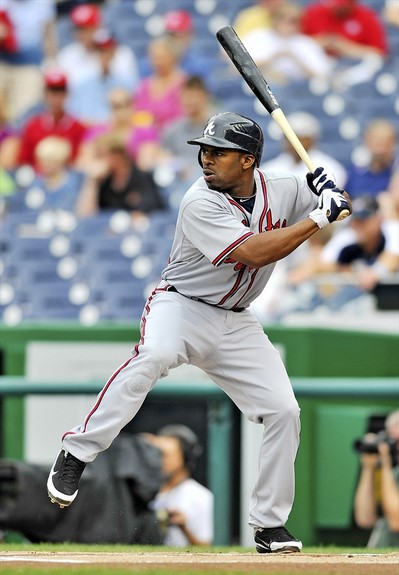 The Astros have gone into full rebuilding mode over the last few seasons, and one of the beneficiaries of their retooling has been the Braves. They acquired leadoff man and center fielder Michael Bourn at last year's trade deadline for a package of four young players, though he was unable to help them get to the postseason. As an arbitration-eligible player, Atlanta retained his rights for 2012.
The 29-year-old Bourn and the Braves settled on a one-year deal worth $6.845MM earlier this week, avoiding an arbitration hearing during his final year of eligibility. He's scheduled to hit the open market after the season, and will represent the one legitimate center field/leadoff hitter type in the free agent class. Bourn won't get Jose Reyes or Carl Crawford money, but he's poised to land a sizeable multiyear guarantee with another strong effort this coming season.
Though he hit just .278/.321/.352 in 249 trips to the plate with the Braves following the trade, Bourn had his best offensive season in 2011. He hit .294/.349/.386 overall and stole 61 bases, the most in all of baseball and for the third straight year, the most in the National League. His defense is highly regarded as well, with a +22.9 UZR over the last three seasons. In terms of wins above replacement, Bourn has been worth between 4.2 and 4.9 wins in each of the last three years. His 13.8 WAR since the start of 2009 is the eighth most among all outfielders.
Juan Pierre's five-year, $44MM contract with the Dodgers gives us an idea of what a high-end center field/leadoff hitter type can get on the open market. He hit .298/.343/.383 with eight homers and 160 steals in the three years leading up to his free agency (age 26-28 seasons), while Bourn has hit .283/.348/.373 with seven homers and 174 steals in the previous three seasons (also age 26-28 seasons). Pierre got caught stealing more often (61 to 38), but Bourn struck out more (389 to 118). Pierre's defense was also a notch below Bourn's (+8.9 UZR from '04-'06).
It's worth noting that Bourn is a Scott Boras client, and earlier this month we heard that the two sides had not yet begun discussions about an extension. It's been five years since Pierre signed his contract with the Dodgers, and adjusting up a bit for inflation indicates that five-year, $50MM extension would make sense for both Bourn and the Braves. Atlanta lacks a long-term center field solution in their farm system, but luckily they already have one of the game's best players at the position in the prime of his career at the big league level. Whether they try to keep him beyond this season is another matter.
Photo courtesy of Icon SMI.