With Andrew McCutchen's extension completed, the Pirates will focus their attention on second baseman Neil Walker, according to Rob Biertempfel of the Pittsburgh Tribune-Review.  Biertempfel believes a Walker extension may be "pricier than they originally expected," but the team will still pony up.  What would be a fair deal for the 26-year-old Walker?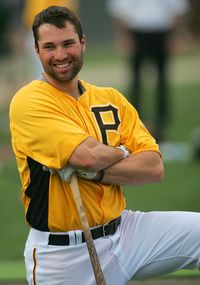 Walker currently has one year and 166 days of big league service, meaning he'll be arbitration eligible as a Super Two player after the 2012 season.  A direct comparable for Walker may be difficult to find, as few infielders with less than two years of service have signed extensions in recent years.  Walker is only six days shy of two years of service.  If we look at second basemen who signed extensions with between two and three years of service, we get Ben Zobrist, Dustin Pedroia, Aaron Hill, Ian Kinsler, and Robinson Cano.  Their contracts ranged from four to six years, guaranteed $12-40.5MM, and had at least one club option.  
Walker owns a .280/.338/.423 line in 1171 plate appearances across 286 games, with 24 home runs, 149 RBI, 138 runs, and 12 steals.  Kinsler's numbers through '07 are better, aside from RBI, but not wildly different.  Kinsler signed a five-year, $22MM contract that paid $13MM for his three arbitration years and $7MM for a free agent year, plus a club option on another.  The contract is four years old, however.  Zobrist seems another decent comparable.  He had much more service time than Walker, but a similar number of career plate appearances.  Zobrist trumps Walker's home run total and platform year but was similar career-wise.  But even coming off an MVP-caliber year, Zobrist signed a four-year deal worth $18MM with a pair of club options.  He received $14.5MM for his three arbitration years.
Neither Kinsler nor Zobrist was a Super Two player.  Walker must be compensated for four arbitration years, perhaps at $18-20MM total.  If the contract is to include one free agent season it'd probably be around $8MM.  A five-year, $27MM deal beginning with the 2013 season could be fair for Walker.  From the Pirates' point of view, Walker doesn't have the power or service time of Kinsler of Zobrist, perhaps justifying the inclusion of two club options for the Hendricks Sports client. 
Photo courtesy of Icon SMI.