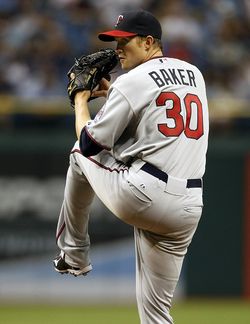 The Twins are coming off the second-losingest season since moving to Minnesota in 1961, in part because they only got 21 starts out of Scott Baker. The right-hander has been a stabilizing force in their rotation over the last half-decade, though he's now entering what might be the most important season of his career.
Performance has never been an issue for the 30-year-old Baker. He's consistently pitched to a 3.98 ERA with 7.4 K/9, 2.1 BB/9, and a 34.1% ground ball rate since breaking into the big leagues full-time in 2007. Brandon Warne of FanGraphs argued last month that Baker is one of the most underrated pitchers in the game, noting that his fastball command allows his otherwise nondescript stuff to play up. Like I said, his problem hasn't been performance. It's been staying on the field.
Baker has visited the DL in three of the last four seasons, and in that fourth year he missed most of September with an injury but remained active due to expanded rosters. He's dealt with a groin strain (2008), shoulder stiffness (2009), elbow soreness (2010), and a flexor strain (twice in 2011). Sure enough, elbow tendinitis has limited Baker in Spring Training this year. In his first start back this week, he allowed seven runs in 2 2/3 innings.
The Twins hold a $9.25MM club option for Baker's services next year with no buyout. He's a prime midseason trade candidate if they fall out of the race again, but another injury-riddled campaign could ruin Baker's trade value and prompt the team to cut ties with him after the season. If the Twins' longest-tenured starting pitcher can avoid the DL and pitch like his usual self this summer, Minnesota will have no qualms with bringing him back at that price in 2013.
Photo courtesy of Icon SMI.