The Giants traded for a pair of starting outfielders and spent their free agent money on left-handed relievers.
Major League Signings
Notable Minor League Signings
Extensions
Trades and Claims
Notable Losses
Jonathan Sanchez, Ryan Verdugo, Carlos Beltran, Cody Ross, Andres Torres, Ramon Ramirez, Jeff Keppinger, Pat Burrell, Orlando Cabrera, Mark DeRosa, Darren Ford
The Giants' pitching staff held strong in 2011, but their offense plummeted to a National League-worst 3.52 runs scored per game.  Brian Sabean, baseball's longest-tenured GM, attacked the problem by acquiring Cabrera and Pagan via trade.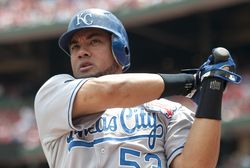 Jonathan Sanchez was once considered an excellent trade chip, but after an injury and walk-filled 2011, Cabrera (pictured) was probably the best hitter Sabean could get for him.  The Giants' rotation won't miss a beat with the loss.  Sabean might have bought high on Cabrera, who hit .305/.339/.470 in 706 plate appearances for the Royals last year.  But for an offense-starved team like the Giants, Cabrera might end up batting third.  Melky doesn't have the speed to play an above-average center field.  He'll be well-served by a move to left field — Giants vice president of baseball operations Bobby Evans told MLBTR he thinks Cabrera will be one of the league's best defenders at the position.
Sabean then traded for the Mets' Pagan, at the expense of Torres and Ramirez.  Pagan and Torres were both valuable outfielders in 2010 who slipped offensively and defensively in '11.  Did the Giants bet on the right horse, especially given that they had to throw in Ramirez to get Torres, lost a year of control with Pagan, and will pay Pagan $2.15MM more in 2012?  Pagan is three and a half years younger and has a longer track record as an above-average hitter, so it seems the Giants made the right call.  The market didn't offer Sabean much in the way of alternatives — Coco Crisp isn't notably better, and other trade targets seemed to have excessive prices.
The Giants had an excellent bullpen in 2011, and Sabean chose to keep it intact aside from trading Ramirez.  Mota was a bargain to retain, but the Giants had to pay full sticker price to keep lefties Lopez and Affeldt.  Lopez, 34, was lightly-regarded two years ago when the Pirates signed him for $775K.  Since then he's gotten the job done with a 2.52 ERA and huge groundball rates over 110 2/3 innings.  He's still best-employed as a lefty specialist, however, and giving him $4.25MM a year was uninspired.  Around the same time the Giants faced a similar decision for Affeldt, whose option had a $4.5MM net price.  Affeldt is similar to Lopez, and the Giants chose to pay full price for both.  Evans told MLBTR it was a matter of depth, with the expectation of having to trade one reliever (ultimately Ramirez) and injury question marks for Brian Wilson and Dan Runzler.
Brandon Crawford will be the Giants' starting shortstop, with Ryan Theriot and perhaps Joaquin Arias pitching in.  Jose Reyes, Jimmy Rollins, Clint Barmes, Rafael Furcal, and Jed Lowrie were available this winter, but the Giants chose not to upgrade.  Evans told MLBTR the Giants explored the market but didn't get heavy, as they entered the offseason hoping Crawford would be their guy.  Both middle infield spots may continue to be offensive black holes, if Freddy Sanchez misses significant time due to injury again.  
Projected first baseman Aubrey Huff was an easy out in 2011, but the Giants have an intriguing backup plan in Brandon Belt.  Manager Bruce Bochy's decision two years ago to bench Aaron Rowand in favor of Torres is evidence that contracts don't make out the lineup card, Evans told MLBTR.  Overall it's difficult to picture the Giants having an above-average offense in 2012, but it'll be surprising if they can't manage more than 570 runs this time around.
Having been out of MLB for four years, Vogelsong must have been eager to take the Giants' guaranteed $8.3MM.  The Giants seem to be banking that he can become a consistent 4.00 ERA type pitcher, in which case the price will be acceptable, if not a bargain.  Lincecum's days as a bargain are ending as well, as his new deal has salaries of $18MM and $22MM.  The Giants still saved a few million, while Lincecum retained control of his free agent years.  Lincecum was reportedly seeking seven or eight years on a longer deal, and I don't blame the Giants for holding off.  Lincecum became an ace so early in his career that by 2014 the Giants will have gotten the best of him.
Signing Matt Cain is a more pressing issue, since the 27-year-old is eligible for free agency after the season.  Cain has been extremely durable over the last six seasons.  His walk rate has improved in recent years and his ability to prevent hits is proven, if not fully understood.  In '07, Cain chose guaranteed money over maximizing his arbitration earnings.  Three years later he did it again, giving up one free agent year that time.  A $100MM+ deal might give the Giants the security to allow Lincecum to leave after '13.  As $100MM+ deals for pitchers go, Cain seems a relatively sound investment.    
The Giants did an arbitration years-only extension with Sandoval this offseason, which I found unnecessary.  If you're not getting free agent years, where are the savings?  Using the optimistic assumption that Sandoval gets 600 plate appearances and hits .305 with 25 home runs, 90 runs batted in, and 75 runs in 600 plate appearances in each of the 2013 and '14 seasons, Matt Swartz estimates arbitration earnings of $18.3MM for 2012-14 if he'd gone year-to-year.  In this performance scenario, the Giants saved only $1.15MM by guaranteeing Sandoval's three arbitration years.  To make the extension worthwhile financially, the Giants are counting on Sandoval to be elite for two full seasons.  This type of contract is a hedge on the potential of a player's performance, Evans explained to MLBTR, and sometimes it's easier to find common ground on multiyear deals than one-year contracts.  He noted that an extension like this also rewards a player for his performance and helps him focus on his game. 
Posey's recovery from a grisly May leg injury will provide a boost to the Giants, while the additions of Cabrera and Pagan should make the offense less awful.  Still, it's likely Sabean will again be actively seeking run support for his top-notch pitching staff come the July trade deadline.
Photo courtesy of Icon SMI.