The Brett Myers trade rumors have been circulating for a while, and there's no reason to expect them to slow down between now and the July 31st trade deadline. Myers, a capable pitcher nearing free agency on a team not expected to contend, should draw some trade interest this summer.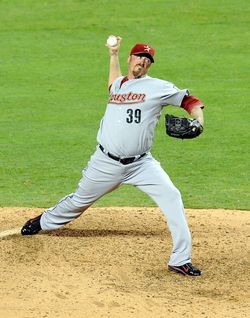 Myers' name surfaced at the 2011 Winter Meetings and the right-hander still seemed to be available in January, when Jayson Stark reported that the Astros were willing to take on at least $7MM of his 2012 salary in a trade. Houston GM Jeff Luhnow said this month that he's not presently shopping Myers, and while that's entirely believable, the team's stance could very well change within the next 95 days.
Myers, 31, probably won't be on the next contending Astros team. He's earning $12MM in 2012 and has a club/vesting option valued at $10MM for 2013 ($3MM buyout). Like most players on the Astros' roster, Myers is a product of the Ed Wade regime. I doubt Luhnow will have reservations about trading Myers when the time is right.
Unfortunately for the Astros, Myers earns a starting pitcher's salary. Other trade candidates such as Huston Street ($7.5MM) and Grant Balfour ($4MM) will be more appealing to contenders since they earn considerably less than Myers. I expect the Astros will have to take on millions to move Myers.
For the Astros to convince a rival team to take on more than a couple million of Myers' salary, he'll have to continue pitching well. So far — and it's admittedly quite early — Myers has pitched five innings with a 4K/1BB ratio and three saves. It's worth noting that his fastball velocity has climbed by nearly 4 mph this year to 92.2 mph from 88.4 mph (source: FanGraphs). He's just 74 pitches into the season — not even a full start's worth — but the uptick in velocity isn't surprising given Myers' new role.
Should the 7-12 Astros fall out of contention early, Luhnow might have the chance to start selling before other trade candidates become available. This could enable him to send more of Myers' salary to a team looking to acquire relief help before the trade market heats up in July. Still, it seems more likely that the Astros will postpone most serious trade talk until after they select first overall in the upcoming June draft. There's also a good chance Myers' salary would clear waivers, so he might be available in August.
Myers should draw interest from contenders, especially if his strong April portends a successful first half. But it seems likely that the Astros will have to take on millions to complete a deal. Depending on Myers' performance, the evolution of the trade market and Luhnow's willingness to absorb salary, the Astros could acquire anything from a marginal minor leaguer to a legitimate prospect for their closer.
Photo courtesy of US Presswire.