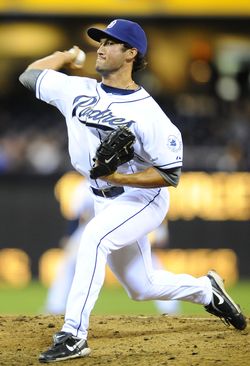 At first glance, the Padres' acquisition of closer Huston Street from the Rockies last offseason didn't make a whole lot of sense. After all, San Diego wasn't expected to contend in 2012, and Street didn't come cheaply — at a 2012 salary of $7.5MM — for a team that operates on a modest budget.
But new GM Josh Byrnes probably valued Street more as an asset in future trade talks than as someone who could contribute to a rebuilding team on the field, and considering the Friars merely gave up an underwhelming prospect to acquire the right-hander, it's a sound strategy.
Now, several projected contenders are already dealing with injuries at the back end of their respective bullpens, and it seems even more likely that trade suitors will be checking in with the Padres on Street.
The right-hander, 29 in August, has earned his keep as a high-strikeout control specialist with a knack for producing fly balls, a formula that has produced an excellent 2.91 career SIERA. Those skills should play especially well for Street in his new home ballpark in San Diego's Petco Park, where fly balls go to die. And if he's cruising along with stats that are inflated by his home digs in a couple months, it'll only serve to intensify interest among bullpen-needy contenders.
The catch here is Street's contract. He holds a $9MM player option for 2013, but that can be declined for a digestible $500K buyout — for which the Rockies are on the hook. In other words, Street can be had as a half-season rental, or he can contribute down the stretch and then come back the following year at a pricey, but not off-the-charts, salary.
Will some team bite? It's hard to say that now, with a couple months' games to play out before trade talks really heat up, but if Byrnes can flip Street for even a decent prospect, he'll have turned a profit considering how little he paid for the closer.
Photo courtesy of US Presswire