Even though Melky Cabrera enjoyed a surprisingly productive 2011 campaign, it's safe to say that the outfielder has been a surprise this season as well, as few (outside of the Giants front office, that is) expected Cabrera to top himself.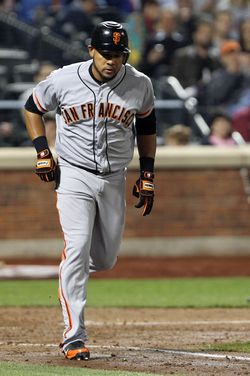 Cabrera broke out with a .305/.339/.470 slash line with the Royals last year, a performance that moved the Giants to acquire him in exchange for a promising young left-hander in Jonathan Sanchez.  It seemed like a risky deal at the time given that Cabrera had just one quality season under his belt, but while Sanchez has struggled in Kansas City, Cabrera has excelled in his return to the National League.  Cabrera carried a .338/.386/.490 line into Tuesday's action and his hot bat has been a blessing for a San Francisco lineup that was struggling to score runs even before Pablo Sandoval's hand injury.
Giants GM Brian Sabean told Gwen Knapp of the San Francisco Chronicle that the team was open to discussing a contract extension with Cabrera.  The club usually prefers to not negotiate during the season but, with Cabrera scheduled to hit free agency after this season, the Giants could get a head start on locking up the outfielder before he reaches the open market.  For his part, Cabrera has said he enjoys playing in San Francisco, so appears to be some interest on both sides to get a deal done.
Cabrera avoided arbitration for the third time by signing a $6MM contract with the Giants in January — a nice step up from the $1.25MM free agent deal he signed with the Royals after being non-tendered by the Braves following the 2010 season.  Cabrera is a unique case when it comes to comparables, as shown by a quick look at the MLBTR Extension Tracker.  The ACES client turns 28 in August, will have over six years of service time once this season is complete and, of course, has just one above-average Major League season to his credit plus what he's done thus far in 2012. 
Cabrera has a .376 BABIP, which is a sign that his numbers are soon due to come down to earth.  It might be a wise move for the Giants to wait out the season to make sure Cabrera can keep hitting, as while waiting might cost the team a few extra dollars to re-sign him in the offseason, they'd have more peace of mind that they're making a solid investment. 
If the Giants were to jump the gun and extend Cabrera now, something like a three-year/$24MM contract would be fair for both sides.  If the Giants wait and Cabrera still has an .876 OPS by season's end, his price tag will rise to the $9-$10MM per season range on the open market.  It seems expensive given Cabrera's spotty career history but, given how big bats are becoming hard to find in free agency, several teams will show interest in a corner outfielder in his prime years who managed big numbers in pitcher-friendly AT&T Park.
As MLBTR's Ben Nicholson-Smith recently pointed out in his look at the Giants' 2013 contract issues, the team has already committed $80MM to next year's payroll.  The Giants are also looking to extend Tim Lincecum and may look into an extension for Buster Posey to cover their franchise catcher's arbitration years, so there might be relatively little money left over to extend Cabrera as well.  This could be an added reason for the team to move now and sign Cabrera at more of a bargain price, but since this is also the team that has spent unwisely on several veterans (i.e. Miguel Tejada, Aubrey Huff, Edgar Renteria, Mark DeRosa), a bit of caution could be prudent.      
Photo courtesy of US Presswire.