When Carlos Villanueva throws his first pitch to Red Sox tomorrow afternoon, he'll set a career high in games started. For some pitchers it'd be a bit of trivia. For Villanueva, it's a more significant threshold that could help him establish his value to prospective suitors as he nears free agency.
The right-hander has spent the second half of the season in Toronto's starting rotation and his success in that role could be enough to convince MLB executives that he can excel as a starter in years to come. Yet some observers remain unconvinced. Speaking to the media this week Blue Jays general manager Alex Anthopoulos credited Villanueva for a successful season but emphasized the importance of remaining objective and establishing realistic expectations.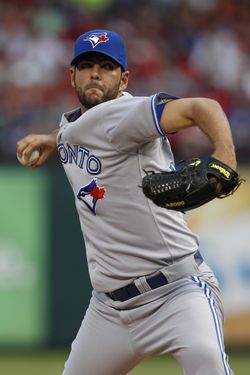 "When you're looking at a starter you're looking at 32 or 34 starts, 200 innings, durability, things like that, that's part of the equation," Anthopoulos told reporters, including Brendan Kennedy of the Toronto Star. "There's no question when he's taken the ball he's done a great job. But his [durability] is obviously part of the equation. That's not to take anything away from him. But that's the unknown with Carlos, he's never had 200 innings, he's never had 32 or 34 starts. I think we all would say you love what you see, what he's done for us and he's a great teammate and all those things. But again we've only had bits and pieces of him starting."
Villanueva, who's weeks away from hitting free agency for the first time, started 27 games over the course of his five seasons with the Brewers. He started 13 more last year after Anthopoulos acquired him from Milwaukee for a player to be named (the trade, overlooked at the time of its completion, has worked out tremendously for the Blue Jays). He's been a valuable reliever and spot starter to this point in his career. But he believes he can start at the MLB level despite Anthopoulos' comments.
"Its a little disappointing. Everyone is entitled to their opinion," he told Sportsnet's Tony Ambrogio (Twitter links). "I definitely don't love the advertising of that being put out there."
Let's set the rhetoric aside and look at the numbers. As Anthopoulos acknowledged, Villanueva is in the midst of an excellent season. He has a 3.48 ERA with 8.8 K/9, 3.3 BB/9 and a 38.9% ground ball rate in 111 1/3 innings as a starter and reliever. He generates swings and misses on 9.9% of his offerings — a marked improvement from 2011 — despite a fastball that averages just 89 mph.
Villanueva's strikeout rate and ground ball rate have dropped since he joined the rotation. But he has also pitched to a 3.58 ERA out of the rotation and cut his walk rate in half. In fact, he walked more batters in 33 1/3 relief innings (21) than he has in 78 innings since joining the rotation (20). And Villanueva has been healthy for the entire 2012 campaign after missing time with a strained forearm last year.
For Villanueva to obtain a multiyear contract, he'll probably have to convince teams he's a starter. Multiyear contracts for free agent relievers dropped from 17 in 2010-11 to six last offseason and most of last winter's multiyear deals went to big-name closers such as Jonathan Papelbon and Joe Nathan.
Many teams — the Blue Jays, Red Sox, Royals, Twins, Brewers, Padres and Rockies to name a few — figure to be looking for starting pitching this coming offseason. Teams that can't afford Zack Greinke and miss out on Edwin Jackson, Hiroki Kuroda and Kyle Lohse could target Villanueva. After all, he's younger than most free agents at 28 years old and enjoying success in the American League East.
Assuming Villanueva's representatives at SFX market him as a starter, they could look to match recent deals obtained by Chris Capuano (two years, $10MM) and Aaron Harang (two years, $12MM). Those pitchers aren't great comps for Villanueva — few players are — but a contract in that range seems possible. SFX could argue that Villanueva's upside and youth make up for the perceived lack of dependability. 
If no multiyear offers surface, Villanueva would be looking for a one-year guarantee in the right environment. A one-year deal would presumably be worth less than the $11MM Edwin Jackson obtained following the 2011 season. Jackson, after all, had youth and durability on his side when the Nationals signed him last winter. However, pitchers such as Joe Saunders ($6MM), Roy Oswalt ($5MM), Paul Maholm ($4.75MM) and Erik Bedard ($4.5MM) signed one-year deals worth $5MM or so. That would represent a raise for Villanueva, who's earning $2.28MM this year, without exposing the signing team to much risk.
Villanueva figures to draw lots of interest from teams interested in signing him for one year. I also expect some teams will have interest in multiyear deals given Villanueva's recent success as a member of the Blue Jays' rotation. One thing is certain: his last few starts will be scouted heavily as teams attempt to determine whether Villanueva is headed for sustainable success as an MLB starter or simply having a career year.
Photo courtesy of US Presswire.