The Tigers have agreed to sign Torii Hunter to a two-year deal, the team announced. The Reynolds Sports Management client will earn $26MM from 2013-14. To the Tigers, it's a worthwhile investment.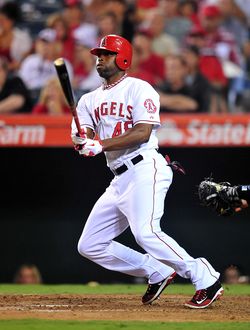 "Torii Hunter is a quality major league player who is a tremendous addition to the Tigers organization both on and off the field," Tigers president and GM Dave Dombrowski said in a statement released by the team. "He continues to be a consistent contributor at the plate, in the outfield and on bases, and we feel Torii is a great fit for our lineup."
Hunter joins a Tigers lineup that includes Austin Jackson, Prince Fielder, Miguel Cabrera and Victor Martinez. The Tigers view Hunter as a number two hitter, Rosenthal reported yesterday. The 37-year-old figures to play right field for Detroit with Jackson in center and an internal option — perhaps Andy Dirks or Avisail Garcia — in left.
Hunter posted a .313/.365/.451 batting line with 16 home runs in 584 plate appearances as the Angels' right fielder last year. Advanced metrics valued his performance above five wins, but he didn't obtain a qualifying offer from Los  Angeles. Perhaps wary of his age and league-best .389 batting average on balls in play, the Angels let Hunter leave without compensation. That's a bonus for the Tigers who don't have to surrender a draft choice to add their longtime AL Central rival.
Hunter ranked 20th on MLBTR's list of the offseason's top 50 free agents. I predicted he would sign in Detroit and wrote today that Hunter would be a good fit in the team's outfield at the right price. So far five contestants in MLBTR's Free Agent Prediction Contest have correctly predicted the destinations of all five free agents who have signed.
Ken Rosenthal of FOX Sports first reported the agreement and Bob Nightengale of USA Today first reported the value of the contract (on Twitter). Photo courtesy of US Presswire.