For the second time in as many offseasons, the Angels have signed the top free agent position player to a surprising long-term contract. The Angels have officially signed Josh Hamilton a five-year contract worth $125MM, the team announced. The deal is slightly backloaded and includes a no-trade clause. The outfielder is represented by Moye Sports Associates.
MLB.com's Alden Gonzalez and Mike DiGiovanna of The Los Angeles Times have the contract breakdown (Twitter links). Hamilton gets $10MM up front and will earn $15MM in 2013 and 2014, $23MM in 2015, and $30MM in 2016 and 2017. The remaining $2MM goes to his charity. DiGiovanna and Bill Shaikin of The Los Angeles Times report that the contract does not include any special language regarding Hamilton's off-the-field problems, though the team has hired Shayne Kelly, his accountability partner, away from the Rangers (Twitter links).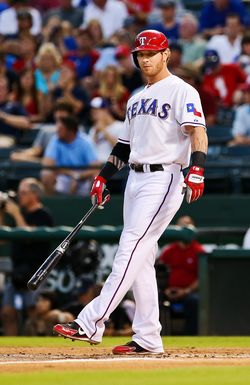 To the surprise of many, the Angels signed Albert Pujols to a ten-year deal at last year's Winter Meetings. One year later, owner Arte Moreno and GM Jerry Dipoto have struck again, luring Hamilton away from their division rival and adding him to a lineup that already includes Pujols and Mike Trout.
The Dodgers have generated considerable attention for their free-spending ways this offseason, but Moreno will not be overshadowed. Both Zack Greinke, MLBTR's top ranked free agent, and Hamilton, our top ranked position player, ended up signing with Los Angeles' teams.
Hamilton received and turned down a qualifying offer from the Rangers, which means he'll be linked to draft pick compensation. The Rangers will obtain a compensatory selection for losing Hamilton, and the Angels will have to surrender their top pick (#22 overall) in 2013.
Texas GM Jon Daniels is not pleased with the way the negotiations ended, Jeff Wilson of the Fort Worth Star-Telegram reports (on Twitter). The GM did not get a call to match Los Angeles' offer, as expected. Bob Nightengale of USA Today reports that the Rangers had been willing to offer four years to retain Hamilton (Twitter link).
The Angels have shown interest in R.A. Dickey, Yahoo's Jeff Passan reports (on Twitter). Perhaps Dipoto will pursue a trade for the defending NL Cy Young winner using Peter Bourjos as trade bait. Bourjos, Kendrys Morales and Mark Trumbo could be trade candidates, since Trout and Hamilton will presumably occupy two outfield spots for Los Angeles. However, the Angels have said they are keeping Trumbo, ESPN.com's Buster Olney reports (on Twitter).
The deal will push the Angels' payroll to the $165MM range, as Alden Gonzalez of MLB.com points out (on Twitter). It would represent a franchise record, but would not push the team past baseball's luxury tax.
Joe McDonnell of FoxSportsWest.com first reported that the Angels were involved in serious talks with Hamilton (Twitter link) and Yahoo's Tim Brown first reported that the sides were nearing a deal (on Twitter). Ken Rosenthal of FOX Sports first reported the agreement and later added details (Twitter links), as did ESPN Dallas and MLB.com's Alden Gonzalez (on Twitter). Photo courtesy of US Presswire. Mike Axia cotributed to this post.