On the heels of back-to-back All-Star appearances, the Pirates have traded away their closer one year before he hits free agency. Pittsburgh has dealt Joel Hanrahan and infielder Brock Holt to the Red Sox in exchange for reliever Mark Melancon, first baseman/outfielder Jerry Sands, infielder Ivan De Jesus Jr., and right-hander Stolmy Pimentel. Both teams have announced the trade.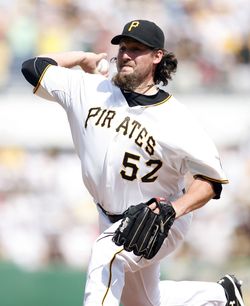 Hanrahan, 31, pitched to a 2.72 ERA with 10.1 K/9 and 5.4 BB/9 in 59 2/3 innings for Pittsburgh last season. Despite having a reputation as a strong closer, some rival evaluators have been concerned about his conditioning and recent proclivity for walks. Hanrahan's walk rate climbed from 2.1 BB/9 in 2011 to 5.4 BB/9 in 2012. Matt Swartz projects the right-hander to earn $6.9MM through arbitration this winter after pulling down $4.1MM in 2012. Brian MacPherson of The Providence Journal notes he will not net the Red Sox a compensation draft pick if he signs elsewhere based on the assumption Hanrahan will accept a pricey qualifying offer (Twitter links).
Melancon, 27, pitched to a 6.20 ERA with 8.2 K/9 and 2.4 BB/9 in 45 relief innings with the Red Sox after being acquired from the Astros last winter. He spent some time in Triple-A as well, then returned to the big league club at midseason. Melancon struck out 40 and walked just ten in his final 43 innings of the season. The former Houston closer will step into Pittsburgh's bullpen to provide depth behind the recently re-signing Jason Grilli, who will take over as closer.
Both Sands and De Jesus came to the Red Sox in their summer blockbuster trade with the Dodgers. The 25-year-old Sands owns a Triple-A batting line of .288/.362/.552 with 55 home runs in 940 plate appearances across the past two years. He also has 70 big league games to his credit, most of which came in 2011. De Jesus, 25, has 80 big league plate appearances under his belt and is a .303/.355/.416 hitter in 1,294 career Triple-A plate appearances. The Red Sox had recently removed him from their 40-man roster.
Pimentel, 22, was rated as the sixth best prospect in the Red Sox's organization in 2010 by Baseball America but was bumped down to No. 23 the following year. The 6-foot-3 right-hander boasts a strong changeup but has failed to impress at the Double-A level. In 37 starts for Double-A Portland, the youngster has posted a 5.96 ERA with 6.3 K/9 and 3.5 BB/9. Alex Speier of WEEI.com notes that Pimentel was targeted by the Pirates in 2008 as part of the three-way deal with the Dodgers and Red Sox that resulted in Manny Ramirez going to LA and Jason Bay coming to Boston, but the Sox refused to include him.
Holt, 24, was rated as the 27th best prospect in the Pirates' farm system in 2010 by Baseball America, but he has not been featured by the publication in their annual Prospect Handbook since. He hit .292/.329/.354 in 72 big league plate appearances this season, his MLB debut. Holt has hit .317/.381/.427 throughout his minor league career, including a .344/.406/.453 showing between Double-A and Triple-A this past season. He's played the middle infield exclusively as a professional, spending most of his time at short rather than second.
Andrew Bailey, Boston's incumbent closer, pitched to a 7.04 ERA in 15 1/3 innings in 2012 while missing most of the year with injuries. The additions of Hanrahan and Koji Uehara give the Red Sox some late-inning bullpen depth along with Junichi Tazawa and possibly Daniel Bard if he can bounceback from a disastrous season. The Pirates will pair Melancon and Grilli with Jared Hughes and Tony Watson, though they could also seek additional relief help on the free agent market.
ESPNBoston.com's Gordon Edes first reported that the two sides were nearing an agreement while ESPN's Jim Bowden reported the agreement (on Twitter). Jon Heyman of CBSSports.com, John Tomase of the Boston Herald, MLB.com's Evan Drellich, MLB.com's Peter Gammons, and Ken Rosenthal of FOX Sports all added details on Twitter. Mike Axisa contributed to this post. Photo courtesy of USA Today Sports Images.