The Indians spent aggressively on free agents, hired a big-name manager and completed a major trade. Chris Antonetti's third offseason in Cleveland was his most eventful winter yet, and in its aftermath, the Indians seem capable of surprising other American League clubs.
Major League Signings
Nick Swisher, OF: four years, $56MM. $14MM Vesting option for 2017.
Michael Bourn, OF: four years, $48MM. $12MM Vesting option for 2017.
Brett Myers, P: one year, $7MM. $8MM Club option for 2014.
Mark Reynolds, IF: one year, $6MM.
Ubaldo Jimenez, SP: one year, $5.75MM. Club option exercised.
Total Spend: $122.75MM.
International Signings
Notable Minor League Signings
Trades and Claims
Notable Losses
Needs Addressed
The Indians' deal with manager Terry Francona hinted at what would become apparent later in the 2012-13 offseason: ownership was ready to spend. After dismissing Manny Acta, the Indians hired Francona, who had worked in the Cleveland front office before managing the Red Sox to two World Series championships.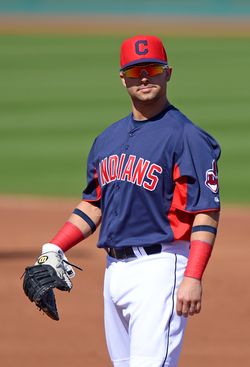 With Francona's assistance, the Indians started pursuing some of the offseason's top free agents. Nick Swisher required a four-year, $56MM commitment and the forfeiture of a second round draft pick. Yet he's a skilled, durable player who fits the Indians' needs. This deal makes the Indians a better team. 
For most of the offseason the Indians didn't seem particularly engaged in the market for Michael Bourn. Then, once the market for the center fielder cooled, the Indians struck, offering a four-year deal with a vesting option for a fifth season. This deal make sense from a value standpoint, as Bourn had been expected to sign for more than $12MM per season. Plus the Indians are just committed to Bourn for four years and didn't have to surrender a first round draft pick to complete the deal.
Mark Reynolds should provide the team with his distinctive brand of power and strikeouts after signing a one-year deal. Jason Giambi, another free agent addition, will provide left-handed power off of the bench. The Indians also added to their bullpen and bench, bringing in newcomers Matt Albers, Matt Capps, Mike Aviles and Ryan Raburn.
The Indians entered the offseason in serious need of rotation help, and they did add starting pitching. Antonetti traded for Trevor Bauer and signed Brett Myers, Daisuke Matsuzaka and Scott Kazmir. The club's willingness to spend on the top players available extended to pitchers as well. Edwin Jackson, who obtained a four-year, $52MM contract from the Cubs, has said the Indians were also finalists for his services. Myers projects as the team's third starter and the others are all in the mix for starting spots, giving Francona a new-look rotation.
Questions Remaining
Even after adding Bauer, Myers and Matsuzaka, the Indians' rotation looks weaker than those of other American League teams. Ubaldo Jimenez and Justin Masterson were hittable last year, leading a rotation that posted a 5.25 ERA and averaged fewer than six innings per start. 
The current group should pitch better than the '12 team, which is something. Yet this rotation seems thin compared to the Tigers or other projected playoff teams in the American League. If the Indians are in contention midseason they could be searching for rotation help. In the meantime, agent Scott Boras can try to sell them on free agent right-hander Kyle Lohse.
Deal of Note
It was time for the Indians to trade Shin-Soo Choo. While Choo has significant on-field value, he's one year away from free agency and not particularly receptive to extension talks. Credit Antonetti for obtaining Trevor Bauer, the third overall pick in the 2011 draft, in the deal for Choo.
It's hard to imagine that the Indians could have done much better in the trade. They exchange one year of Choo for six years of Bauer, a 22-year-old who posted a 2.42 ERA with 10.8 K/9 and 4.2 BB/9 in the upper minors last year. 
There's no question that the Indians are taking on risk here, too. Bauer has a distinctive long-toss program and unconventional training methods. He appeared to have strained relationships with catcher Miguel Montero and manager Kirk Gibson in Arizona. And he has struggled to limit walks as a professional. All of that said, Antonetti obtained a consensus top 20 prospect in baseball for a player whose time in Cleveland was almost up. Long-term this deal looks like a coup for the Indians, and Bauer could even help the team in 2013.
Overview
The Indians are a stronger team now than they were at the end of the 2012 season, and if they get some breaks and stay healthy they could contend. However, their starting pitching seems thin and could get exposed. They've earned their status as a sleeper team, but until their rotation proves otherwise I have trouble viewing them as a likely contender.
Photo courtesy of USA Today Sports Images.