The Nationals signed the best available reliever, re-signed their slugging first baseman, and made strong choices for center field and their rotation.
Major League Signings
Rafael Soriano, RP: two years, $28MM. $14MM vesting option for 2015.
Adam LaRoche, 1B; two years, $24MM. Mutual option for 2015 with a $2MM buyout.
Dan Haren, SP; one year, $13MM.
Zach Duke, SP; one year, $500K.
Total Spend: $65.5MM 
International Signings
Notable Minor League Signings
Traded and Claims
Notable Losses
Needs Addressed
In November, the Nationals agreed to a new contract with manager Davey Johnson.  It seemed an easy choice for both parties, after Johnson guided the Nats to the playoffs in 2012.
The Nationals wisely made a qualifying offer to first baseman Adam LaRoche, ensuring they'd receive a draft pick if he signed elsewhere.  Perhaps the team also anticipated that the attached draft pick would cause difficulty for LaRoche on the open market.  It took until January, but ultimately GM Mike Rizzo was able to retain the 33-year-old on his terms: a two-year, $24MM deal.  With Mike Morse under contract, Rizzo was able to remain patient with LaRoche.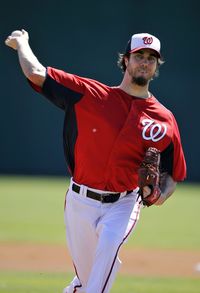 Rizzo did not extend a qualifying offer to Edwin Jackson, preferring not to get locked in (presumably, Rizzo thought there was some chance Jackson would accept the one-year, $13.3MM proposal).  This decision surprised me, because it seemed unlikely Jackson would pass up a chance to find his deserved multiyear deal for the second consecutive offseason.  As it turned out, Rizzo was saving his money for Haren, who signed in December.  In November, the Cubs had nearly acquired Haren from the Angels, with the intent of exercising his $15.5MM club option and unloading ineffective reliever Carlos Marmol.  The Cubs reportedly killed the deal over concerns with Haren's health.  Rizzo did not share those concerns, and Haren (pictured) seems hellbent on returning to his innings-eating days.  The Nationals were thinking big for their rotation vacancy, and were willing to spend much more on Haren than teams spent on other one-year deal starters like Scott Baker, Scott Feldman, Joe Saunders, and Brett Myers.
It was thought the Nationals would make a push for a free agent center fielder such as Michael Bourn or B.J. Upton, but instead they swung a deal with the Twins for Span.  Rizzo found an established center fielder who can get on base and play the position well, and can be under contract affordably for three seasons.  He surrendered a quality pitching prospect in Alex Meyer, but creating assets to trade for Major Leaguers is one purpose for the farm system of a contending club.  The Nats had not yet re-signed LaRoche at the time of the trade, which further reduced the first baseman's leverage against them.
Once Span and LaRoche were both in tow, Rizzo was free to trade Morse.  He chose to restock his farm system, acquiring Cole, Treinen, and Krol.  Having drafted Cole in 2010 and sent him to the A's in the Gio Gonzalez deal, Rizzo was happy to get the pitching prospect back into his organization.  It seems a solid return for a year of Morse, who has his warts.
The Nationals non-tendered Gorzelanny and lost Burnett and Gonzalez to free agency.  The trio of lefties had accounted for a third of the team's bullpen innings at a 2.74 ERA, so the Nats saw a match with closer Rafael Soriano still available in mid-January (more on that later). 
Questions Remaining
Considered one of the most complete teams in baseball, the Nationals are light on question marks. They've got a righty-heavy bullpen, but that's not necessarily a concern.
The Nationals signed arbitration eligible players Ian Desmond and Jordan Zimmermann to one-year deals.  It's always nice to lock up young talent and grab a few free agent years in the process, but it's not clear what the players were seeking.
Deal of Note
Soriano seemed to have few suitors entering the new year, but Scott Boras is tight with Nationals' ownership and brokered a two-year, $28MM deal with heavy deferrals and a vesting option.  It's top dollar for a reliever, but the term is short, and Soriano is very good when he's healthy.  The Nationals also had to surrender their first-round pick, which would have become the 28th overall.  At this stage in the team's competitive cycle, it makes sense to swing the pendulum toward Major League talent over prospects or draft picks.
Overview
It's plain to see why the Nationals are often named the best team in baseball.  The entire roster just seems to be overflowing with talent and depth, phenoms and veterans.  It'll be fun to see if the World Series predictions come true, but for now, the Nationals have assembled a potential juggernaut.
Photo courtesy of USA Today Sports Images.