It's not often that you see a well-regarded starting pitcher (or any well-regarded player, for that matter) appear on eight different teams prior to his 30th birthday, but that's the situation in which Edwin Jackson currently finds himself. Of course, Jackson inked a four-year deal with the Cubs that should give him some stability, but that's not his first stop in Chicago.
Jackson spent parts of two seasons across town as a member of the White Sox rotation from 2010-11. General manager Kenny Williams swung a midseason deal in 2010 that brought a struggling Jackson from the Diamondbacks to the White Sox in exchange for right-hander Daniel Hudson (23 years old at the time) and minor league lefty David Holmberg (18). It's been nearly three years since that trade occurred, so let's take a look at the players involved…
The Major League Side: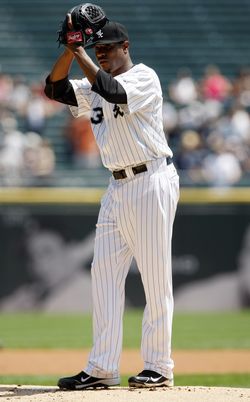 Edwin Jackson: While he had thrown a no-hitter for the D-backs that season, Jackson was struggling at the time of the trade. He'd posted a 5.16 ERA in in 21 starts but was coming off a solid 2009 campaign and had one and a half years of team control remaining. Jackson turned things around with the South Siders in a big way. His K/9 rate soared from 7.0 to 9.2 while his BB/9 dropped from 4.0 to 2.2. Jackson contributed 1.9 WAR (per Fangraphs) to an 88-win season for the White Sox, but they came up short and finished second in the AL Central. He was terrific in the first half of 2011 as well, posting an even 3.0 WAR before being traded to the Blue Jays (who immediately flipped him to St. Louis) in a deal that netted Jason Frasor and Zach Stewart while also freeing the Sox of the remaining $7.2MM on Mark Teahen's contract.
Daniel Hudson: Hudson ranked as Chicago's No. 3 prospect, per Baseball America, prior to the 2010 season. He'd struggled in three big league starts that year, but he was a revelation for the Diamondbacks down the stretch. In 11 starts following the trade, Hudson posted a 1.69 ERA, 7.9 K/9 and 1.8 BB/9, cementing his place in Arizona's rotation. He followed up that 2.2 WAR effort with an incredible 4.9-win sophomore campaign for the D-backs, but he was a Tommy John victim after just nine ugly starts in 2012. All told, Hudson has a 3.58 ERA, 7.2 K/9 and 2.0 BB/9 in 347 innings as a Diamondback. He's not yet eligible for arbitration and can be controlled through 2016.
The Minor League Side:
David Holmberg: At the time of the trade, Holmberg was BA's eighth-ranked White Sox prospect, but he'd struggled to a 4.46 ERA in eight starts in the rookie-level Pioneer League that season. Holmberg has ascended quickly, however, and now ranks as the D-backs' No. 6 prospect according to BA and the No. 8 prospect according to MLB.com's Jonathan Mayo. BA notes that Holmberg is likely to reach his ceiling of a No. 3 or 4 starter in the Major Leagues thanks to his plus command and a very strong changeup. His fastball sits 88-91 mph and can touch 93 at times. Mayo notes that while Tyler Skaggs is the lefty who gets all of the buzz in the Diamondbacks' system, Holmberg "isn't that far behind him." Holmberg reached Double-A as a 20-year-old in 2012 and made 15 solid starts. Now 21 years of age, he's opened the 2013 season at the same level and sports a 3.10 ERA 6.3 K/9 and 2.3 BB/9 in 151 career Double-A innings.
Three years later, it looks like the Diamondbacks got a very good return for a talented but struggling starter. It's conceivable that within the next two seasons, 40 percent of Arizona's rotation will consist of the two players they received in this deal. Jerry Dipoto, the D-backs' GM at the time of the trade (he's now GM of the Angels), did well to secure a pair of prospects who ranked in Chicago's Top 10.
The price Chicago paid doesn't seem crazy either, given Jackson's terrific results with the White Sox. Jackson gave them 4.9 wins above replacement, but most fans will look back on this trade in a negative light due to the lack of return for Jackson when they traded him a year later. That's a fair criticism (and also a trade for another post), but Jackson was every bit the pitcher the White Sox were hoping he'd be when they acquired him. This would probably go down as a win-win had the Sox contended in 2011 or made the playoffs in 2010.
Photo courtesy of USA Today Sports Images.