Zack Wheeler was in uniform, wearing No. 45, as he addressed the media today to discuss his upcoming Major League debut. The Mets have announced that the 23-year-old Wheeler will make his debut in the second game of tomorrow's doubleheader.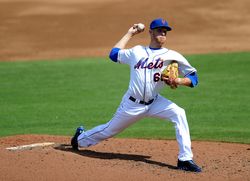 ESPN's Adam Rubin was among the reporters in attendance as Wheeler discussed his expectations of himself and thoughts on the team:
"I don't think I'm the savior at all. We've got great arms here, and you've got great players. We might not be doing too well right now, but I know the talent of these guys, and hopefully we can turn it around soon."
Wheeler, drafted sixth overall by the Giants in 2009, was acquired in exchange for Carlos Beltran in what could be the best move of Sandy Alderson's tenure as GM of the Mets. Beltran's contract contained a clause that prevented him from being offered arbitration at the end of the season, so Wheeler was pillaged for 44 games of Beltran's services.
Wheeler ranked as the game's No. 11 prospect prior to this season, according to Baseball America. MLB.com's Jonathan Mayo ranked him eighth, and in a recently updated list of Top 25 MLB prospects from ESPN's Keith Law (Insider required), Wheeler placed 15th.
The Georgia native has fared well at Triple-A, though he hasn't exactly dominated opposing hitters. In a combined 101 2/3 innings dating back to 2012, Wheeler has a 3.72 ERA with 9.2 K/9 and 3.8 BB/9. Despite the somewhat pedestrian ERA, Law writes that Wheeler has top-of-the-rotation stuff, and his peers at BA and MLB.com agree.
When he is officially promoted tomorrow, Wheeler's service clock will start, meaning he would accumulate 104 days of service time over the course of the season if he sticks on the MLB roster. Much like another top prospect who is getting the call on Tuesday — Tampa Bay's Wil Myers — Wheeler seems likely to fall just shy of the projected Super Two cutoff. If that does indeed prove to be the case, he will qualify for arbitration just three times instead of four prior to being a free agent at the end of the 2019 season.
Photo courtesy of USA Today Sports Images.