The Red Sox bolstered their bullpen tonight when they acquired left-handed pitcher Matt Thornton from the White Sox in exchange for outfielder Brandon Jacobs.  The White Sox also sent $750K out east to help take care of a portion of Thornton's salary.
Thornton, 36, is owed about $3.5MM over the remainder of the season. A fixture in the White Sox's bullpen since 2006, the lefty owns a 3.86 ERA with 6.8 K/9 and 2.3 BB/9 in 28 innings this year.  In ten big league seasons, eight of which have been in Chicago, Thornton owns a career 3.53 ERA with 9.3 K/9 and 3.6 BB/9.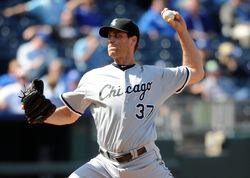 Thornton's name has come up quite a bit on the pages of MLBTR as speculation has increased that the White Sox would look to sell at this year's deadline.  The deal brings GM Rick Hahn a decent prospect while freeing them from the bulk of Thornton's remaining 2013 salary.  For Boston, the veteran could theoretically be more than a rental as he has a $6MM club option with a modest $1MM buyout for 2014.
Jacobs, a 22-year-old outfielder, was recently promoted to Double-A Portland in the Red Sox's system after hitting .244/.334/.440 for the club's High A affiliate.  Baseball America's 2013 Prospect Handbook had him ranked at the 13th best prospect in the BoSox system coming into this season.  According to BA, he had one of the more intriguing bats of anyone in the Red Sox farm system despite his dip in production from his breakout Low-A season in 2011 to his last two seasons in Advanced-A ball.
A source told Sean McAdam of CSNNE.com (via Twitter) that the two clubs have been discussing a deal for Thornton, but talks picked up when Andrew Miller was ruled out for the season.  Meanwhile, Hahn says that he had serious talks about the lefty with seven or eight clubs before pulling the trigger on this deal, tweets Dan Hayes of CSNChicago.com.
The White Sox still have a number of key trade chips that could be moved, including Alex Rios, Matt Thornton, Matt Lindstrom, and possibly Jake Peavy and Jesse Crain when they return to action.  Crain figures to bring back the best return of any White Sox reliever if he can come back healthy in time.
Alex Speier of WEEI (on Twitter) reported the cash amount headed to the Red Sox in the deal.  Photo courtesy of USA Today Sports Images.