Kurt Suzuki is headed back to Oakland.  After just over a calendar year in Washington, the Nats and A's have officially announced a trade that will send Suzuki back to Oakland in exchange for Class-A right-hander Dakota Bacus.  Oakland will reportedly assume about $675K of Suzuki's remaining $1.34MM salary as well.  The Athletics' catching depth is currently compromised, with John Jaso on the DL for a concussion and Derek Norris suffering a broken toe suffered on Tuesday.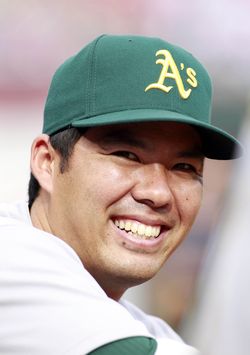 It's likely that Suzuki, a favorite of manager Bob Melvin, will platoon with current A's backstop Stephen Vogt.  A 29-year-old Hawaii native, Suzuki was originally drafted out of Cal State-Fullerton by the A's in the second round in 2004, a few picks after Hunter Pence and Dustin Pedroia.  The Red Sox, in fact, wrestled between picking Pedroia or Suzuki in that draft, wrote WEEI's Alex Speier a few years ago.
Instead, Suzuki debuted with the A's in 2007 and managed to hit 15 home runs in 2009.  The following season, he signed a four-year, $16.25MM extension with Oakland, which still marks the largest contract for a catcher with between three and four years of big league service (though it has since been topped by Buster Posey and Carlos Santana, who had less than three years).  Suzuki talked about the extension in-depth with B.J. Rains for MLBTR in Spring Training this year.  The contract has an $8.5MM club option for 2014 that becomes guaranteed with 113 starts this year, but Oakland does not have enough games remaining for that to become possible.  So, it will remain a club option, which is likely to be declined.  
Suzuki is surely feeling déjà vu with this trade, having been dealt to a contender on Aug. 3 last year when the Nats acquired him for minor league catcher David Freitas.  Suzuki had a nice run offensively for the Nationals last year, but he's dropped off in 2013, hitting just .222/.283/.310 with three homers.  Now, he's returned to the organization that drafted him, tweeting that he's "pumped to be back and ready to go make a run at this."
Bacus, 22, was selected by the A's in the ninth round of the 2012 draft. In 121 1/3 innings for Beloit this season, he's posted a 3.56 ERA with 6.7 K/9 and 2.8 BB/9. At the time of the draft, Baseball America noted (subscription required) that Bacus — Indiana State's ace — led his team to a Missouri Valley Conference championship. He sits 90-92 mph with his fastball and features a slider and change-up, though his lack of swinging strikes makes him profile as a No. 4 starter.

Amanda Comak of the Washington Times was the first to report that Suzuki was headed to the A's, and Susan Slusser of the San Francisco Chronicle reported that the Nationals would receive Bacus and roughly $675K of salary relief.
Steve Adams contributed to this post. Photo courtesy of USA Today Sports Images.