When the Yankees were able to obtain some salary relief and a pair of warm bodies (Diego Moreno and Exicardo Cayones) for the final two years of A.J. Burnett's contract, many in New York celebrated the move. Burnett had struggled in his second and third years with the Bombers, but the Pirates were optimistic. As GM Neal Huntington recently explained to me, Pittsburgh scouts saw a "plus pitch package" in Burnett, and he checked out favorably in several metrics on which they place an emphasis. Burnett has resurfaced as a top-of-the-rotation arm with the Bucs and is now set to hit free agency entering his age-37 season. He's still not sure whether he'll retire or continue his career, but let's examine his free agency under the assumption that he chooses to play… 
Strengths/Pros
There's perhaps no better trio of skills for a starting pitcher to possess than the ability to miss bats, the ability to induce ground-balls and the ability to limit walks.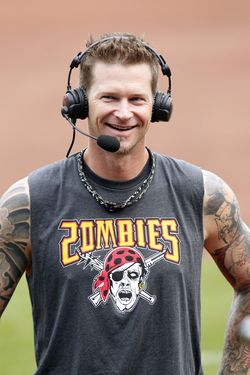 Burnett has all three of those. His 9.8 K/9 rate led the Senior Circuit, and his 10.6 percent swinging-strike rate tied him with Stephen Strasburg for ninth in the NL. Burnett's 56.5 percent ground-ball rate was tops among qualified NL starters as well, and his 3.2 BB/9 mark, while a bit behind the MLB average of 2.8 for starters, is plenty respectable.
The more sabermetrically inclined crowd will appreciate the fact that Burnett's 2.80 FIP, 2.92 xFIP and 3.10 SIERA all lead this year's crop of free agent starting pitchers. His 4.0 fWAR trail only James Shields and Jon Lester among possible free agents, and each of those hurlers is a lock to have his club option exercised, preventing them from hitting the open market. Simply put, advanced metrics are in love with Burnett.
However, the more traditional set of stats will tell us that Burnett was quite good in 2013 as well. He totaled a 3.30 ERA in 191 innings of work and held opponents to a paltry .231/.304/.335, essentially reducing every hitter he faced to the equivalent of Kevin Frandsen (.234/.296/.341) or Eric Young (.249/.310/.336).
The Pirates love Burnett, but a $14.1MM salary might be steep for their modest payroll, especially with big arbitration raises in store for Neil Walker, Pedro Alvarez, Mark Melancon and Charlie Morton. That group figures to earn a collective $9.2MM more than in 2013, and with built-in raises for Andrew McCutchen, Jason Grilli, Russell Martin and Franciso Liriano in store, a qualifying offer seems unlikely for Burnett. As such, he shouldn't require a draft pick to sign.
Weaknesses/Cons
Burnett has been more healthy in recent years, but there's no overlooking the fact that he'll be 37 on Opening Day next year and has 11 different stints on the big league DL under his belt. The only recent DL stint that wasn't due to a fluke injury was the calf strain that cost him four weeks of his 2013 season, but Burnett's body has a lot of wear and tear on it.
Excellent as he's been lately, Burnett's detractors will point to his time in New York and much of his time in Toronto and say that he simply isn't the same pitcher in the American League when he doesn't have the benefit of facing opposing pitchers. Burnett has a career 3.63 ERA in the NL (3.41 in his most recent 393 innings with Pittsburgh) but a 4.39 ERA In the AL. The 5.20 ERA he posted in his final two seasons with the Yankees, in particular, could give AL clubs pause.
There's also the fact that, right or wrong, Burnett's free agency may be tarnished by his most recent results. Burnett made just one postseason appearance with the Pirates — a two-inning, seven-run shellacking at Busch Stadium. That performance and his historic struggles at Busch Stadium led manager Clint Hurdle to start rookie Gerrit Cole over Burnett in the decisive Game 5 of the NLDS. Burnett would have liked to prove that he could defeat the Cardinals on the road and send his team to the NLCS, but he's instead left with a simple "what if" as he and agent Darek Braunecker of Frontline Sports Management talk with interested clubs in the offseason.
Personal
Burnett has two children, Ashton and Allan Jr., with his wife Karen.  The pitcher helped to endorse the Adam Walsh Children's Fund and the National Center for Missing and Exploited Children while playing in Miami in 2001 and 2002 and also served as the national spokesman for the National Center for Missing and Exploited Children.
Market
Burnett has gone on record recently as saying he's 50-50 on retiring, and he wants to end his Major League career as a Pirate. Those comments were made before the team's disappointing departure from the postseason, so perhaps Burnett will return for another year, fueled by a desire to lead the Bucs to a World Series and redeem himself for his postseason miscue. It's hard to imagine him signing anywhere else, but contending teams looking at one-year rotation pieces like the Nationals and Dodgers may still call in the offseason to gauge their chances. The Pirates have said they will do everything in their power to retain Burnett, and they're clearly the runaway favorites to land him — if he pitches.
Expected Contract
Burnett has earned more than $120MM in his career, according to Baseball-Reference.com, so he may not seek to maximize his salary, especially not with the Pirates' tight payroll. I have no doubt that if he wanted to hit the open market in search of a two-year deal, Burnett could surpass Ryan Dempster's $26.5MM guarantee over that same term. However, given his uncertainty toward pitching in 2014, it seems unlikely that he'd want to lock himself into a contract for 2015 as well. As such, I expect that Burnett will sign a one-year, $12MM contract with the Pirates or simply call it a career this offseason.
Photo courtesy of USA Today Sports Images.