Over the next few months, I will be discussing some of the higher profile upcoming arbitration cases. I will rely partly on my arbitration model developed exclusively for MLB Trade Rumors, but will also break out some interesting comparables and determine where the model might be wrong.
Both Justin Masterson (pictured) and Homer Bailey enter their third year of arbitration with relatively similar credentials this year, and both are projected to get very similar raises around $4MM.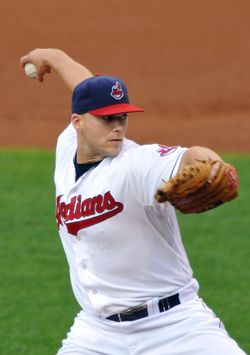 Since both players are not first-time eligible players, the rules of arbitration generally dictate that pre-platform year performances are not very importance. Rather, the current salaries on top of which they will receive raises suffice as summaries of their pre-platform year performance.
Masterson and Bailey had pretty similar pre-platform salaries too: $5.35MM for Bailey and $5.6875MM for Masterson. In 2013, Masterson went 14-10 with a 3.45 ERA in 193 innings with 195 strikeouts, while Bailey went 11-12 with a 3.49 ERA in 209 innings with 199 strikeouts. Obviously the ERA and strikeout numbers are almost identical, and the model seems to think that Masteron's three extra wins only help him a tiny bit more than Bailey's 16 extra innings. Playing time is extremely important in arbitration hearings, so it is not too surprising that they are still seen as similar by the model. At the same time, Masterson will definitely get some benefit from his wins. We project him to get a $4.0125MM raise as compared with Bailey's $3.95MM raise, leaving them with $9.7MM and $9.3MM projected salaries respectively.
The comparable starting pitchers in the last few years seem to reinforce these raise approximations. In the last seven years, I looked for third-time arbitration eligible starting pitchers with ERAs in the 3.00-4.00 range, between 10-20 wins, and within 175-225 innings, and found nine guys who met those criteria. They received raises ranging from $2.5-5.9MM, which is obviously a pretty big window, but other than Zambrano's $5.9MM raise in 2007 (which is largely viewed as an anomaly), the raises fall in the $2.5MM-$4.075MM range. Of course, the lowest raise in there was Wandy Rodriguez's $2.5MM, but that came as part of a multi-year deal in which he was initially offered $3MM, so maybe the real range is from Kevin Correia's $2.85MM in 2010 to Oliver Perez's $4.075MM in 2008. In general, these seven guys are all pretty similar to Masterson and Bailey but I suspect that both inflation and slightly better performances will push them both to the high end of this spectrum.
The limitation on Bailey's performance is definitely his win total. With just 11 wins in 2013, his team's poor run support will cost him. A few pitchers in the aforementioned group seem to meet these criteria pretty well. One is Matt Garza, who in 2012 was coming off a 10-10 record to go with a 3.32 ERA in 198 innings. He also had 197 strikeouts, very similar to Bailey's 199. Of course Bailey had a slightly worse ERA at 3.45, but he also had eleven extra innings pitched. Given the similarity of their numbers but with the extra win and eleven innings, it seems likely that Bailey could argue that Garza's $3.55MM raise could be a floor for his 2014 raise.
Another possibility that Bailey could use to justify a raise closer to $4MM is the $4.3MM raise that Anibal Sanchez won in a hearing in 2012. He had even fewer wins than Bailey that year, amassing only an 8-9 record, and his 3.67 ERA was worse than Bailey's too. He did have 202 strikeouts, but had under 200 innings (196 1/3, to be exact) which could give Bailey a leg up on him. Arbitration cases that go to hearings are often tough to use in newer hearings because obviously $4.3MM was seen by the Marlins at the time as too high and chances are a settlement would have come in below $4.3MM (the Marlins offered Sanchez a $3.2MM raise). But nonetheless, both Sanchez and Garza could help Bailey argue for the $3.95MM raise that I'm projecting for him.
This is not very different from the $4.0125MM that I have down for Masterson, even though Masterson had 14 wins. To try to find a good set of comparables for Masterson, I honed the win range to 13-15 wins, and looked for guys with ERAs in the 3.00-4.00 range who also had 175-225 innings. Perez got a $4.075MM raise from the Mets in 2008 when he won his arbitration hearing. Like Sanchez's raise, Perez's raise needs to be taken with a grain of salt because it was the result of a hearing, not a settlement, but the fact that Perez's 15-10 record and 3.56 ERA looks so similar to Masterson's 14-10 ERA with his 3.45 ERA, that it does warrant a comparison. Perez also only had 177 innings, compared with Masterson's 193.
Another good, more recent comparable for Masterson is Jason Vargas' raise last year. Vargas got a $3.65MM raise after going 14-11 with a 3.85 ERA in 217 1/3 innings. Of course, Vargas only had 141 strikeouts which puts him well below Masterson's 195. The extra innings and equal number of wins are a good starting point for the Indians to try to argue that Masterson shouldn't top the $3.65MM number. Masterson would be better off trying to argue similarity to Sanchez and Perez, whose raises exceeded $4MM after winning cases, but it remains to be seen how much weight those will carry.
Overall, it's not hard to see that both pitchers will fall reasonably close to a $4MM raise. Some of this is going to come down to how inflation is treated this year, and that is always a bit of a wild card. I suspect that if I'm off in my projections, I'm probably more like to be a few hundred thousand low for both pitchers than high, but if either one of these pitchers settles first and beats $4MM, I suspect the second player to settle to use the first as justification for a larger raise himself.
Photo courtesy of USA Today Sports Images.