5:10pm: Pending a physical, the deal is now official, USA Today's Bob Nightengale tweets.
3:31pm: Heyman tweets the contract is worth $53MM.
12:16pm: The Cardinals have reached agreement with Jhonny Peralta on a deal, according to Jon Heyman of CBSSports.com (via Twitter). It'll be a four-year contract worth a little more than $52MM, according to Jon Paul Morosi of FOX Sports (via Twitter).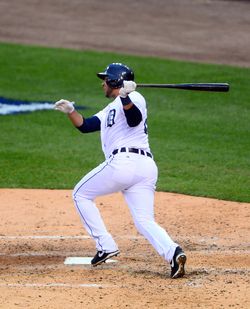 Peralta, 31, is coming off a solid .303/.358/.457 season but his value took a hit thanks to his 50-game suspension for involvement with the Biogenesis PED scandal.  For the Cardinals, Peralta represents a very significant offensive upgrade over shortstop Pete Kozma, even if he looks more like his 2012 self (.239/.305/.384) than '13.  
A report late last week indicated that Peralta was seeking a four-year pact in the $56-75MM range.  Meanwhile, three GMs told Peter Gammons that Peralta's reps were hinting to teams that they had a four-year, $52MM offer in hand.  This weekend, that team has been told that they're "not even in [the] game," according to Jon Heyman of CBSSports.com (via Twitter).
For his career, Peralta owns a .268/.330/.425 slash line over eleven seasons with the Indians and Tigers.  The veteran's -0.4 career UZR/150 isn't terribly impressive, but the metric shows that he has been playing much better defense at the shortstop position over the last three seasons.
Peralta shows a slight platoon split, but he's been able to hold his own against right-handed pitching throughout his career, slashing .270/.326/.416.  In 2013, he hit righties at a .282/.338/.412 clip. He has enough bat against both right-handers and left-handers to be an everyday player. 
The veteran also offers solid versatily with experience at third base and some reps in left field this past season.  The Orioles were said to be among the teams with interest in Peralta as an outfielder, but he'll be slotted at shortstop for the Cardinals.
Peralta is represented by SFX, according to the MLBTR Agency Database.
Photo courtesy of USA Today Sports Images.  Jerry Crasnick of ESPN.com (on Twitter) first reported that the two sides were close to an agreement.