On July 7, 2010, Justin Morneau was hitting a ridiculous .345/.437/.618 for the first-place Twins in their inaugural season at Target Field. Morneau would leave that game early after taking a knee to the head from John McDonald while trying to break up a double play. It was later learned that Morneau suffered a severe concussion on that slide. He wouldn't play again in 2010, and three years later, the Canadian slugger is still searching for his All-Star form. A last-minute trade sent the former American League MVP from the Twins — the only organization he'd ever known — to the Pirates to help deepen Pittsburgh's lineup for a postseason push, and he'll hit the open market for the first time this winter.
Strengths/Pros
Morneau hit .259/.323/.411 with 17 homers in 2013. His slash line is a slight improvement over that of a league-average hitter, and his .152 isolated power mark is also slightly above the league average of .146. He rediscovered his power stroke late in the season, belting nine homers in the month of August before being traded to the Pirates on Aug. 31. His final at-bat in a Twins uniform was an upper-deck, go-ahead homer against Yu Darvish in Texas.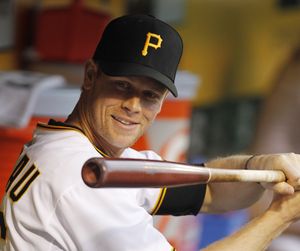 The Fielding Bible's DRS stat has long been a fan of Morneau's work at first base (he was +8 runs in 2010 prior to his concussion), and he's done a fine job there once again in 2013. Morneau has saved five runs with his glove, per DRS. He's been roughly average, per UZR/150.
Morneau makes contact better than the average first baseman. His 17.3 strikeout percentage is a significant improvement over the league average of 22.2 percent.
Among free agent options at first base, only Mike Napoli and Mark Reynolds hit more home runs than Morneau. Reynolds, however, posted a sub-.300 OBP while striking out in more than 30 percent of his plate appearances. Morneau might not be an elite bat anymore, but the only available first basemen with clearly superior seasons to his in 2013 were Napoli and James Loney. Morneau offers more power than Loney, and unlike Napoli, he will not be attached to draft pick compensation.
Weaknesses/Cons
The power just isn't there for Morneau like it was when he was an annual 30-homer threat, and there's no guarantee it will ever return now that he's turning 33 in 2014. His walk rate has also declined; Morneau walked in 11.3 percent of his plate appearances in his peak from 2007-10, but he walked in just 7.9 percent of his trips to the plate in 2013.
Part of the reason that Morneau was so lethal in his prime was his ability to hit left-handed pitching, but that too has eroded. From 2006-10, Morneau hit .282/.331/.492 against same-handed pitching, but over the past three seasons that slash line has deflated to a platoon-worthy .206/.246/.274. Just five of his 40 homers dating back to 2011 have come against southpaws.
The concussion is far from the only injury with which Morneau has dealt since 2010. He's undergone four different surgeries to fix issues ranging from bone spurs in his wrist and foot to a herniated disk in his neck. The neck issue resulted in a pinched nerve that Morneau said prevented him from feeling the pointer finger in his left hand for most of the 2011 season.
Personal
Morneau met his wife, Krista, in Minnesota. The couple and their two children make their home in the suburbs of Minneapolis. A lifelong hockey fan, Morneau grew up idolizing goalie Patrick Roy and has worn Roy's No. 33 throughout his career (he switched to 66 in Pittsburgh, as 33 is retired there in honor of Honus Wagner). No. 33 is also the number of another of his Canadian idols — Larry Walker. Justin and Krista are active within the community, having started the Justin Morneau Foundation, which seeks to support underserved communities. He is known to have many superstitions, such as eating the same sandwich from the same restaurant in St. Paul prior to each home game.
Market
Morneau and his agent, Mark Pieper of SFX, approached the Twins about a potential contract extension this summer but were rebuffed at the time. Minnesota has no clear replacement waiting in the wings, with Chris Parmelee and Chris Colabello both posting sub-par big league numbers. The team may want to leave first base open for a potential position change for Joe Mauer, but a reunion between the two sides does make some sense.
Morneau may be better suited to play for a team in a hitter-friendly ballpark (Target Field certainly does not qualify, especially for left-handed batters). The Blue Jays have long been rumored to have interest, but there doesn't necessarily appear to be a fit with Lind and Edwin Encarnacion set to handle DH and first base.
Morneau could follow the path that Loney and many others have taken and seek to rebuild his value with the Rays, who would have no shortage of platoon options available. He could also be a first base option for the Red Sox, Brewers, Rockies or Rangers. Pirates GM Neal Huntington could also look to retain Morneau at a reduced rate.
Expected Contract
Morneau earned $14MM this season in the final year of a six-year, $80MM extension he signed with the Twins in 2008. He won't come close to that type of money this offseason and may have difficulty securing a multiyear contract. Reynolds' line of .221/.335/.429 from 2012 isn't that dissimilar from Morneau's production in 2013, but Morneau is considered a better defender and doesn't strike out nearly as often. Reynolds signed for one year and $6MM with the Indians last offseason.
Another solid, albeit slightly dated comparison could be Derrek Lee, who signed for one year and $7.25MM with the Orioles after hitting .260/.347/.428 in 2010. Ultimately, I expect Morneau to take a one-year, $7MM contract in a hitter-friendly atmosphere to try to rebuild some free agent value for next offseason.
Phot courtesy of USA Today Sports Images.