WEDNESDAY: Roger Mooney of the Tampa Tribune provides the breakdown of the new contract (on Twitter). DeJesus will be paid $4.25MM in 2014 and $5MM in 2015. The club option is valued at $5MM with a $1MM buyout. Topkin also tweets that DeJesus received a $250K signing bonus.
TUESDAY, 7:18pm: DeJesus' deal is worth $10.5MM over the first two seasons, according to Ken Rosenthal of FOX Sports (on Twitter).  Of course, the Rays also hold an option on the ACES client's third year.
MONDAY, 8:40am: The Rays and David DeJesus have agreed to a new two-year contract that will cover the 2014-15 seasons and include a club option for 2016, according to Marc Topkin of the Tampa Bay Times (on Twitter).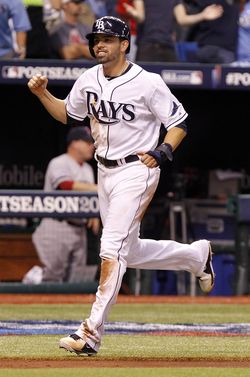 DeJesus, 34 in December, took an interesting path to the Rays. Originally signed to a two-year, $10MM contract with the Cubs, he was claimed off waivers in August by the Nationals this summer. However, GM Mike Rizzo instantly put DeJesus back on waivers, and the Rays claimed him two days later. The Nationals ultimately acquired lefty Matthew Spann from the Rays in exchange for DeJesus, which appears to have been Rizzo's plan all along (to acquire a prospect — not Spann specifically).
DeJesus batted .260/.328/.413 in 35 games (117 plate appearances) with the Rays, adding three more hits in the playoffs as the Rays advanced to the ALDS — the first postseason experience of DeJesus' career. Overall on the season, DeJesus slashed .251/.327/.402 and played solid defense in all three outfield positions, per UZR (DRS didn't like his work in center, pegging him at -6 runs).
Rays manager Joe Maddon is no stranger to using platoons to his advantage, and he'll have to do that to maximize DeJesus' value. Though he could once handle his own against left-handed pitching, DeJesus is batting a ghastly .162/.248/.207 against southpaws dating back to 2011, signaling that he's a clear platoon bat at this stage of his career. The flipside of that is that he's done very well against right-handed pitchers, slashing .274/.356/.441 in 1,068 plate appearances.
Extending DeJesus calls into question Matt Joyce's future with the Rays, in my mind. The two are very similar players in the sense that each hits right-handed pitching well but must be platooned against left-handers. Joyce appears to be a trade candidate or non-tender candidate now (he's projected to earn $3.7MM). Perhaps Rays GM Andrew Friedman decided that if he's going to carry a platoon outfielder, he wants him to be a strong defender. Joyce's defensive metrics have slipped in right field in recent seasons, and he doesn't come with DeJesus' versatility, as he's played just 32 innings in center field in his Major League career.
Photo courtesy of USA Today Sports Images.