FRIDAY, 4:20pm: The Marlins confirmed the deal via press release.
THURSDAY, 8:30pm: The Marlins will sign shortstop Rafael Furcal to a one-year deal, tweets FOX Sports' Ken Rosenthal. Clark Spencer of the Miami Herald writes that the deal is for $3MM plus incentives (via Twitter).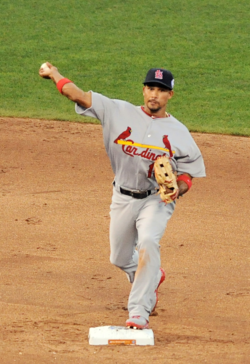 Rosenthal reports that Furcal will be the Marlins' everyday second baseman. Furcal has not played more than four games in a season at second since 2000, having played at shortstop almost exclusively since then, although many players have successfully transitioned from shortstop to second base. Donovan Solano and Derek Dietrich were the Marlins' primary second basemen in 2013, and Adeiny Hechavarria is currently their starter at shortstop.
Furcal, 36, hit .264/.325/.346 with the Cardinals in 2012 and has a .281/.346/.403 line for his career. Furcal himself indicated last week that the Marlins were one of several teams interested in him, along with the Mets, Red Sox, Pirates, Nationals and Rockies. The Mets reportedly lost interest in Furcal, who missed the entire 2013 after having Tommy John surgery, amidst concerns about his health.
Furcal is the second significant free-agent signing for the Marlins this winter, following catcher Jarrod Saltalamacchia, who received a three-year, $21MM deal. Furcal lives in southern Florida, so the signing will keep him close to home.
Photo courtesy of USA Today Sports Images.