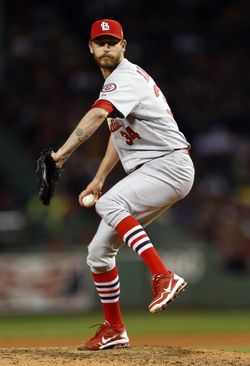 The deadline to tender contracts for arbitration-eligible players is tomorrow night at 10:59 CT. Most non-tenders will be afterthoughts on this offseason's free-agent market, but one potential non-tender who could make some noise is reliever John Axford.
The Cardinals acquired Axford from the Brewers at last August's waiver trade deadline for fellow pitcher Michael Blazek. Axford pitched very well down the stretch and through the Cards' World Series run, striking out 20 batters and walking seven in 16 innings for the Cardinals between the regular season and the postseason.
Still, the Cardinals are expected to non-tender him. One problem, of course, is his performance in 2012 and 2013 in Milwaukee, where he frequently struggled to throw strikes and ultimately lost his closer job to Francisco Rodriguez. The other is his arbitration situation. Axford rode his excellent 2010 and 2011 performances and his closer status to a $5MM salary in 2013, his first year of arbitration eligibility. If he were to be tendered, he would receive a raise on that salary (with the possibility of two more raises to come in 2015 and 2016, since Axford is a Super Two player). Anything over $5MM is a figure the Cardinals likely won't want to pay, given Axford's erratic history and their collection of young arms.
A non-tender, however, should create a terrific opportunity for Axford, who is represented by Beverly Hills Sports Council. Axford is still just 30 (he'll be 31 in April), and while his control has at times deserted him, his mid-90s heat hasn't. That means Axford could be a sought-after free agent, even in an offseason featuring a long list of closer types that includes Joe Nathan, Grant Balfour, Joaquin Benoit, Fernando Rodney, Brian Wilson and Edward Mujica, among others. While Axford likely wouldn't be a top candidate for a closer job, he might make a good setup man. If the Cardinals do let Axford go, he might well wind up with a two-year deal, a rarity among non-tendered players.
Photo courtesy of USA Today Sports Images.