The Pirates have signed right-hander Charlie Morton to a three-year, $21MM extension that could reach $30MM in total value, according to Jeff Passan of Yahoo Sports.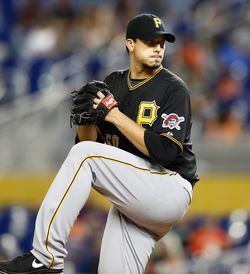 Morton, who is represented by Jet Sports Management, will earn $4MM in 2014, $8MM in 2015-16 and has a $1MM buyout on a $9.5MM club option (plus $500K of incentives) for the 2017 season. The option would become a mutual option were Morton to be traded at any point throughout the life of the deal.
Had he not signed the extension, Morton would have been eligible for free agency following the 2014 campaign. The extension is similar to the three-year, $20MM figure suggested as a fair price by MLBTR's Tim Dierkes when examining Pittsburgh's arbitration eligible players back in early November.
The 30-year-old Morton returned from 2012 Tommy John surgery this season and turned in a strong campaign. Morton pitched to a 3.26 ERA with 6.6 K/9, 2.8 BB/9 and a whopping 62.9 percent ground-ball rate that led all Major League pitchers that threw at least 100 innings.
Originally acquired (along with lefty Jeff Locke and outfielder Gorkys Hernandez) in the 2009 trade that sent Nate McLouth to the Braves, Morton broke out with the Pirates in 2011 when he posted a solid 3.83 ERA in 171 2/3 innings. Over his past three seasons, Morton has pitched to a 3.75 ERA with 5.9 K/9 and 3.3 BB/9 — numbers that have been deflated, to an extent, by his elbow issues in 2012.
MLBTR's Matt Swartz projected Morton to earn $3.9MM in 2014, so the contract essentially guarantees Morton $17MM for a pair of free agent seasons. Had he not signed the extension and had a solid season, Morton would have had a chance to earn more on the free agent market. However, players with Morton's type of injury history haven't typically done this well in contract extensions, and Morton opted for the security of guaranteed money. Morton's agent, Andrew Lowenthal, told Passan that his client never had any desire to leave Pittsburgh:
"The most important part of this deal and the reason why this deal got done is Charlie wanted to remain a Pirate and considers himself a Pirate. He loves the city. He loves the fans. The team stuck by him. This is Charlie's way of being loyal to the organization. The contract is a win-win."
Morton will join Francisco Liriano, Gerrit Cole and Wandy Rodriguez in the 2014 rotation and will now be considered a cornerstone of Pittsburgh's rotation alongside Cole for the foreseeable future.
Photo courtesy of USA Today Sports Images.