MONDAY: Morneau's deal breaks down as follows, according to Troy E. Renck of the Denver Post. Morneau will receive $5MM in 2014 and $6.75MM in 2015, with a $9MM mutual option in 2016. If the Rockies decline the option, they'll owe Morneau a $750K buyout. Morneau can make $500K more in 2014 if he has 550 or more at-bats and remains on the 25-man roster at the end of the season. He would also receive a $375K assignment bonus if the Rockies trade him. There are also bonuses for top-10 MVP finishes.
FRIDAY: Todd Helton will be a tough act to follow in Denver, but former American League MVP Justin Morneau will be tasked with filling his shoes.  The longtime Twin will be reunited with right fielder Michael Cuddyer as a member of the Rockies next season, as Colorado today officially announced the signing of Morneau to a two-year deal with a mutual option for 2016.  Morneau's deal will reportedly guarantee him $12.5MM.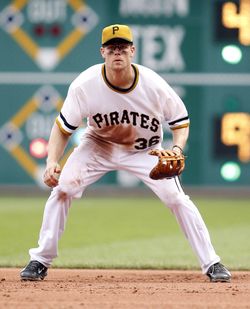 Morneau hit .259/.323/.411 with 17 homers in 2013, a slash line that is a slight improvement over that of a league-average hitter, and his .152 isolated power mark is also slightly above the league average of .146. He had some well-documented power problems for much of the year but turned things around late in the summer, belting nine homers in the month of August before being traded to the Pirates on Aug. 31 in exchange for Alex Presley and a player to be named later (the two sides would eventually settle on Kris Johnson after Duke Welker was briefly sent to Minnesota). 
Even with that promising flash, Morneau's power isn't what it was when he was a yearly 30-homer threat.  His walk rate has also taken a dip – he walked in 11.3 percent of his plate appearances from 2007-10, but he walked in just 7.9 percent of his trips to the plate in 2013.  In his peak, Morneau was a formidable foe for both right- and left-handed pitchers, but he's developed a significant platoon split since returning from a career-threatening concussion suffered midway through what was shaping up to be another MVP-caliber season in 2010.  From 2011-13, Morneau has batted just .206/.246/.274.  He's also had both neck and wrist surgery in that time.  He was healthy in 2013, however, which likely contributed to him providing solid defense at first base again after a poor defensive showing in 2012.  Defensive Runs Saved pegged Morneau at +5 runs in 2013, though Ultimate Zone Rating felt he was simply average.
Morneau is represented by Mark Pieper of SFX, as shown in the MLBTR Agency Database.
Troy Renck of the Denver Post (via Twitter) first reported that the two sides were close to a deal. Jon Heyman of CBS Sports first reported that the agreement was in place as well as the $12.5MM guarantee (Twitter links).
Steve Adams and Charlie Wilmoth contributed to this post. Photo courtesy of USA Today Sports Images.