The Orioles spent much of the winter quietly adding depth in the form of minor league contracts, then struck late to score some notable Major League free agents.
Major League Signings
Ubaldo Jimenez, RHP: Four years, $50MM
Suk-min Yoon, RHP: Three years, $5.575MM
Ryan Webb, RHP: Two years, $4.5MM
Nelson Cruz, OF/DH: One year, $8MM
Francisco Peguero, OF: One year, $550K
Kelvin De La Cruz, LHP: One year, $525K (since outrighted)
Edgmer Escalona, RHP: One year, $550K
Total spend: $69.7MM
Notable Minor League Signings
Johan Santana ($3MM base salary if he makes Major League roster), Alfredo Aceves ($1.2MM base salary if he makes ML roster), Delmon Young ($1MM base salary if he makes ML roster), Luis Ayala, Evan Meek, Alex Gonzalez, Alexi Casilla, Xavier Paul, Quintin Berry, Brett Wallace, Aaron Laffey, Luis Vizcaino, Ivan De Jesus
Trades And Claims
Notable Losses
Needs Addressed
Baltimore fans spent much of the winter getting impatient with Orioles executive VP Dan Duquette.  Several notable players left for free agency, former All-Star closer Jim Johnson had been traded to get his ballooning salary off the books and the team had not one, but two signings fall through due to last-minute issues with the players' physicals.
After a busy February, however, it seems like Duquette was simply biding his time.  The Orioles signed one of the few notable starting pitchers left on the market when Ubaldo Jimenez agreed to a four-year, $50MM deal — the most significant commitment made by the O's to a pitcher in recent memory.  Duquette had been vocal about not wanting to overspend for a free agent arm and was hesitant to surrender the team's first-round draft pick in order to sign free agents who had rejected qualifying offers, yet had kept in touch with Jimenez's representatives for much of the winter and finally locked the right-hander up by agreeing to a fourth year.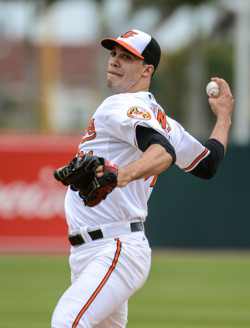 It took Jimenez the better part of three seasons to regain his mechanics, but after a rough start he was dominant in 2013, posting a 2.40 ERA over his final 22 starts with Cleveland.  It remains to be seen if Jimenez can remain consistent, but at worst, the O's added a durable veteran arm who has averaged 198 IP per year over the last six seasons.  Jimenez joins Chris Tillman, Wei-Yin Chen and Miguel Gonzalez on the staff, and Bud Norris retained his spot with a solid Spring Training, bumping several promising young hurlers to the bullpen (Brian Matusz and Zach Britton) or the minors (Kevin Gausman).
If that wasn't enough pitching depth, the Orioles also have a pair of intriguing arms that could be available later in the season.  Suk-min Yoon's three-year, $5.575MM deal is Duquette's latest venture into the international market, and while Yoon was a stand-out starter in the KBO and will be stretched out as a starter in the minors, there is some belief that he would translate best to North American baseball as a reliever.  Minor league signing Johan Santana could also find himself in the pen if he can't handle a starter's workload following shoulder surgery that cost him the entire 2013 season.  So little guaranteed money is tied up in Yoon and Santana, however, that both pitchers are essentially lottery tickets for the Orioles that could pay off extremely well if either returns to form.
Before landing Jimenez, the Orioles were linked to other veterans like Bronson Arroyo, A.J. Burnett and Ervin Santana, and even after Jimenez's signing were still in on Santana given how the righty's price fell to just a one-year deal.  Earlier, Baltimore had explored bringing back Scott Feldman, and were willing to offer him a two-year contract, but Feldman found a longer deal with the Astros.
Fresh off the Jimenez signing, the Orioles then landed another qualifying offer free agent by inking Nelson Cruz signed a one-year, $8MM deal.  Signing Jimenez and Cruz cost the Orioles their first- and second-round draft picks, meaning that over 90 players will be off the board before the O's finally pick in June's amateur draft.  Some of the club's young international signings help make up the difference, though giving up those picks mean the Orioles are making a bold step towards winning in 2014.
With Johnson gone, Baltimore added some new faces to the relief corps.  Free agent right-hander Ryan Webb owns a 3.29 ERA over 276 career innings and his 57.4% career ground ball rate should play well at Camden Yards.  The O's took the opposite tack by acquiring live arm Brad Brach, who has had some control issues (a career 5.1 BB/9) but can definitely miss bats, as evidenced by his 117 strikeouts in 104 2/3 career innings.  Veterans Alfredo Aceves, Evan Meek and Luis Ayala were signed to minor league deals to provide further depth.
Once Nate McLouth signed with the Nationals, the Orioles filled their need for a left-handed hitting outfielder by dealing Danny Valencia to the Royals in exchange for David Lough.  While the 28-year-old Lough only has a career .700 OPS in 323 PA against righty pitching, he brings an outstanding glove (+27.3 UZR/150) to all three outfield positions.  Lough will receive regular playing time against right-handers as part of a left field platoon.
Questions Remaining
Johnson's salary was projected to rise past the $10MM mark in the closer's final year of arbitration eligibility and his price simply got too high for the Orioles to manage, so Johnson was dealt to Oakland.  Baltimore seemed to have Grant Balfour all but signed as the club's next stopper, yet after Balfour's physical, the O's found some issues with Balfour's wrist and knee that caused them to back away from the agreement.  Balfour went on to sign a two-year contract with the Rays (whose team doctors judged him to be in good fitness) and the incident opened the Orioles up to criticism that they were being too picky.
Though the O's explored signing Fernando Rodney and even discussed acquiring Jonathan Papelbon from the Phillies, they ended up forgoing the proven-closer route and now seem set to use Tommy Hunter in the role.  Hunter became a full-time reliever in 2013 and quickly took to the role, posting a 2.81 ERA, 7.1 K/9 and 4.86 K/BB over 86 1/3 innings.  As Rotographs' Mike Podhorzer explains, Hunter projects as a solid closer for the coming season, though the Orioles' interest in Rodney indicates that they're not totally set on having a novice stopper.  If Hunter falters, Webb or Darren O'Day could be promoted to closer, and the Orioles would likely become a prime trade partner for non-contenders looking to deal their closer at midseason.
Manny Machado will begin the season on the DL, as the star third baseman is still recovering from left knee surgery in October.  While Machado has made good progress and was recently cleared for physical activity, he won't see any Major League action until later in April.  Ryan Flaherty will fill in at third for now, with waiver claims Cord Phelps and David Adams (or even Rule 5 draft pick Michael Almanzar if the O's can find roster space for him) also available at the hot corner for what Baltimore hopes will be only a few weeks until Machado is healthy.
Flaherty will also be part of the very unsettled mix at second base.  The Orioles bought low on Jemile Weeks, who has struggled since his excellent 2011 rookie campaign and also hasn't shown much at the plate during Spring Training.  With Weeks not producing and the re-signed Alexi Casilla hobbled by injuries, the newly-acquired Steve Lombardozzi may now be the favorite at second base (in addition to adding depth at third and left field).  Duquette only needed to surrender a veteran on a minor league deal in Alex Gonzalez to pick up Lombardozzi, a 25-year-old switch-hitter under team control through 2017.
Top prospect Jonathan Schoop, however, is the big x-factor.  The conventional wisdom was that Baltimore would keep Schoop in the minors for more seasoning (he posted only a .697 OPS in 289 Triple-A plate appearances) this year and then look to him in 2015, yet Schoop has enjoyed a tremendous Spring Training.  Schoop was already called up for a five-game cup of coffee last September, and given the uninspiring other options at the keystone position, the Orioles could keep Schoop's service clock rolling, at least until Machado returns.
As you can tell, there are a lot of moving parts with Baltimore's bench situation.  MLBTR's Tim Dierkes recently predicted that "a trade or two" could be in the offing in his look at the Orioles' many out-of-options players since between the out-of-options guys and the minor league signings, the O's simply have too many players for too few roster spots right now.  One small move was already made to bring in Adams, as Kelvin De La Cruz was outrighed to Triple-A four months after he was surprisingly signed to a Major League contract.
While the Orioles made a flurry of moves involving smaller names on their roster this offseason, there wasn't much to report on some of their bigger names, as extension talks with such notables as Chris Davis, Matt Wieters and J.J. Hardy haven't delivered much progress.  The Davis and Wieters cases perhaps aren't surprising given that Scott Boras clients usually get to the open market.  Since Davis and Wieters aren't free agents until after the 2015 season, the O's might want more information before committing to either player, for differing reasons — Davis to see if he's truly an elite slugger following his breakout 53-homer season in 2013, and Wieters to see if he can rebound following a disappointing .235/.287/.417 year.
Hardy is a more pressing case since he's only under contract through 2014.  Machado's future looms over any decision the Orioles make with Hardy; though Machado was phenomenal at third base last year, it has been assumed that the O's will eventually move him back to his natural position of shortstop.  The Orioles' lack of dialogue with Hardy about a position switch has openly frustrated him, as needless to say, he'd prefer to have his future position settled before signing an extension.  Hardy turns 32 in August and Machado only 22 in July, so the easy solution for the Orioles could be to extend Hardy for two or three seasons and just leave Machado at third until Hardy's next deal is up.
Deal Of Note
As the cliche goes, there's no such thing as a bad one-year deal.  Cruz brings a lot of baggage with him to Baltimore — a 50-game PED suspension in 2013, his age (he turns 34 in July), declining speed, lots of strikeouts, a below-average outfield glove and career home/away splits (.911 OPS at Globe Life Park, .734 OPS on the road) that raised questions about whether he can produce outside of Arlington.  Still, it was this same baggage that allowed the O's to sign the veteran slugger at such a reduced price.
The more important facts for the Orioles might've been Cruz's .266/.327/.506 slash line and 27 homers in 456 PAs last season, numbers that easily surpass the .234/.289/.415 line and 21 homers over 602 PA posted by Baltimore designated hitters in 2013.  Seventeen different players appeared at DH for the O's last year and that revolving door has now been firmly slammed shut with Cruz's arrival.  Spending most of his time at DH will solve the issue of Cruz's glove, and he should still be able to produce at a hitter-friendly park like Camden Yards.
After turning down a $14.1MM qualifying offer from the Rangers and initially seeking a four-year, $75MM deal, the one-year agreement is certainly not what Cruz and his representatives were expecting from the offseason.  Much has been made about how Cruz and other free agents over the last two winters have seen their markets drastically limited with the price of a first-round draft pick compensation hanging over their heads, and Cruz is the first of these free agents to end up with a deal worth less than $14.1MM.  It's easy to say in hindsight that Cruz should've accepted the Rangers' offer and tried to rebuild his value in familiar surroundings in Arlington, yet it was hard to predict that his market would so completely dry up.  Cruz will no doubt have extra motivation to deliver a big season in 2014, which is just fine for the Orioles.
Overview
If things don't work out for the O's this season, Duquette has given himself a lot of flexibility to reload.  While a whopping 15 current Orioles are arbitration-eligible next winter, only five players (Adam Jones, Dylan Bundy, Jimenez, Yoon, and Webb) are on guaranteed contracts past this season.  By then the young stars will only be a year older and perhaps ready to contribute, so even if Baltimore is again limited to 85 wins by their tough division, there's still plenty of hope for another run in 2015.
But then again, why wait until 2015?  With player salaries topping the $100MM mark, the Orioles are spending a bit more freely in order to hang with the other big AL East payrolls.  Giving up the two draft picks for Jimenez and Cruz marks a shift in Duquette's strategy, as this is no longer a team that seems unsure about whether it's rebuilding or not — while Gausman, Schoop, Bundy and company are still on the horizon, the Orioles clearly feel that they enough talent to contend right now.  We could still be a year or two away from the "next great Orioles team," or that next great team could have already arrived.
Photo courtesy of Jonathan Dyer/USA Today Sports Images