MLBTR is re-launching its Draft Prospect Q&A series this season in order to give our readers a look at some of the top names on the board in this year's draft. MLBTR will be chatting with some of the draft's most well-regarded prospects over the next couple of weeks as they prepare for the 2014 draft on June 5-7.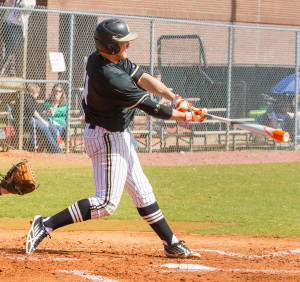 Scouts see Georgia high school prospect Michael Chavis as someone who can do it all thanks to his well-rounded skill set as well as his versatility.  Chavis spent most of his career at Sprayberry High School at the shortstop position but he also boasts arm strength that can allow him to play anywhere in the infield.  He's got the speed to play second base or stick at shortstop, and while he has a bit of experience behind the plate and in the outfield, most say his big league future is at third base.  The Clemson commit is ranked No. 21 by MLB.com, No. 26 by Baseball America, and No. 27 by ESPN.com's Keith Law.
The first-round prospect left high school on a high note, slashing .557/.580/.663 with 13 homers in his senior season.  At the plate, Chavis flashed his plus bat speed as well as his plus raw power, which helped him to win the Perfect Game Home Run Derby over other notable prospects such as Alex Jackson, Braxton Davidson, and Michael Gettys.
The charismatic and confident young man spoke with MLBTradeRumors recently about what position he wants to ultimately play, the prospect of going to Clemson, and more:
Zach Links: Scouting reports seem to have you pegged as a third baseman at the Major League level, but you have the ability to play multiple positions.  Do you have a preference on where you play?
MC: A lot of people ask me that and they ask if I'd be more comfortable at third base or at second base.  Right now, I'd be more comfortable at third base just because I've played there, but down the road I think I'd be just as comfortable at second base once I get more reps in.  I definitely have the speed to play second base.
ZL: What do you expect the transition of moving over to second base to be like?
MC: The only adjustment is that at second base, you have more time.  You have to play the ball differently, knowing different things, the angles on the throws…the only difficult part would be learning how to turn the double play from the other side of the bag, with the footwork and your body going the opposite way.
ZL: Could you see yourself playing outfield or catcher?
MC: People have talked to me about that and I've done some scouting drills where they had me make throw downs.  I think I could make that transition, just because I think I have the catcher's mentality; I have a bulldog heart.  I'd rather not become a catcher but if it comes down to "Hey, Mike, you can either play catcher or get out of baseball," I think I'll go out to be a catcher.
ZL: You've had a couple of notable big leaguers come out of your high school in Marlon Byrd and Kris Benson.  Have you ever had a chance to meet them and get advice from them?
MC: Kris Benson came back to high school in my freshman year and he talked to me teammates and everything but I haven't talked to him since….As for Marlon Byrd, he follows me on Twitter, if that counts.
ZL: If you got to talk to them, what would you ask them?
MC: I'd be curious to talk to Kris about his college experience because he went to Clemson as well and that's where I'm committed.  So I'd be curious to hear about what he has to say about the Clemson experience compared to MLB life.  Byrd went to Georgia Tech so I'd like to ask both of them if they felt like that experience benefited them or if they wish they went straight into the draft [out of high school].
ZL: You're widely projected as a first round pick.  Is there any chance that you change course and go to Clemson?
MC: If everything doesn't work out as I hope it does, then yes.
ZL: If you go pro and skip college, is there any part of you that worries about missing out on things, whether its the baseball experience or just being a college kid?
MC: Obviously, college life compared to the life of a professional baseball player will be different.  In college baseball you have a bunch of fans and everyone knows you, but once you hit the lower parts of minor leagues, it's going to be four fans in the stands at every game.  That's a big difference.
As for the college life, I'm not a big partier or anything like that, so if I did go to Clemson the main reason would be to play baseball.  I honestly don't think I'd miss out on too much when it comes to that.
ZL: What will you major in if you go to Clemson?
MC: Sports broadcasting.  That's something I'd like to get into when my playing career is through.
ZL: What role do you envision yourself in?  Play-by-play?  Color analyst? Studio anchor?
MC: I haven't really thought that out in detail, but I know that I love talking about baseball and I want to stay around the game even after I'm done playing, so I figured it'd be good for me.
ZL: What does your daily baseball consumption look like?
MC: I watch MLB Network just about 24/7.  It's on the TV whether its me watching or my dad and it's all that's ever on.  My mom gets tired of watching so much baseball and sometimes she goes into her room by herself to go watch something else.
ZL: Do you have set goals in mind for the first few years of your career?  Do you want to reach Triple-A by a certain point or the majors by a certain point, or do you not think about timetables?
MC: As for right now, obviously it's kind of early to talk about that because I'm not even a professional baseball player yet and, ideally, I'd like to get into the organization and get acclimated to everything there.  I'd say in three years I'd like to be in the majors though.
ZL: Has your swing changed at all in recent years?
MC: It has changed, but not a lot.  We made minor tweaks, but they made a big difference this year.  One of my problems this summer is that when I would come into contact I'd rise up with my front leg and we changed that by activating my back leg and using my lower half a lot more.
ZL: Ever catch yourself Googling your own name to see what's being written about you?
MC: I do every now and then but I tried to avoid that, especially during the season, because I didn't want to get caught up in the hype and start pressing things.
ZL: Every scouting report I've seen has noted how well-rounded you are.  In your estimation, what's the one characteristic you possess that stands out above the others?
MC: I think it would be either how hard I play or how much I truly love being out there.
ZL: Some of the draft sites out there like to bestow major league comparisons on prospects.  Who would you say your game is styled after?
MC: I haven't exactly styled my game after anybody…For a second base comparison I was thinking Dan Uggla when he was on the Marlins.  Third base, I think of myself as a David Wright.  He's not a big guy but he can hit for power.
ZL: You'll be one of just seven players in attendance at the draft.  Are you excited about that?
MC: Oh I was thrilled to get that invite.  I was actually in class when I found out and the person from MLB called me to let me know that I was invited.  I didn't have the number saved and, I don't know why,  but I just knew it was MLB calling to invite me.  I walked out of the classroom to take the call and when I walked back in I was so excited.  I just sat in the back of the classroom with a big smile on my face.
ZL: Was your teacher mad at you for taking a call during class?
MC: No, she understood.  She was really cool.
ZL: If you weren't going to be there for it live, what would draft night look like for you?  Just the immediate family or a big party for everyone?
MC: We would probably just have the same people that are going to go up with me for draft night and afterwards we'd have a bigger party with everyone.
ZL: Will you be giving Commissioner Selig a handshake or a hug?
MC: I don't know, it might be an in the moment thing.  He might get both.
ZL: Do you have your suit picked out?
MC: No, I don't, but I decided that I'm going to try to wear a bowtie.
Other entries in this year's series include prep shortstop Nick Gordon, University of San Francisco center fielder Bradley Zimmer and Louisville right-hander Nick Burdi.