The Manny Ramirez era in Los Angeles is long over, but Hanleywood has given the Dodgers plenty of lasting memories in recent years.   Hanley Ramirez is now hitting the free agent market and whether he winds up back with the Dodgers or with someone else, he's all but certain to get paid big bucks.
Strengths/Pros  
Offensively, Ramirez rates as one of the highest-impact free agents available.  Last season, Ramirez slashed .283/.369/.448 with 13 homers in 128 games for the Dodgers.  His career track record is even stronger with a batting line of .300/.373/.500.  There aren't many shortstops who offer the kind of pop that Ramirez can, either.  He has yet to hit less than ten homers in a campaign and that low point comes from a partial season of play (2011).  Over the last nine years, Ramirez has averaged 21 homers per season.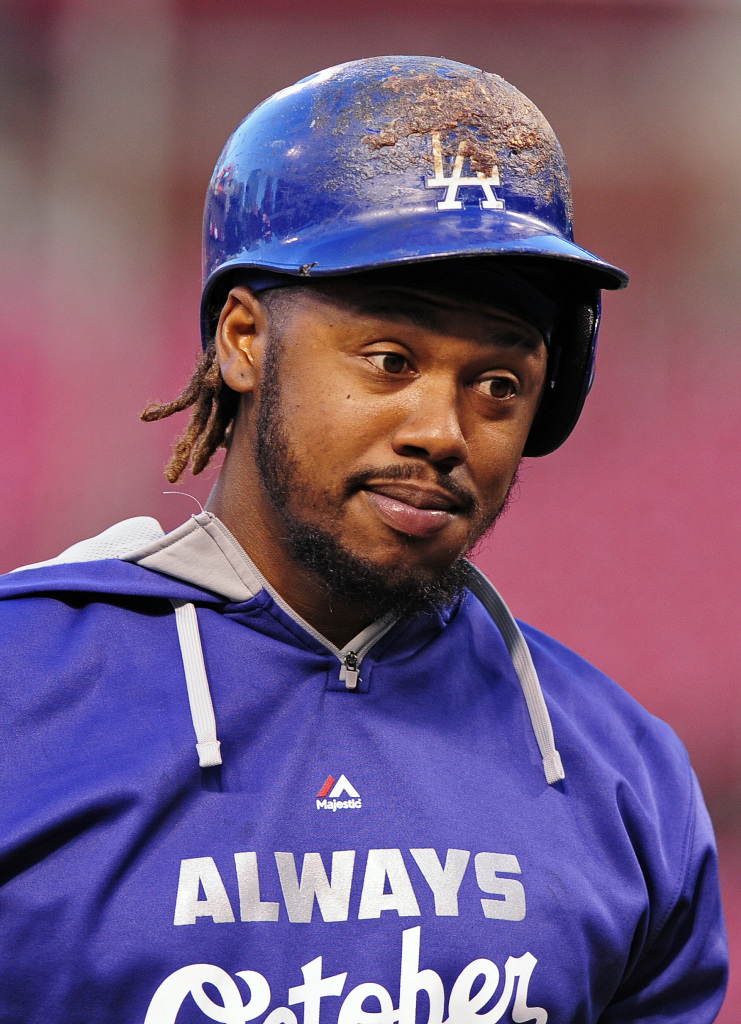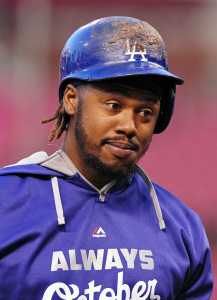 Ramirez has never played in a particularly homer-friendly environment, but he still boasts strong career numbers.  With the Dodgers, Ramirez posted a .299/.368/.506 line in his two-and-a-half seasons, numbers that are eerily similar to his career slash line.  When stacking his 2014 wRC+ against this winter's other free agents (I modified the free agent leaderboard constructed by Steve Adams to exclude players with options that were exercised, like Ben Zobrist and Denard Span), he rates third among qualified hitters with a 135 rating. That puts him ahead of guys like Melky Cabrera and just a hair behind the big bat of Nelson Cruz.
Ramirez turned in a 3.4 WAR this past season and a particularly strong 5.0 WAR in 2013.  He was a massive offensive weapon for the Dodgers in 2013 with a wOBA of .446.  His closer-to-mortal .362 wOBA in 2014 is still quite strong, also good for No. 3 on the aforementioned free agent leaderboard.  For his career, he has offered better-than-average strikeout and walk rates (16.6% and 9.6%) and his walk rate of 10.9% this past season was actually a step up from his total body of work.  Both UBR and BsR scored him as an above-average baserunner this past season and are fond his career body of work on the bases.
A three-time All-Star, he shines especially bright when compared to the rest of the crop at the shortstop position.  After Ramirez, the next best options are Stephen Drew, Jed Lowrie, and Asdrubal Cabrera.  While all three are starter material, Ramirez clearly is of a different caliber and figures to out-earn all of them significantly in terms of average annual value and contract length.
Of course, Ramirez's future might not be at shortstop.  He also has 98 games of experience at third base to his credit, the bulk of which came in 2012 with the Marlins.  The top of the third base market is healthier than at short, with options like Pablo Sandoval and Chase Headley, but Ramirez offers the most offensive potential of the three.  A team could sign Ramirez to play shortstop, for now, and shift him over to third base down the line depending on the needs and opportunities that come up.
Weaknesses/Cons  
Ramirez's health has been an issue for years now.  He's phenomenal when he's on the field, but it's hard to count on getting a full season out of him given his track record.  We first saw the injury bug strike in 2011 where he played in just 92 games, and in 2013, Ramirez took the field in just 86 games, his lowest output since becoming a full-time player.
Ramirez first started having shoulder trouble in 2010 and it only got worse in 2011 when he injured himself trying to make a diving catch in August of that year, causing him to miss the remainder of the season.  In 2013, he tore a ligament in his thumb and missed a month after undergoing surgery.  When he got back on the field, his hamstring cost him significant time.  This past season, Ramirez was held back by several injuries, including a strained oblique.
While there are tons of great things to say about Ramirez's bat, his fielding is not at all on the same level.  Ramirez's -15.6 UZR/150 rating from this past season is atrocious and his -8.8 career mark is pretty ugly as well.  Defensive runs saved tells the same story – he cost the Dodgers nine runs in 2014 and has a -77 tally for his career.
I mentioned the possibility of a shift from shortstop to third base as a positive in the previous section, but here's the other (and, maybe, more realistic take): a club signing Ramirez to a multi-year pact will likely have to put him at third base at some point to try and cover up his defensive shortcomings.  When you look at his history of poor defense and injuries and consider that he's on the wrong side of 30 (he'll be 31 by Opening Day), there's little reason to believe it'll get better.
Ramirez will most definitely turn down the Dodgers' qualifying offer, meaning that any other club signing him will forfeit its top unprotected pick.
Personal  
Ramirez was born and raised in the Dominican Republic and attended Adbentista High School.  Ramirez is married with three children – two sons and a daughter.  In the summer of 2013, his youngest son showed everyone that he has a gorgeous swing, just like his father (Vine link).
Market  
The Dodgers and Ramirez were discussing an extension in the early part of the season, but the two sides agreed to table talks when they could not bridge a sizable gap.  A return is not out of the question, but rival evaluators told ESPN.com's Buster Olney in September that they were sensing that the Dodgers would offer Ramirez the QO with the expectation that he would decline, sign elsewhere, and net them draft compensation.   Of course, the new regime in L.A. headed by Andrew Friedman might feel differently.
More recently, Ramirez has reportedly told teams that he's willing to play a position other than shortstop, which should make clubs with third base needs and possibly corner outfield needs more open to adding him.  However, some clubs might have reservations about signing him and simply dropping him into the outfield.  After all, he's never played a single game there in his pro career.
The Yankees might be the most obvious fit for Ramirez, but reports this week indicated that they weren't likely to pursue many of the big-name free agents on the market.  Of course, as Steve pointed out in the linked piece, that report mentioned many top free agents by name, but Ramirez's name was absent.  If the Yankees are willing to pay market price for Ramirez, they can slot him in at shortstop in the short-term and transition him over to third or a corner outfield spot later on in the contract.
The Mariners and Giants could enter the mix as well, with San Francisco looking at him as a third base or left field option.  The Tigers might make sense from a need standpoint, but they have so many large contracts on the books looking forward that adding a significant deal for Ramirez might be tough.  A reunion with the Red Sox might be possible since he is willing to play third, and they've reportedly already reached out to him.  The White Sox have money to spend, few significant long-term contracts on the books and lack a clear long-term option at third base.  The A's are in need of a shortstop and with a lefty-heavy offense, Ramirez's big right-handed bat would be a welcome addition, though it's hard to see his salary fitting into the budget.  The Mets also probably won't spend the money necessary to sign Ramirez, but the need is there.
Expected Contract
Ramirez was reportedly asking for over $130MM in the spring give up a chance at testing the open market, presumably on a five- or six-year pact.  Given the lucrative deals signed by Jacoby Ellsbury ($153MM) and Shin-Soo Choo ($130MM) last winter, an AAV of $20MM or more seems feasible for Ramirez, who offers major offensive production at a premium position.
Even when considering Ramirez's spotty health record and weak glove, it's hard to envision a scenario where he doesn't comes away as the highest paid positional player of the winter.  Last winter, Ellsbury got a $153MM, seven-year pact, despite his own checkered injury history.  I think Ramirez will approach that AAV with one less year, netting a six-year, $132MM deal.
Photo courtesy of USA Today Sports Images.