Ten months ago, the common belief was that Jon Lester would sign an extension that would keep him in a Red Sox jersey into his late 30s. A lot can change in a few months, however, and Lester soon found himself donning the green and gold of the Oakland A's following a midseason trade from a surprisingly poor Boston club. Though many Red Sox fans wouldn't have believed it would come to this, the lefty is now fair game on the open market.
Strengths/Pros
To put things in the simplest of forms, Lester is a true ace at this point in his career. He misses bats, has strong control and piles up innings. Among free agent starters, Lester's 2.46 ERA last year leads the pack by a long shot, as does his 2.80 FIP. He was worth 6.1 wins above replacement, per Fangraphs' version of the metric (which is based on FIP), and he was worth 5.8 wins when looking at RA9-WAR, which is based on actual runs allowed. Both metrics were tops among free agent starters. He struck out 220 hitters and walked just 48 in 219 2/3 innings this season (9.0 K/9, 2.0 BB/9).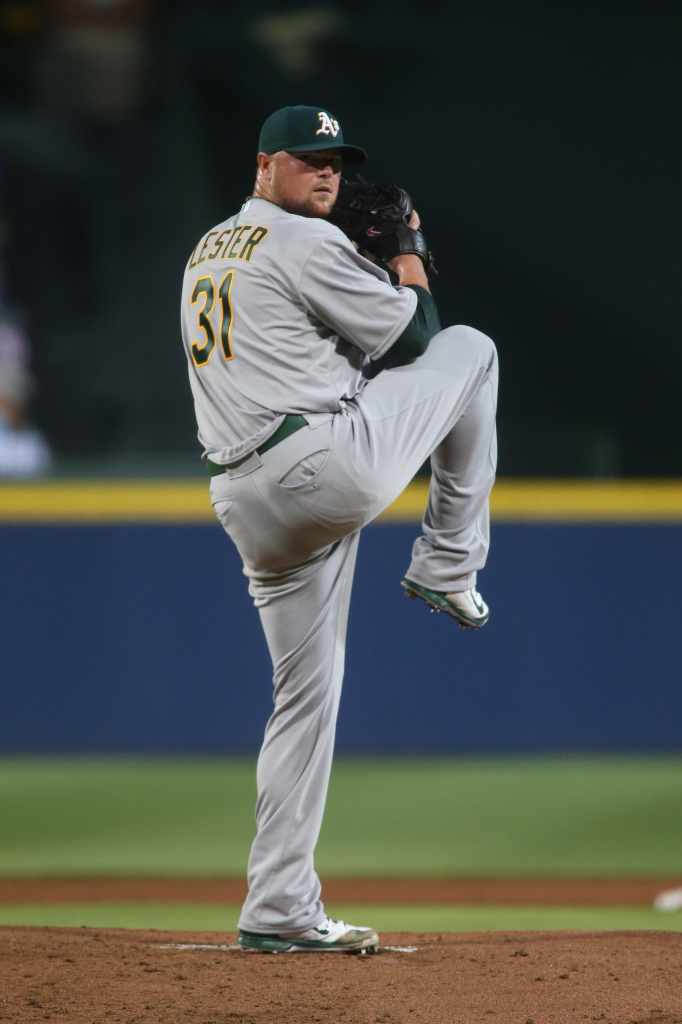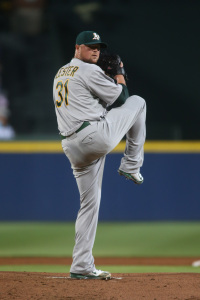 The 2014 campaign marked the sixth time in seven seasons that Lester has topped the 200-inning threshold, and he totaled a strong 191 2/3 in the lone season he fell short (2011). His 219 2/3 innings trails only Max Scherzer (220 1/3) and James Shields (227) among fellow free agents. Dating back to 2008, his age-24 season, Lester has averaged 207 innings per season. He's hit the DL just once in that time, spending a mere 19 days on the shelf with a strained lat in his left shoulder. That minor injury is all that prevented him from seven straight 200-inning seasons.
Lester was a strikeout machine early in his career, but his K/9 numbers dipped in recent seasons, settling in the mid-7.00s before his resurgent 9.0 K/9 in 2014. Lester pounded the strike zone early this season, registering a 61.4 percent first-pitch strike rate — the highest mark of his career. Perhaps being ahead in the count more often than ever improved the effectiveness of his curveball, or perhaps it was the fact that he threw it slower than ever before (75.1 mph average), but Lester's 18.2 percent whiff rate on his curve was easily the strongest of his career, resulting in the restored strikeout rate.
Most of Lester's career has come in a large market in the game's most hitter-friendly division, and he's thrived in that setting, for the most part. Teams will appreciate that component of his game, and his postseason experience won't hurt either. Lester has a 2.57 career ERA in 84 postseason innings. He's a two-time World Series champion that has been on five playoff rosters.
Lester's main competition this year will be Scherzer, with Shields representing the third-best arm on the market. However, unlike his peers atop this year's free agent class, Lester does not have a qualifying offer attached to him; he was ineligible to receive one after being traded midseason and can therefore be signed without the forfeiture of a draft pick.
Weaknesses/Cons
Lester was flat out elite this season, much like he was in his first full three seasons, but from 2011-13, he looked more like a good starter than a truly great one. In that time, Lester posted a 4.03 ERA, 3.84 FIP, 7.7 K/9 and 3.1 BB/9 — useful numbers to be sure, but not the type of stats one associates with a pitcher in search of a six- or seven-year contract.
Though he averaged better than 93 mph on his fastball earlier in his career, Lester's velocity settled into the mid-92 range from 2011-13 and dipped even further in 2014, averaging 91.8 mph. Of course, that's still plenty of life, especially considering the fact that he's left-handed.
Lester turns 31 in January, meaning that a six-year deal would run through his age-36 season and a seven-year pact would run through his age-37 campaign. Clearly, that's a risky commitment, though such is the case with all top-of-the-market free agents. He's younger than Shields, but Scherzer pitches most of next season at age 30, so his main competitor has age on his side.
Personal
Lester's battle with cancer early on in his career was well-documented, and in addition to the great comeback story that culminated in him winning the clinching game of the 2007 World Series, that battle has shaped the work he's done in the community. Lester partnered with Charity Wines to release his own line of red wine, the proceeds of which benefit the Fred Hutchinson Cancer Research Center. His NVRQT charity sends all of its proceeds to the Pediatric Cancer Research Foundation, and Lester explained how the charity came about and what it means to him in a guest column for the Boston Globe in 2013.
This past July, Peter Abraham of the Boston Globe wrote about the strides Lester has made in terms of maturity both on the mound and with the media after being a bit hot-tempered earlier in his career. (Abraham references glaring at umpires after questionable calls and the infamous chicken-and-beer incident as examples.)
Lester is married and has two sons. The Tacoma, Washington native now resides near Atlanta in the offseason.
Market
Lester is one of the arms referred to as the "Big Three" of this offseason, along with Scherzer and Shields. However, while MLBTR's Tim Dierkes noted that a third or more of the teams in the league could have viable interest in Shields, the younger Lester figures to come with a higher price tag that may take him out of the picture for a number of clubs.
Lester stated multiple times that he'd like to return to Boston, and last winter he told reporters that he planned to be with the Red Sox until someone "ripped the jersey off his back." However, the Red Sox made an initial offer of $70MM over four years, at that point, and while the reported $110-120MM offer they made today might have worked in March, it feels too light to make them a serious contender right now.
The other popular landing spot for Lester is the Cubs, where former Red Sox GM Theo Epstein is now president of baseball operations. Epstein and GM Jed Hoyer were members of the Boston front office when Lester emerged as a front-line starter, and the team is rich on young hitters without much in the way of high-upside pitching (Jake Arrieta is a notable exception).
Other teams that figure to enter the mix are the typical names we see assorted with high-end free agents. Though the Yankees maintain that they won't pursue Lester, Scherzer or Shields,  it's possible they'll change their tune if they're unable to re-sign Brandon McCarthy and Chase Headley. The Dodgers have the cash to pull off a deal, though they're said to be looking to tone down spending this winter. I still won't rule them out as a possibility. The Tigers and Angels have high payrolls but cloudy long-term outlooks thanks to existing salary on the books. Neither seems a fit barring trades to create some long-term flexibility.
The rest of Lester's market will have to consist of dark horses, and agents Seth and Sam Levinson of ACES will likely need to pitch to owners of some unlikely teams that Lester could be a franchise-altering decision. To this point, the Royals have shown some preliminary interest, and Lester is set to meet with the Braves on Thursday. The Cardinals have also been linked to Lester.
Beyond that, a team like the Astros has the long-term payroll freedom to make a move, as do the Marlins, who could feel that adding Lester would be a significant step toward building a perennial contender now that they've extended Giancarlo Stanton. The Nationals have plenty of money and are set to lose both Jordan Zimmermann and Doug Fister next winter. Trading one and swapping him out for Lester could is a long shot but not unthinkable. The Giants haven't spent at this level on the free agent market since their ill-fated Barry Zito deal, but they have rotation needs and are flush with cash following the World Series. The Rangers deserve a mention as a team with a willingness to spend and a need for starters, but GM Jon Daniels has indicated they may not be big spenders on the open market. Could a reunion with his hometown Mariners be in the cards? Seattle's primary need is offense, but if they again have trouble luring hitters to Safeco Field, GM Jack Zduriencik could double down on an existing strength and look to build an even more imposing rotation.
Expected Contract
As is often the case with big name free agents, it's easy to look at Lester right now and think that outside of  the traditional big spenders, there's not much of a market for him if he's seeking six or seven years at an annual value north of $20MM. With players of this caliber, the market isn't always quick to reveal itself, but it does eventually materialize, and we typically see the top names get paid.
Lester has said free agency isn't all about the money, but I'd be surprised if his agents hadn't at least kicked around the goal of trying to break CC Sabathia's $161MM guarantee, which is still the record for a free agent pitcher. (The Yankees did spend $175MM on Masahiro Tanaka, but $20MM of that sum went to Tanaka's former team in Japan.)
Were Lester coming off a pair of dominant seasons, as Scherzer is, I think there would be a better case for that figure. As it is, however, he showed a significant gap between his two most recent dominant seasons. Also of note is that Sabathia, like fellow high-priced hurlers Zack Greinke and Cole Hamels, signed his contract at a significantly younger age than Lester. While we have to account for some inflation, as those deals are now older (and Hamels', of course, was not an open-market deal), Lester may have a hard time getting the seventh guaranteed season. Looking at the majority of the significant pitching contracts signed in recent history, guarantees typically stop in the age-36 season, if not sooner. If that's the case, Lester would need to achieve a $27MM annual salary to top Sabathia on a six-year deal, which seems a touch steep.
In the end, I do think Lester can top the marks set by Hamels and Greinke. Lester was the best performer among free agent pitchers in 2014, so I can't completely rule out him getting a seventh year and/or passing Sabathia's mark. However, his age and the lack of a consistently dominant track record has me pegging him for a six-year, $153MM contract.
Photo courtesy of USA Today Sports Images.