In December 2012, the Rays traded James Shields, Wade Davis, and Elliot Johnson to the Royals for Wil Myers, Jake Odorizzi, Mike Montgomery, and Patrick Leonard.  Myers was regarded as one of the best prospects in the game at the time, so the Royals paid a huge price to add Shields atop their rotation.  Big Game James anchored the Royals' rotation for two years, living up to his reputation as a workhorse and posting a 3.18 ERA for his new club.  Now, Shields enters free agency for the first time in his career.
Strengths/Pros
Shields has never been on the disabled list in his nine-year career and has served as the ultimate rotation workhorse.  Since 2007, Shields has averaged 231 innings and more than 34 starts per season, including the postseason.  This year for the Royals, Shields tallied 252 innings across 39 starts.  He tied for sixth in baseball with 227 regular season innings, and led the American League in 2013 with a similar total.  From 2013-14, Shields' 455 2/3 regular season innings ranks second in all of baseball.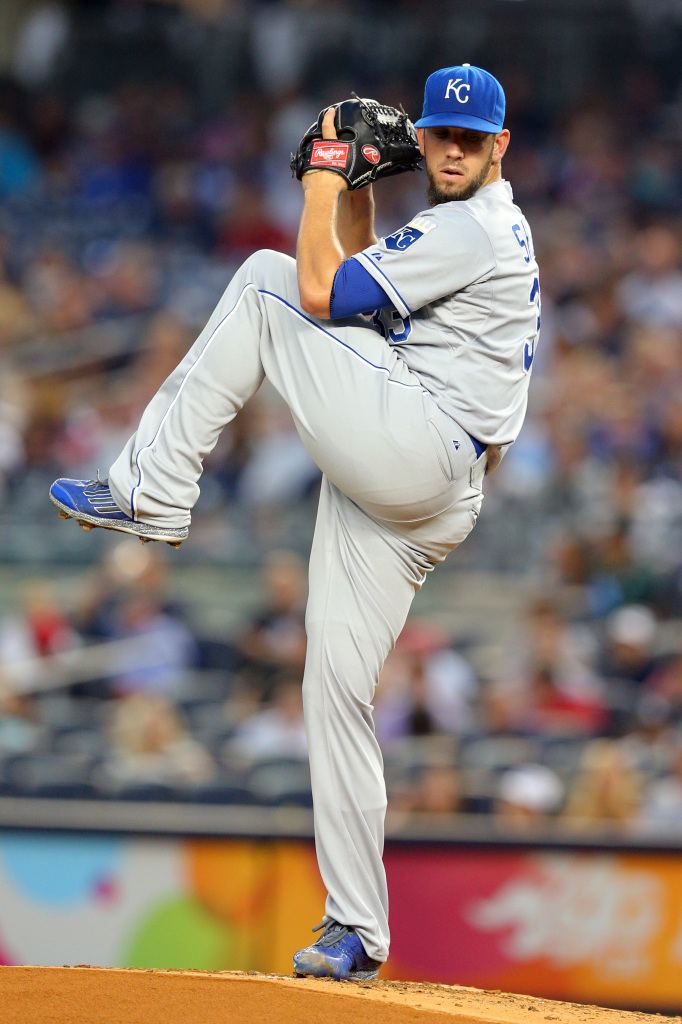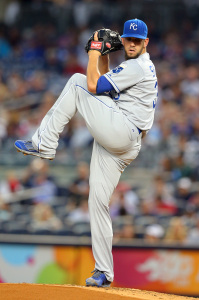 Shields' ability to go deep into games is a bullpen-saver, a trait that the pitcher finds very important.  This year in the regular season, he averaged 6.68 innings per start, which ranked 13th in baseball.  He was even better in the three years prior, averaging 7.06 innings per start.  Shields tied for the MLB lead with 27 quality starts in 2013, and tied for 10th with 24 this year.
It's not just about the innings with Shields, of course.  He's also a very good pitcher.  He has a 3.18 regular season ERA over the past two seasons, which ranked 23rd in baseball and 10th in the AL.  He was worth 8.2 wins above replacement in that time, 14th in MLB.  If we calculate WAR using Shields' actual runs allowed, he jumps up to 9.9, basically a tie for the seventh-best figure in baseball.  Whether or not Shields fits your definition of an ace, he'd be the best starting pitcher on a lot of different teams.
How does he do it?  One key attribute is Shields' stellar control.  He allowed only 1.7 walks per nine innings this year, 14th among qualified starters.  2013 aside, Shields has generally hovered around 2.3 walks per nine.  These days, he relies primarily on a four-seam fastball, a cutter, and a changeup.  Shields has generally been known for possessing one of the game's best changeups, and the numbers bear that out at least for 2011-13.
For someone like Jon Lester, his fastball velocity is trending downward, as you'd expect as a pitcher enters his 30s.  Shields, on the other hand, started his career working around 90 miles per hour and steadily increased to the point where he averaged a career-best 92.4 miles per hour in 2014.
Weaknesses/Cons
Shields has been one of the better pitchers in baseball over the last four seasons.  But where will he slot in over the next four or five?  The average American League starting pitcher this year posted a 7.35 K/9, 2.71 BB/9, 0.92 HR/9, 43.2% groundball rate, 3.92 ERA, and 3.89 SIERA.  Shields posted a 7.14 K/9, 1.74 BB/9, 0.91 HR/9, 45.2% groundball rate, 3.21 ERA, and 3.59 SIERA.  He was undoubtedly above average, owing to his control and innings total.  But he had a below average strikeout rate, and he wasn't anything special at preventing home runs.  His vaunted changeup seemed to go missing for the first two-thirds of the season, and he didn't look good in the playoffs, posting a 6.12 ERA and allowing 36 hits in 25 innings.
American League starters have stranded about 72.5% of baserunners over the past two seasons, while Shields has stranded 77.1%.  From 2006-12, Shields' LOB% was 72.6%.  If we assume his true talent is close to that of the league and the first seven years of his career, we might say he's been lucky to have left so many runners on base while pitching for the Royals.  That may account for much of the difference between his 3.68 SIERA and 3.18 ERA.  Shields' 3.68 SIERA from 2013-14 ranked 34th among qualified starters and is comparable to fellow free agent Ervin Santana (3.70, 37th).
Shields' strikeout rate bounced around in the 8.1-8.8 per nine range from 2010-12, but he's at 7.43 per nine over the past two seasons.  He's not missing a lot of bats relative to league average these days, and he allowed nearly a hit per inning in 2014 despite no anomalies with his batting average on balls in play.  The Royals were baseball's best defensive team for each of Shields' years with them, and leaving that defense could hurt him on balls in play.
Shields has been mostly a flyball pitcher outside of 2012, and in the first seven years of his career with the Rays he allowed 1.14 home runs per nine innings.  That came down to 0.85 per nine with the Royals, who play in a ballpark known for suppressing home runs.  Shields might be a bad fit for a place like Yankee Stadium or Minute Maid Park.
Shields turns 33 years old in December.  Max Scherzer will play most of next season at age 30, and Lester will pitch at age 31.  Aside from Jake Peavy and Hiroki Kuroda, all the second-tier starting pitchers are also younger.
Shields was one of four starting pitchers to receive a qualifying offer, and all of them figure to decline on Monday.  Potential suitors such as the Marlins, Yankees, or Giants would have to forfeit their first-round draft pick in 2015 to sign him.
Personal
Shields was born in Newhall, California and resides in Rancho Santa Fe, CA with his wife and two daughters.  He was offered a full scholarship to Louisiana State University out of high school, but chose to sign with the Rays instead.
You might be familiar with Shields' cousin, former White Sox, Phillies, and Giants outfielder Aaron Rowand.  Rowand gave cousin Jamie a wake-up call of sorts when the pitcher was in the minors.  "I was being kind of lazy and just trying to let my talent take over," Shields told Mark Gonzales of the Chicago Tribune in 2008.  The pitcher moved to Las Vegas for early morning training with Rowand and remembered his cousin telling him, "I'm going to show you how big leaguers really work and how to stay healthy every season and do what it takes to succeed in this game."  Shields owes a lot to his family, crediting older brother Jeremy for teaching him the changeup that set his career back on track following surgery for a benign cyst in his shoulder in '02.
James and his wife started the Big Game James Club in 2010, an initiative inviting foster children to Tropicana Field.
Market
Starting pitching is plentiful this winter, but Shields is the third-best starter and shouldn't require the six or seven-year commitments Jon Lester and Max Scherzer will.  He's a durable, veteran leader who soaks up innings and has ample postseason experience, if not a strong record in that arena.  The Royals will attempt to re-sign Shields, but otherwise the Red Sox, Cubs, Yankees, Twins, Astros, Angels, Giants, Mariners, Rangers, Braves, Marlins, Pirates, Diamondbacks, Rockies, Dodgers, White Sox, and Tigers may be looking for starting pitching in some capacity.  However, it's not likely all of those teams will be willing to make the kind of commitment it will take to sign Shields.
It's been suggested Shields is off the Yankees' radar, and likewise outside of Arizona's comfort zone, financially speaking.  Shields has been rumored as a potential fallback option for the Cubs, should they fail to sign Lester.  The Red Sox are an oft-cited suitor, though Nick Cafardo of the Boston Globe wrote in September that Shields would be "off the list" if he requires a five-year deal.  Boston reportedly topped out at an insulting four-year, $70MM offer to Lester in Spring Training, which would make a five-year offer exceeding $90MM to Shields seem inconsistent.
Expected Contract
Shields was drafted by the Devil Rays out of high school in the 16th round in 2000, and he never ranked among Baseball America's top 100 prospects.  He broke into the Majors at age 24.  After impressing in his first full season in '07, he signed a four-year, $11.25MM deal with the Rays that contained three club options.  He ended up earning about $40.5MM for seven seasons, the last two of which would have been free agent years.  Shields can hardly be blamed for locking in his first fortune at age 26, but now he finally has freedom to choose where he signs and to sign for his full market value.
Shields should not have a problem securing multiple four-year offers.  It is that fifth year, covering his age-37 season, that will be a sticking point for some clubs.  To find a free agent starting pitching contract of four of more years that included someone's age-37 season, you have to go back six years to Derek Lowe's deal with the Braves.  That remarkable four-year contract covered Lowe's age 36-39 seasons and was almost immediately regrettable.  That was the offseason the Yankees signed C.C. Sabathia and A.J. Burnett, leaving Scott Boras clients Lowe and Oliver Perez as the most desirable starters.  This free agent market is not set up that way, but I think Shields' reputation as a workhorse will net him that fifth year.  For a deeper look at where Shields fits in with historical free agent comparables like C.J. Wilson, John Lackey, and A.J. Burnett, check out Jeff Todd's excellent piece from March.
In some offseasons, Shields would have been the best available starter, but this winter he must contend with Scherzer and Lester.  Shields' average annual value depends on how he is viewed.  Some teams might see him as Scherzer/Lester lite, justifying a $20-22MM salary.  Others could view him as Ervin Santana plus, suggesting $18-19MM.  That's a fairly wide spread, but I'm going with a five-year, $95MM deal for Shields.
Photo courtesy of USA Today Sports Images.