THURSDAY: The deal also includes $1MM annually in assorted award-related performance bonuses, tweets Kiley McDaniel of Fangraphs.
TUESDAY, 4:25pm: Jon Heyman of CBSSports.com tweets the full breakdown: after earning the previously-reported $30MM total over the first three years of the deal, Stanton will take home annual values of $25MM (2018), $26MM (2019, 2020), $29MM (2021, 2022), $32MM (2023, 2024, 2025), $29MM (2026), and $25MM (2027).
The deal also includes a $25MM club option for 2028, which comes with a $10MM buyout to make up the remainder of the guaranteed value in the deal.
2:29pm: The highest annual salary in the deal is $32MM, Ken Rosenthal of FOX Sports tweets. As Rosenthal notes, that rate matches the biggest single hit in the Cabrera deal but falls shy of Mike Trout's highest-paid season.
12:31pm: ESPN's Jayson Stark reports that Stanton's contract is heavily backloaded — a structure which Stanton actually desired in order to leave the front office with flexibility to add significant pieces in order to contend in the immediate future.
Stanton will earn just $6.5MM in 2015, $9MM in 2016 and $14.5MM in 2017 before earning $77MM total over the following three seasons. In other words, should he opt out of his deal, he'll have received $107MM over six years (an AAV of $17.83MM) and be walking away from seven years and $218MM (an AAV of $31.14MM).
MONDAY, 4:40pm: Marlins owner Jeffrey Loria has confirmed the signing of Stanton to a 13-year deal, reports Manny Navarro of the Miami Herald. Loria called this a "landmark day" and noted, "It means everything to the franchise. We have a face of the franchise for the next 13 years." Loria said he expects Stanton to be a Marlin for the next 13 seasons. "I did this for the city, the fans, for Giancarlo, our team, for myself and for baseball," Loria told Navarro.
2:18pm: Andy Martino of the New York Daily News reports (via Twitter) that the deal has been finalized and a press conference will be held at 11am on Wednesday of this week to announce the extension.
10:27am: The Marlins and outfielder Giancarlo Stanton are in agreement on a 13-year, $325MM contract extension that will set the benchmark as the new largest contract in the history of professional sports, CBS Sports' Jon Heyman reports. While the deal hasn't yet been made official, Heyman reports that a press conference should be held later this week and "there is a clear understanding the deal will be finalized." Stanton is a client of the Wasserman Media Group's Joel Wolfe.
The extension contains a full no-trade clause and Stanton "will be able to opt out not long after he turns 30," according to Heyman, so it would seem that the opt-out clause can be triggered after the 2019 season, or after 2020 at the very latest.  Stanton just celebrated his 25th birthday on November 8.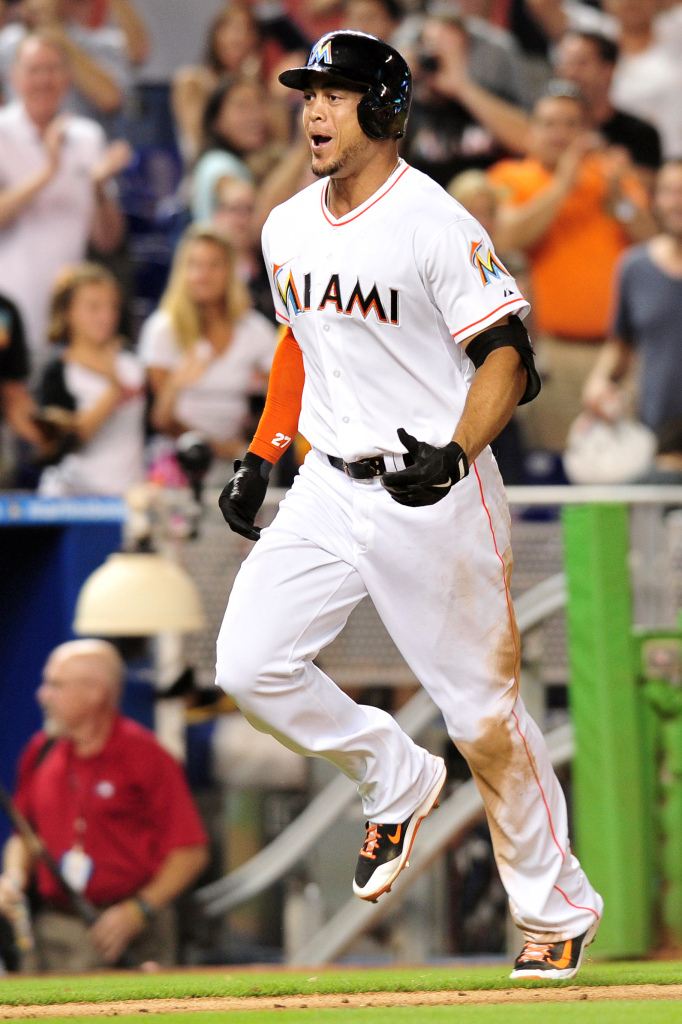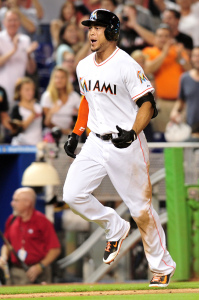 Stanton's groundbreaking contract will buy out 11 free agent years, valuing each of those seasons in the $26-27MM range, depending on how much he'd have earned in arbitration over the next two seasons (MLBTR contributor Matt Swartz had pegged him for a $13MM salary in 2015 alone). The new contract will run through the 2027 season, after which Stanton will be 37 years of age. Of course, that assumes that Stanton does not exercise the opt-out clause, at which point he could be able to seek an even larger annual commitment over a longer term, should he continue to perform as he has to this point in his career.
The runner-up to Clayton Kershaw in this year's MVP voting, Stanton finished the season with a .288/.395/.555 batting line and 37 home runs — a figure that tied his career best and also led the National League. Still just 25, Stanton has nearly five full seasons under his belt and has authored a .271/.364/.540 batting line with 154 home runs while playing many of his games in the pitcher-friendly Marlins Park. Defensive Runs Saved considers Stanton to be an excellent right fielder, pegging his career at +26 run. Ultimate Zone Rating has him at +14.3 — an average of 3.3 runs saved per 150 games. In total, Baseball-Reference.com values Stanton's career to date at 21.2 wins above replacement, while Fangraphs has him at 19.5 WAR.
Unlike many players that sign prodigious contracts, however, Stanton is not only being compensated for what he has done, but for what he could do in his prime. That he's yet to reach his prime is a frightening thought (particularly for Major League pitchers), and it's reasonable to think that Stanton's best years may not even have come yet. The Marlins will secure far more of Stanton's prime than most $200MM+ extensions do, and the team is well-positioned to take on a significant long-term deal, as MLBTR's Jeff Todd highlighted recently.
The question, of course, is how Marlins owner Jeffrey Loria will adjust the team's payroll going forward. The Marlins have operated on a payroll between $40MM and $60MM in four of the past five seasons, but such a sum won't be feasible if and when Stanton's annual commitment approaches or even exceeds $30MM per season. Stanton's extension appears to be as much a statement to the city of Miami that the Marlins intend to compete as it does a commitment to a clearly elite player.
By adding a no-trade clause, the Marlins have broken a club policy. The team's previous record contract was that of Jose Reyes, but Reyes was dealt to Toronto just one year after signing his $106MM contract, further fueling widespread skepticism and cynicism toward the organization anytime it signed or acquired a player. That trade also enraged Stanton, who candidly tweeted at the time that he was "pissed off." However, Stanton will have full say over his future, and it can even be argued that the Reyes/Mark Buehrle/Josh Johnson blockbuster helped set the stage for this extension, as it alleviated long-term payroll commitments for the Marlins and brought in talented, controllable names such as Henderson Alvarez, Adeiny Hechavarria, Justin Nicolino and Jake Marisnick, the latter of whom was a key component in acquiring Jarred Cosart.
The Marlins will now field a long-term outfield mix of Stanton in right field, Marcell Ozuna in center field and Christian Yelich in left field — a supremely talented trio that should hit near the top or in the middle of the team's batting order for the foreseeable future.  Miami also boasts an impressive group of young pitchers, including ace Jose Fernandez (who is recovering from Tommy John surgery), Alvarez, Cosart, and Nathan Eovaldi (to say nothing of top prospects Andrew Heaney and, eventually Tyler Kolek). Additional options that are in or potentially ready to pitch in the Majors include Tom Koehler, Anthony DeSclafani and Brian Flynn. GM Dan Jennings and president of baseball operations Michael Hill will be able to use that pitching talent as they see fit to field a strong rotation and perhaps to acquire young hitters in trades.
Stepping back and looking at the big picture, Stanton's $25MM average annual value certainly isn't a record, but the length and guarantee on his commitment certainly are. Currently, Miguel Cabrera is owed $292MM over the life of his contract, although that was actually a $248MM extension on top of two guaranteed contract seasons. In terms of the most amount of "new money" ever guaranteed on a contract, Alex Rodriguez's 10-year, $275MM contract set the bar prior to this deal. Other examples of $200MM+ contracts include 10-year, $240MM contracts to both Albert Pujols and Robinson Cano, a 10-year, $225MM extension for Joey Votto and a nine-year, $214MM pact for Prince Fielder. (Clayton Kershaw signed a seven-year, $215MM extension with the Dodgers last offseason as well.)
Stanton will surpass all of those impressive names in setting a pair of records that don't figure to be broken in the near future. Though he's been a fixture among trade rumors for the better part of four years, Stanton will ultimately remain rooted in Miami sports for at least the next several years and within the history books long after his days as a Marlin are done.
FOX Sports' Ken Rosenthal first reported that Stanton and the Marlins were discussing a deal in the 10-year/$300MM range.  Christopher Meola appears to have been the first to learn of the deal's finalization, as he tweeted the exact terms on Thursday night.