5:00pm: Jon Heyman of CBS Sports tweets that Cruz will earn $14MM per season plus his $1MM signing bonus, making it a four-year, $57MM deal.
DECEMBER 4, 11:09am: The deal is official, with the team announcing the signing today.
DECEMBER 1: The Mariners have agreed to a multi-year deal with Nelson Cruz, reports Dominican journalist Yancen Pujols (Spanish link). According to Pujols, it's a four-year, $57MM contract. ESPN's Jerry Crasnick hears that the deal is still pending a physical (Twitter link). Cruz is represented by agent Diego Bentz of Relativity Sports.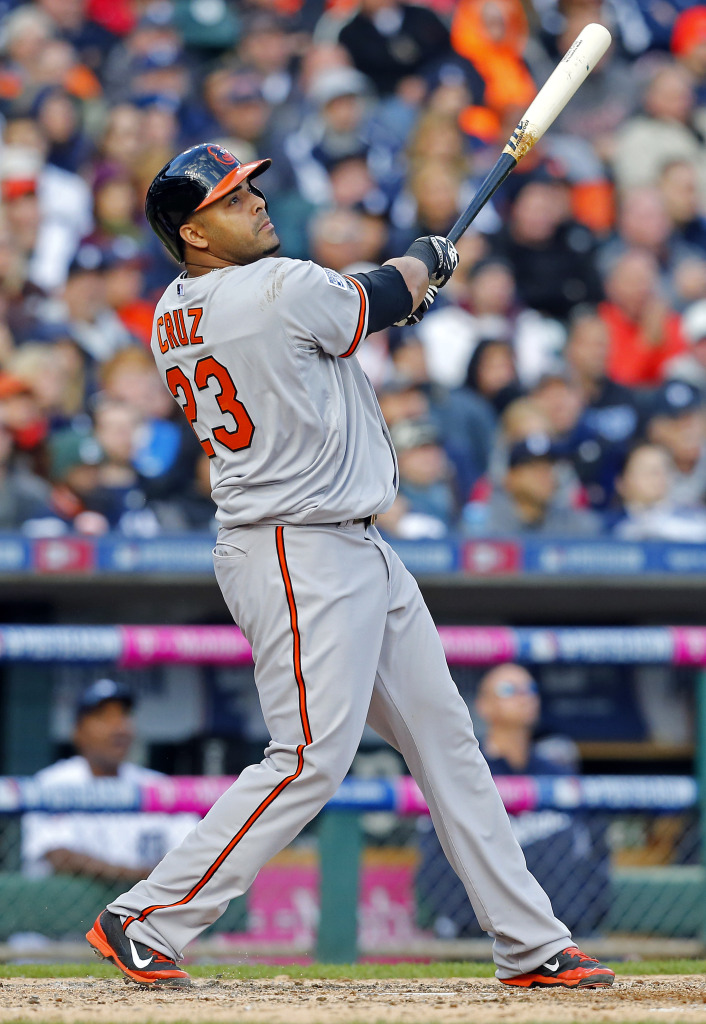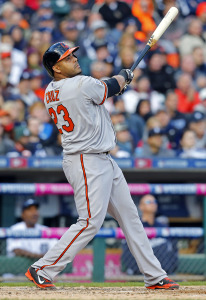 Cruz, 34, led the Majors in home runs this past season (40) while putting together an excellent .271/.333/.525 batting line. He ranked alongside Victor Martinez and Melky Cabrera as the best bats on the market this offseason, and he arguably provides the Mariners with the best power upgrade money could buy on the free agent market. Though he's never approached the 40 homers he hit in 2014 previously, Cruz boasts a lifetime .232 isolated power mark and has averaged 37 homers per 162 games since 2009.
Of course, he's also had difficulty staying on the field in that stretch. Cruz has a history of hamstring and quadriceps injuries in both legs, and he hit the DL for such maladies five times between 2010-11. He played a career-high 159 games in 2012 (a figure he matched in 2014) and was healthy in 2013 before a 50-game suspension cut his season short after he was connected to the Biogenesis PED scandal. Cruz admitted to making a mistake and taking a banned substance in 2012 after a bout with a bacterial infection called helicobacter pylori caused him to lose nearly 40 pounds in the 2011-12 offseason.
While many will forever connect Cruz to PEDs as a result of that infraction, he was tested extensively in 2013 and in 2014 without suspension, and he batted .269/.331/.518 in that time, so the Mariners are likely to have a significant offensive upgrade on their hands. He figures to see time in both right field and at DH with Seattle — two areas in which Seattle needed additional offense. Mariners DHs combined to bat just .190/.266/.301 last year, while their right fielders hit a pedestrian .255/.308/.413. Though the move to Seattle's Safeco Field would appear to be a detriment to his right-handed pop, both ESPN Park Factors and Baseball Prospectus Park Factors indicated that in 2014, Orioles Park at Camden Yards was actually less homer-friendly for right-handed bats than Safeco Field. That's not to say Cruz will repeat his career year, but the drop-off could be less significant than some are anticipating.
For all of the positives there are to say about Cruz's offense, however, there are negatives when it comes to his defensive value. Cruz played a passable left field in a small, 500-inning sample with the Orioles in 2014, but he's been below-average in right over the past four seasons and only figures to get worse as he ages. Given his history of leg injuries, it's more than fair to wonder how much outfield time he can handle in 2015 and how much of his offensive value will be negated by his defense. Of course, if he spends much of his time at DH, there's a chance he can still resemble the three to four win player he was in 2014.
The Mariners missed a Wild Card playoff berth by a mere game in 2014 after flirting with the idea of signing Cruz last winter but ultimately passing because they weren't interested in adding any PED-linked players. That line of thinking has clearly changed now. It's possible that Seattle decision-makers rightly realized that had they inked Cruz a year ago, they'd likely have made the playoffs. Whether that line of thinking justifies a four-year commitment to a defensively challenged player in his mid-30s is up for debate, but the M's have every reason to make aggressive plays for the 2015 and 2016 seasons, and Cruz should still be of significant help in those campaigns. This is the final season of Hisashi Iwakuma's contract, and superstar Robinson Cano is on the back end of his prime, so it makes sense for the Mariners to push for contention now, even if the moves contain some downside in the 2017-18 seasons, as this one likely does.
Cruz was also pursued heavily by the Orioles, but his former team wouldn't budge from its unwillingness to guarantee a fourth season. Now, they'll pick up a compensatory draft pick at the end of the first round next season, while the Mariners will surrender what would have been the 19th pick in the draft (they had been slated to pick 21st but moved up after the Mets and Blue Jays forfeited picks to sign Michael Cuddyer and Russell Martin, respectively). The departure of Cruz would seem to increase the chances that Nick Markakis will be back in Baltimore, and one would think it also lessens the likelihood of the Mariners acquiring Justin Upton from the Mariners — a player in whom they've reportedly shown interest. Speculatively speaking, Seattle could still pay a premium to acquire Upton as part of an aggressive run at the 2015 season, with Cruz spending most of his time at DH and Upton serving as the right fielder.
Photo courtesy of USA Today Sports Images.