Last week, Baseball America's John Manuel reported an 8.77 percent increase among draft pool allotments from 2014. That change was highly significant, as the draft pools only rose by a combined 1.7 percent from 2013 to 2014. Thanks to the data provided by BA, we're able to look and see which clubs will see the largest increase and largest decline from their 2014 pools.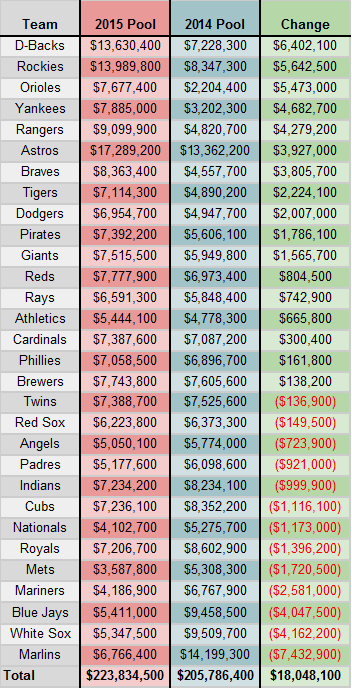 As you can see, the D-Backs, who selected 16th overall in 2014 but will have the No. 1 pick in this year's draft, saw the largest increase, adding more than $6MM to their allotment by virtue of their improved draft status. Meanwhile, the Mets, who forfeited their top pick — one of the highest unprotected picks in this year's draft — in order to sign Michael Cuddyer to a two-year contract, won't select until No. 53 overall and, as such, have the lowest pool among teams in this year's draft.
The Astros possess the largest pool of all, which shouldn't be surprising, considering the fact that they have the No. 2 and No. 5 overall selections based on their failure to sign 2014 No. 1 pick Brady Aiken and their poor record this past season. Houston also acquired a Competitive Balance Round A pick (No. 37 overall) from the Marlins in last summer's Jarred Cosart trade, which explains in large part why the Marlins' own draft pool is the most shrunken in all of baseball. Miami dropped from the No. 2 overall slot to the No. 12 overall pick in this year's draft as well, and they also had a supplemental third-round pick in 2014 for failing to sign 2013 third-rounder Ben DeLuzio, which they of course do not have in 2015. As such, their $7.4MM free-fall isn't exactly surprising.
In addition to the previously mentioned Mets, other clubs that signed players who rejected qualifying offers all saw decreases in their bonus pools as well. The White Sox (David Robertson and Melky Cabrera) saw a decrease of $4.16MM, the Blue Jays (Russell Martin) dropped by $4MM, the Mariners (Nelson Cruz) fell by $2.58MM, the Nationals (Max Scherzer) lost $1.17MM and the Padres saw a $921K decrease after signing James Shields.
Toronto's $4MM drop may seem steep since they did receive a comp pick in exchange for Cabrera signing with the White Sox, but the Blue Jays do not pick until 29th overall this season after selecting ninth and 11th in 2014. (Toronto had an extra first-round pick after not signing 2013 first-rounder Phil Bickford.)
Another team whose change is perhaps surprising at first is the Red Sox, who forfeited a pair of picks to sign both Pablo Sandoval and Hanley Ramirez but saw just a $150K decrease. However, it must also be noted that Boston leaped from 26th overall coming off a World Series to a protected pick — No. 7 overall — after their surprising fall to last place in the AL East. Likewise, the Twins signed Ervin Santana despite a qualifying offer and saw just a $137K drop. Minnesota's top pick, too, was protected, so the Twins instead forfeited their second-round pick to land Santana. They also picked up a Competitive Balance Round B pick in this year's Competitive Balance Lottery after not having a Comp Balance pick in 2014.
The only other players to reject qualifying offers last year were Victor Martinez and Francisco Liriano, both of whom re-signed with their previous teams anyhow. As for the rest of the teams to gain picks from qualifying offers, the Rockies ($5.6MM), Orioles ($5.5MM), Yankees ($4.7MM), Braves ($3.8MM), Tigers ($2.2MM), Dodgers ($2MM) and Giants ($1.6MM) each saw increases. The Royals, despite gaining a pick for the loss of Shields, still saw a $1.4MM dip, though that was due to dropping from 17th to 21st in the draft order and also missing out on a Comp Balance pick in this year's lottery.