The Astros escaped the cellar in the AL West last season, though they did so due largely to a barrage of injuries on what was expected to be a contending Rangers team. Nevertheless, Houston was a much-improved club in 2014, and they'll likely be even better in 2015 following an active offseason.
Major League Signings
Trades and Claims
Extensions
Notable Minor League Signings
Notable Losses
Needs Addressed
No bullpen in baseball recorded a higher ERA than Houston's alarming 4.80 mark last season, so it's hardly a surprise that GM Jeff Luhnow and his staff went hard after relief pitching this winter. The Astros added a pair of right-handed arms in Luke Gregerson and Pat Neshek. Together, the duo consists of one of the game's most consistent setup men over the past four years (Gregerson) and an upside play based on a somewhat surprising 2014 breakout (Neshek). Gregerson has made at least 61 appearances and logged an ERA of 2.75 or better in each of the past four seasons, and Neshek improved on solid numbers from 2012-13 to record a 1.87 ERA and a brilliant 7.56 K/BB ratio. The Astros were also reportedly the highest bidder for Andrew Miller at $40MM over four years, but the left-hander took $4MM less to join the Yankees' bullpen. Instead, the 'Stros eventually landed Joe Thatcher on a minor league deal to give them a potential bargain from the left side. Waiver claim Will Harris and his strong peripherals give them a promising candidate from the right side.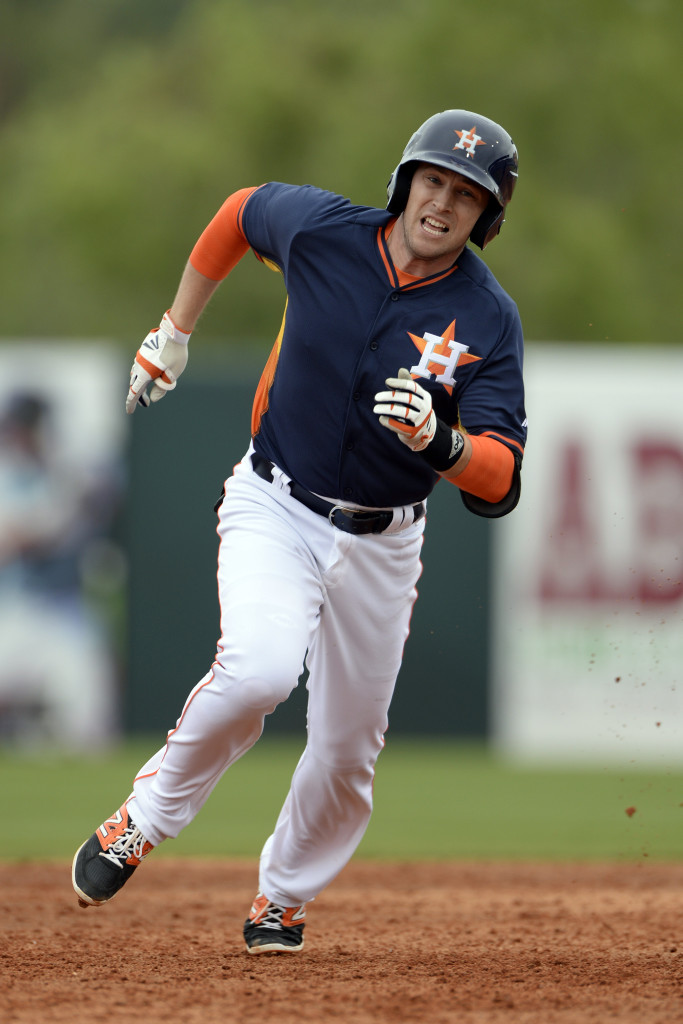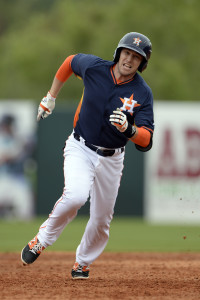 Though there are quite a few names in that last paragraph, that's only a fraction of the pitchers that were contacted by the Astros this offseason. Houston was said to have at least some dialogue with nearly every notable relief arm on the market at some point, even entering the mix for David Robertson before he landed with the White Sox.
Turning to the infield, there was a clear need on the left side. Jonathan Villar broke camp as the team's shortstop in 2014, but his .209/.267/.354 batting line led him back to Triple-A and resulted in Marwin Gonzalez and Gregorio Petit receiving playing time at shortstop as well. Whether the Astros were underwhelmed by the play of that trio or simply considered Jed Lowrie too good a value to pass up, the team struck a three-year deal to bring Lowrie back to Houston after a pair of seasons in Oakland. Lowrie will now join a lineup that features Chris Carter — one of the very men for whom he was traded in that Houston/Oakland swap (Brad Peacock and Max Stassi were also in the deal). Lowrie's defense isn't great, and he struggled with the bat in 2014, but he's typically been an above-average hitter when healthy. At just over $7MM annually, the price seems plenty reasonable, even if he'll eventually have to shift positions if and when Carlos Correa is ready for the Majors (perhaps as soon as 2016).
Third base was a black hole for the 2014 Astros, as Matt Dominguez and Petit saw all of the time at the position and combined to hit a miserable .212/.255/.321. The Astros were clearly aware of this fact and not necessarily keen on giving Dominguez another crack, as the team acquired Luis Valbuena in the Dexter Fowler trade with the Cubs. Valbuena can play second or third, but with Jose Altuve entrenched at the keystone, Valbuena seems destined for third base duty, pushing Dominguez to a bench role or possibly making him trade bait (he's still just 25).
The Fowler trade filled one hole but potentially created another, thinning out the club's outfield depth. However, the Astros likely viewed that move as an opportunity to acquire a commodity where the demand outweighed the supply — the free agent third base market offered little — in exchange for a commodity whose supply outweighed their own demand. Houston signed Colby Rasmus just days after trading Valbuena, likely indicating that they feel Rasmus can provide similar value to Fowler at a cheaper price ($8MM), whereas there were no suitable free agent options to fill their void at the hot corner.
Valbuena wasn't the only piece they added in that deal, though. Dan Straily's inclusion in the trade gives the Astros some rotation depth and a relatively young arm with huge minor league strikeout numbers that could push for a rotation spot as early as this season. The team added further depth in the rotation when it signed Roberto Hernandez to a minor league deal with a semi-steep base salary (at least for a minor league deal) of $2.65MM.
Some additional rotation depth was necessary, as the team had flipped Nick Tropeano for the defensively gifted Hank Conger. They'd also eventually deal well-regarded pitching prospect Mike Foltynewicz and righty Andrew Thurman in a trade to land Evan Gattis from Atlanta. Conger gives the Astros an upgrade from a defensive standpoint, while Gattis provides an emergency option at catcher plus depth in left field, at first base and at DH. In Gattis, Springer and Chris Carter, the Astros have a trio of right-handed sluggers that could mash 30 homers apiece in the middle of their lineup. That power is especially dangerous in Houston, given the 315-foot short porch down the left field line at Minute Maid Park.
Questions Remaining
The Astros enjoyed two of baseball's most unexpected breakouts in their rotation last season, as both Dallas Keuchel and Collin McHugh pitched at All-Star caliber levels and now look like vital (and controllable) rotation cogs going forward. They'll be joined by veteran Scott Feldman, who can soak up some solid innings in the middle of the rotation. Beyond that, however, the picture is muddled. Peacock won't be ready to start the season (not that he'd have been guaranteed a spot anyhow), leaving the remaining two spots to be divided between Brett Oberholtzer, Sam Deduno, Hernandez and Straily.
It's understandable, then, that the team tried to bring Ryan Vogelsong in for some stabilization, but the deal between the two sides fell through after Vogelsong took a physical. Vogelsong expressed some distaste for the Astros organization after the fact, and reports since then have indicated that the team lowered their offer after seeing red flags in his exam. Vogelsong would ultimately return to the Giants to serve as a long reliever, perhaps indicating that his medicals did indeed pose some cause for concern.
The remade bullpen now looks stronger with Gregerson and Neshek joining Chad Qualls atop the depth chart, but there's still a good deal of uncertainty beyond that grouping and lefty Tony Sipp. In particular, the team lacks a solidified second left-handed option, although a return to form for Thatcher would put that concern to rest and make his signing look like a shrewd move. Hernandez or Deduno could serve as a long man if they don't make the rotation, but the Astros seem likely to have two right-handed slots filled by a combination of unproven arms such as Josh Fields, Jake Buchanan, Will Harris and perhaps non-roster invitee James Hoyt. It should be noted that both Harris and Fields possess highly favorable peripheral stats, so a breakout for either wouldn't come as a significant surprise. Nonetheless, neither has established himself as a reliable bullpen arm in the Majors to this point.
While the Astros are rife with raw power up and down their lineup, they'll likely fall victim to strikeouts at one of the highest rates in baseball. Only the Cubs' 24.2 percent team strikeout rate was worse than Houston's 23.8 percent mark last season, and they've compounded the problem by trading for Gattis and swapping Fowler (21.4 percent strikeout rate in 2014) for Rasmus (33 percent). Valbuena and Dominguez, for those wondering, struck out at nearly identical respective clips of 20.7 and 20.6 percent last year.
So, while Houston will have its share of high-scoring games due to its powerful lineup, the combination of Rasmus, Carter, Springer, Gattis, Jason Castro and possibly Jon Singleton could lead to quite a few unsightly days at the plate — particularly against elite strikeout pitchers.
The defense, to some extent, could also be an issue. Lowrie isn't a gifted defender at shortstop, and while Rasmus has had defensive value in the past, he was well below-average in 2014. Perhaps better health will remedy that, but until it's demonstrated on the field, one can't help but wonder. The main reason that Atlanta was so willing to part with Gattis was that they feel he'll eventually be unable to continue catching due to his size and is also a terrible outfield defender. In Houston, the catching will be handled by Castro and Conger, leaving Gattis without much of a position and leaving the team with a potential dilemma at first base/DH if Singleton, Gattis and Carter are all healthy and productive by the end of Spring Training. Gattis could play left field, but that would negate a good deal of his offensive value. Playing Rasmus and Marisnick in left and center would be a significant defensive upgrade.
Still, that would create a logjam at first base/DH, which is likely the reason that ESPN's Jayson Stark hears that teams in need of offense are monitoring the Astros; Stark reported this week that Carter could become available should Singleton win the job at first and Gattis remains healthy.
Deal of Note
Neshek's contract with the Astros would've seemed borderline unthinkable a year ago at this time, as the submariner was in Spring Training on a minor league deal with the Cardinals. His incredible 1.87 ERA and 7.56 K/BB ratio in last year's All-Star campaign was an excellent story and led to the first multi-year deal of his career.
While we don't know exactly what Rafael Soriano will sign for this offseason, he seems extremely likely to fall shy of Neshek's deal. Meanwhile, an established closer like Francisco Rodriguez barely topped Neshek's guarantee despite having an extra year on his contract and being two years younger. Neshek also topped Jason Grilli and stacked up favorably with fellow Meister Sports Management client Sergio Romo, despite Romo's stronger track record.
The Neshek contract this offseason serves as a reminder to fans who may have rolled their eyes at minor league deals for unheralded players this past offseason; these deals rarely turn out like Neshek's, but a select few seem to go this way each offseason, and the success experienced can lead to tremendous rewards for the team in 2015 and the player the following winter.
Overview
The Astros come away from the 2014-15 offseason with a remade bullpen and an improved left side of the infield, both of which should help to repair two of the team's biggest flaws from the 2014 season. While the rotation looks to be a question mark still, it's not out of the question that top prospect and former No. 1 overall pick Mark Appel could surface in the Majors and help solidify that group. Appel looked lost for much of 2014, but rumors of his demise were tremendously overstated, as he left a dismal Class-A stint behind him to post a 3.69 ERA with 8.8 K/9 and 3.0 BB/9 in 39 Double-A innings. Appel ranks 35th or better on the Top 100 prospect lists of Baseball Prospectus, Baseball America, MLB.com and Fangraphs, where he peaked at No. 18.
Owner Jim Crane has expressed the ambitious goal of reaching the playoffs this season, and while many skeptics will scoff at the notion, the Astros have a wealth of interesting young players in addition to several offseason pickups that could help them remain competitive in the AL West. While they're certainly not a favorite to do so, some combination of sustained success from Keuchel and McHugh plus steps forward from Springer and Singleton, along with rebounds from Castro, Lowrie and Rasmus, could make the club more dangerous than most are willing to expect.
The Astros made a 19-game improvement from 2013 to 2014, and they could take a step forward toward the .500 mark in 2015 if everyone stays healthy. By 2016, enough members of the team's vaunted farm system — including Correa, Appel, Springer and Singleton — may have graduated to the Major League level that the Astros could make a push toward a playoff spot.
Photo courtesy of USA Today Sports Images.