The Royals snapped a 28-year postseason drought with quite a bit of flair, enjoying a dramatic comeback win over the A's in the AL Wild Card game. The victory kicked off an eight-game win streak that brought them to the World Series, where they fell just shy of the ultimate prize in a seven-game classic with the Giants. They'll look to return to the playoffs in 2014, but they'll do so with a fairly different cast of characters following an active winter.
Major League Signings
Edinson Volquez, SP: Two years, $20MM with a $10MM mutual option ($3MM buyout)
Kendrys Morales, DH: Two years, $17MM with an $11MM mutual option ($1.5MM buyout)
Alex Rios, OF: One year, $11MM with a $12.5MM mutual option ($1.5MM buyout)
Luke Hochevar, RP: Two years, $10MM
Kris Medlen, SP: Two years, $8.5MM with a $10MM mutual option ($1MM buyout regardless of which side declines)
Jason Frasor, RP: One year, $1.25MM with a $2MM mutual option ($550K buyout)
Chris Young, SP/RP: One year, $675K
Yohan Pino, SP: One year, unknown amount (presumably at or near league minimum)
Total Spend: $68.425MM
Trades and Claims
Extensions
Notable Minor League Signings
Notable Losses
Needs Addressed
The Royals entered the 2014-15 offseason with two key free agents — James Shields and Nori Aoki — and a decision to make on Billy Butler's $12.5MM option. The decision was made to buy out Butler's option for $1MM, essentially signaling that the Royals didn't feel he was worth $11.5MM on a one-year deal. As for Shields and Aoki, both were allowed to test the waters of the free agent market, and both signed in the NL West (San Diego and San Francisco, respectively).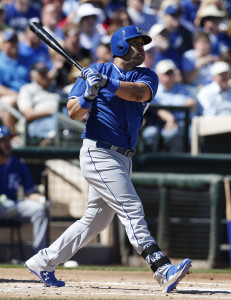 Now with three critical spots to fill — right field, DH and a starting pitcher — the Royals opted to diversify their risk by spreading out their offseason budget over the course of several one- and two-year deals. Mutual options — which are almost never exercised by both parties — were used as an apparent accounting tactic by GM Dayton Moore and his staff, as the team handed out five such options, likely in order to defer some money rather than commit to spending the entire $68MM+ over the next two years. The glut of mutual options comes with $7.55MM worth of buyouts that can obviously be delayed until after the 2016 season, somewhat lessening the immediate financial ramifications of Kansas City's spending.
Structure wasn't the only similar thread running throughout Kansas City's offseason contracts, however. The Royals also employed a similar philosophy with many of these contracts. That is to say, they bought low on a surprising number of players. Kendrys Morales and Alex Rios both performed poorly in 2014, while Kris Medlen and Luke Hochevar didn't throw so much as a pitch in the Majors due to spring Tommy John surgeries.
A healthy Hochevar would both replace and likely outperform the departed Aaron Crow, if Hochevar is able to pitch anywhere near the level he did in 2013. Jason Frasor's bullpen spot was filled by none other than Jason Frasor, who re-signed and will again contribute to what should be a very strong relief group.
Volquez was signed to fill Shields' rotation spot, though not necessarily his production. However, it's worth noting that both rWAR and RA9-WAR value Volquez and Shields similarly, as both produced excellent bottom-line results in 2014. Clearly, Volquez lacks the track record of Shields, and his peripheral stats are far more concerning. However, while Volquez detractors who point out that much of his success was due to Pittsburgh's excellent defense and expansive home park may have a point, those same claims can be made about the Royals. It's not unreasonable, then, to think that Volquez could produce another solid ERA mark, if his newfound control can be repeated.
The addition of Pino on a Major League deal was a surprise, and perhaps the Royals wouldn't have extended that offer had they known that Young would be available for $675K some four months later, but there's little financial commitment here, and the pair gives Kansas City some rotation depth and a pair of candidates for long relief in the event of an injury to a starter. Cheap rotation depth is never a bad thing, and in Young's case, the same caveats that applied to Volquez's success apply to his own 2014 triumphs; it's difficult to imagine a decisively better landing spot than Kansas City for a fly-ball pitcher with questionable peripherals.
But, perhaps the best lottery ticket purchased by Moore and his staff this offseason was Medlen, who could be ready to join the rotation (or bullpen) by midseason, which gives the Royals an excellent contingency plan in the event that a starter falls to injury. Moreover, with Jeremy Guthrie set to hit the open market following this season, Medlen will have a rotation spot open for him in 2016, when he is presumably back to full strength. A healthy Medlen is one of the more underrated pitchers in baseball — career 2.95 ERA, 3.23 FIP, 3.39 xFIP in 512 2/3 innings — and Kansas City's stellar defense and spacious park should offset the transition from the NL to the AL.
The extensions for Hosmer and Herrera didn't buy out any free agent years, and both will still be arbitration eligible after those deals are finished, but the club did spare itself some negotiation time next winter and attain a degree of cost certainty, which could be significant if Hosmer puts together a big season.
Questions Remaining
For all of the work the Royals did, there are still plenty of question marks surrounding this team. As noted above, the Royals bought low on a number of players, but they did so by paying a higher price than one might typically expect for bounceback candidates. Morales was one of baseball's worst hitters in 2014, and while his contract could look like a bargain if he returns to his 2013 form, it could also look disastrous — particularly for a payroll-conscious team like Kansas City — if he cannot improve upon last year's lack of production. (Also of note on the Morales deal, it's worth pointing out that despite a putrid 2014 season, he will earn about $24.5MM from 2014-16 — a sum that is not wildly lower than the three-year, $30MM which he was criticized for rejecting in July 2013).
Rios was plagued by a thumb injury in 2014 that may have contributed to the disappearance of his power. Jumping to Kauffman Stadium doesn't figure to boost his power numbers any, though better health may allow him to reach double-digit homers. Even if his bat bounces back, Ultimate Zone Rating gave him a negative mark in right field last year, and Defensive Runs Saved has given him negative marks in both of the past two seasons. Obviously, his defense could rebound, but Rios is also at the age where it wouldn't be a surprise to see his glove-work begin to deteriorate.
The Royals will also be counting on a rebound from Omar Infante in the second season of his four-year contract, as the 32-year-old's .252/.295/.337 batting line was his worst since 2005. On the other side of the diamond will be the confounding Mike Moustakas — an elite defender with notable power but feeble numbers versus lefties and a proclivity for infield flies. Moustakas would seem, on the surface, to have the tools of a star-level player, but he's never hit consistently in the Majors. The same is true, albeit to a lesser extent, with Hosmer, who has shown flashes of the elite hitter he was projected to be but has never sustained that production for a full season. The fate of the 2015 Royals lies largely in the hands of their talented but inconsistent corner infielders.
The bullpen, of course, is among the game's best, thanks to the late-inning triumvirate of Greg Holland, Wade Davis and Kelvin Herrera. A return to form for Hochevar would only strengthen that group, and bringing Frasor back was a strong low-cost move. However, the Royals will be without their top lefty, as Tim Collins is out for the year following Tommy John surgery. It's possible that the injury will open a door for Brandon Finnegan, who was a force out of the bullpen in 2014. However, Finnegan, their top pick from last year's draft, is viewed as a starter long-term, so the role may yet be given to Brian Flynn or a non-roster invitee like Franklin Morales or Joe Paterson.
Looking to the rotation, there's no question that the loss of Shields will hurt, and Guthrie's peripheral stats have indicated that a collapse could be imminent for years (though 2014 was his best season in quite some time). Whether or not Yordano Ventura and Danny Duffy can take steps forward will be a critical component for this team.
Deals of Note
For all of the transactions made by Moore and the Royals this winter, the first one they made strikes me as the most curious. Declining Butler's option seemed understandable from a statistical standpoint, given a two-year offensive decline and lack of defensive value. However, the fact that he signed a three-year, $30MM contract with the A's seems to suggest that Butler likely would have had some legitimate trade value at one year and $12.5MM.
Oakland's winning bid indicates that at least one other team had to be willing to pay somewhere in that neighborhood, and his option was valued at just $2.5MM higher than his eventual AAV, but with two fewer years of risk. Perhaps the Royals would only have gotten something of nominal value in return — similar to their own acquisition of Ervin Santana in exchange for Robert Fish two offseasons ago — but it does appear that there may have been an opportunity there.
Overview
As is the case in any offseason, it's admittedly unfair to look back with the benefit of hindsight, but I can't help but point out that the Royals spent $11MM on Rios when Aoki signed in San Francisco for a total of $4.7MM on a one-year deal. And, the ~$69MM total spent this offseason is just $6MM shy of the figure for which Shields signed in San Diego.
Clearly, there's merit to spreading out the risk and shortening its length, as Kansas City did, but the club's detractors will no doubt wonder if the team would have been better served spending about $80MM to retain Aoki and Shields than rolling the dice on so many uncertainties. While that path may have necessitated taking a minor league flier at the DH position, one could argue that there's greater upside in taking that type of gamble on Ryan Ludwick or Juan Francisco than in giving Morales $17MM.
But, the risk of the Morales investment is somewhat of a microcosm of the entire Royals offseason. Diversified risk and deferred spending (in the form of backloaded deals and mutual options) characterize this past offseason, and Medlen's contract in particular was one of the best low-risk signings of the winter in my eyes. If even a couple of the short-term deals issued by the reigning AL Champs pan out, they'll be well-positioned in what should be a competitive AL Central.