The Phillies officially embarked on a rebuilding effort, but several key trade chips remain with the organization as the season approaches.
Major League Signings
Notable Minor League Signings
INF Andres Blanco, OF Brian Bogusevic, INF/OF Russ Canzler, SP Paul Clemens, OF Chase d'Arnaud, RP Jeanmar Gomez, OF Jeff Francoeur, C John Hester, C Koyie Hill, OF Darin Mastroianni, 1B Chris McGuiness, 3B Chris Nelson, SP Sean O'Sullivan, INF/OF Cord Phelps, SP/RP Kevin Slowey
Trades And Claims
Extensions
Notable Losses
Mike Adams (declined club option), Antonio Bastardo, A.J. Burnett (declined player option), Marlon Byrd, Kyle Kendrick, Wil Nieves, Jimmy Rollins
Needs Addressed
This winter, for Philadelphia, addressing needs meant opening up holes on the big league roster in exchange for salary relief and youth. Simply put, none of the team's trades made sense from the perspective of competing in 2015. To the contrary, each obviously made the team worse in the near term — but all fit in the bigger picture.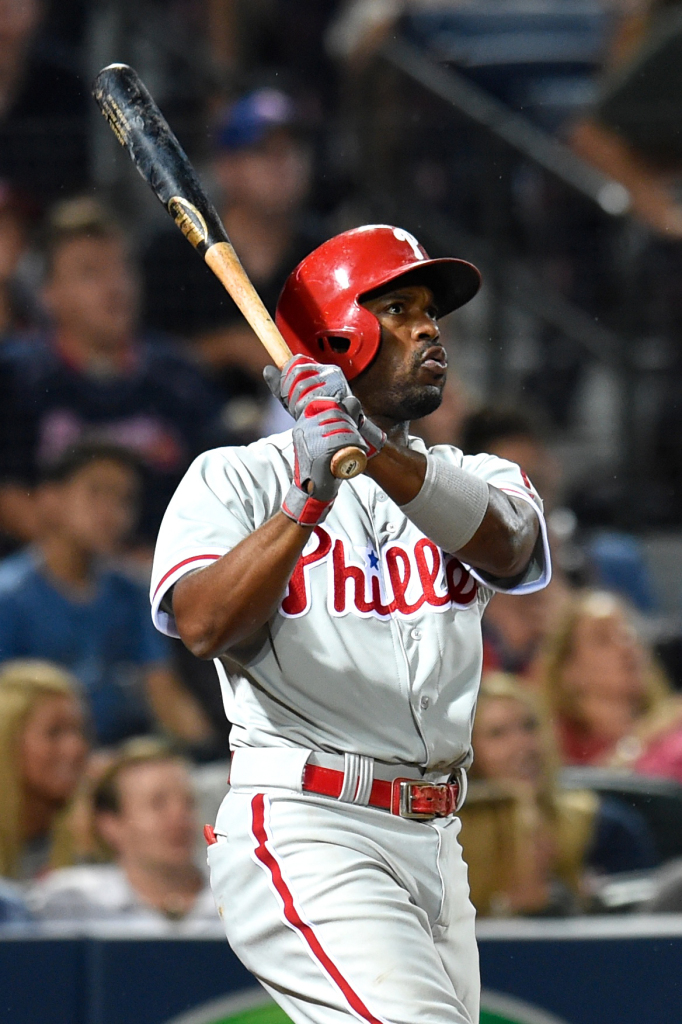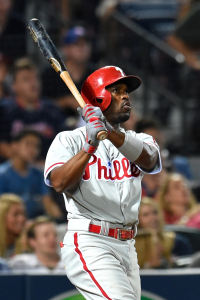 In addition to the public comments of newly-rehired club president Pat Gillick and GM Ruben Amaro Jr., dealing away franchise cornerstone Jimmy Rollins was the surest sign yet that the organization is committed to turning over its roster. Though it had been unclear whether the still-productive veteran would waive his no-trade clause to facilitate a deal, he ultimately chose to accept a move to the powerful Dodgers.
Of course, it was the long-anticipated parting with useful lefty Antonio Bastardo that kicked things off. And by the time he and Rollins were gone, a deal involving the aging Marlon Byrd seemed all but inevitable, and it was not long before he was ticketed for Cincinnati. Of course, that same reasoning seemingly applied to several other key veterans; yet, as discussed further below, that trio is as yet unaccompanied in departing.
Regarding the return on those assets, only time will tell whether Amaro chose wisely. Certainly, none of the players acquired appear to have terribly impactful futures in store. The cumulative haul, however, added a good bit of depth to the organization's pitching ranks, together constituting the type of move that could pay dividends down the line by enhancing flexibility and limiting the need to pay market rates to fill out the roster.
Rollins, Byrd, and Bastardo were once key components on the active roster, of course, so replacement options had to be found. At short, Freddy Galvis figures to take the majority of the innings, but that just opened a utility role on the bench. The club brought in a variety of infielders on minor league deals to join the mix with the versatile Cesar Hernandez. Another possibility to see time in a utility capacity is Rule 5 pick Obudel Herrera, an infielder in Texas who is learning to apply his speed on the outfield grass.
As for the outfield, Grady Sizemore profiles as a more-or-less direct replacement for many of Byrd's plate appearances from the corner. Otherwise, the team appears to be staging an open competition among numerous non-roster veterans to take on outfield bench roles. And three of the team's offseason additions — Joely Rodriguez, Elvis Araujo, and Rule 5 pick-up Andy Oliver — were added to join Mario Hollands in filling the lefthanded relief void in Bastardo's wake. Rodriguez and Araujo have already been optioned to Triple-A, and Hollands was just shut down with a tendon injury, leaving Oliver looking good to crack the MLB roster as the second lefty.
Likewise, departing starters Kyle Kendrick and A.J. Burnett — the latter of whom declined his $12.75MM club option to sign for nearly $5MM less with the Pirates — left rotation innings to be filled. Philadelphia opted to bring in the durable Aaron Harang and veteran swingman Jerome Williams while rolling the dice on a return to form for the injury-addled Chad Billingsley.
Taken as a whole, it is obviously hard to get excited about the new additions to the Philly roster. It was remarkable that Sizemore was able to return to a big league level of play last year after his long run of injuries, but entering his age-32 season after a more-or-less replacement level 2014, there is little reason to think he can make it all the way back to his former All-Star form. Likewise, Harang seemingly offers good value after a strong effort last year, and could conceivably bring a return at the trade deadline, but he does not offer much in the way of upside.
More might be hoped for from the talented Billingsley, who is still just 30 years old, but he has racked up all of 12 innings since the 2012 season and still needs to answer a lot of questions before he can even get back to the bump in a major league game. It's a modest risk at $1.5MM, though Billingsley can bump his earnings up an additional $5MM through incentives. Philadelphia would gladly pay that if it can get innings from the veteran righty, who at least offers some possibility of bringing back real value if he can establish himself heading into the summer.
Questions Remaining
Once again, it is worth separating the club's forward-looking situation from its immediate needs in 2015. With the focus on 2016 — or, perhaps, beyond — we'll start with the former.
By kicking in a significant amount of cash to accompany Byrd (and, to a lesser extent, Rollins), the large-budget Phils evidenced a willingness to buy down contracts to improve the marketability of their costly veteran player assets. But the divestiture process slowed after early progress, and at present seems all but stalled.
Looking at the books as things stand, a half-dozen players stand out for their experience and cost on an admittedly rebuilding team: Cole Hamels ($96MM over four years + vesting option), Ryan Howard ($60MM over two years + club option), Cliff Lee ($37.5MM over one year + vesting option), Jonathan Papelbon ($13MM over one year + vesting option), Carlos Ruiz ($17.5MM over two years + club option), and Chase Utley ($15MM + three successive vesting options). The star power of that group is undeniable. In both 2008 and 2009, those six players combined to produce better than 25 fWAR (not all with Philadelphia, of course). But those days are long past: in each of the past two seasons, this group has been valued at about 15 fWAR. That's still plenty useful, of course; then again, Philadelphia owes $105MM to the above-named players for 2015 alone.
Clearly, it was never realistic to expect this organization — fresh off a big new TV deal that should maintain the club's spending advantages — to part with all of its veterans in one fell swoop. And practicalities such as the size of the deals and a variety of restrictive no-trade clauses also present barriers. Nevertheless, it is fair to question, as many have, whether more could have been accomplished over the offseason. Likewise, one of the two biggest questions currently facing the franchise is whether, when, and how it will cash in those player contracts. (The other? Its ability to acquire and develop a new wave of young talent.)
Hamels, of course, has drawn the most attention; winter rumors involving the Red Sox alone could fill a book. Amaro has repeatedly maintained that he has no intention of simply taking what he can get for the 31-year-old lefty, with reports suggesting that the club is looking for impact prospects and is disinclined to cover much (if any) of the remaining dollars left on the deal.
It is hard to judge this situation without knowing what has been offered, but it seems to me at least that there has been a rush to come down hard on Amaro. Hamels is clearly a valuable asset, in spite of his substantial contract, and the team would be doing little more than bowing to public pressure were it to part with him for young players that it did not believe in. Of course, he is not terribly young, and the risk of injury and/or performance decline cannot be ignored. But Philly can certainly afford Hamels, and it is at least plausible to think that holding him for the trade deadline (or, later this spring) is preferable to taking whatever might currently be on the table.
That has not stopped many from pointing to the recent experience with Lee as a sign that the Phillies are foolish for not auctioning Hamels immediately. The veteran ace seems all but certain to take home his last $37.5MM from the club without bringing any trade value in return — if he comes back to pitch again at all. But every arm is different, and it seems the real lesson from Lee is less about dodging the risk of injury than it is about realizing when the a team's competition window is closed.
Regardless, losing the possibility of achieving any value from Lee is a big loss for the Phils. Howard and Papelbon could still bring back some cost savings and/or useful pieces. The former could still be a desirable player to roster, especially for an AL team, but is owed so much that the club will need to eat a huge amount of money to deal him even if he does perform. Papelbon, at least, comes with some flexibility at this point, particularly since he has remained quite productive despite a drop-off in his fastball velocity. A big first half could make the 34-year-old an attractive target at the deadline, when relief pitching has by far its greatest value and by which time an acquiring team may be more comfortable with his vesting option. (If he has performed well enough to that point, the idea of a $13MM salary may not be so terrible; if not, the Phillies can drop him from the closer's role in favor of young fireballer Ken Giles to avoid being on the hook.)
It is at least somewhat interesting that we have heard very little on the possibilities of trades involving the team's two other highly-paid veterans, Ruiz and Utley. That could be because the front office decided not to trade the pair of holdovers from the organization's glory days — or, at least, not to market them. On the other hand, both were above-average regulars last year, and could well hold fairly significant appeal to contending clubs this summer.
The relatively younger, relatively less expensive portions of the roster are not without issues, either. Domonic Brown is entering a make-or-break season after following his strong 2013 with a terrible effort last year, though he could start out on the DL with tendinitis in his left Achilles tendon. And fellow outfielder Ben Revere needs to prove that he can hit for a high enough average and play good enough defense to make up for his lackluster on-base and power numbers. Depending upon how things play out, either could conceivably be viewed as a piece of the future, dealt, or non-tendered after the season.
Corner infield also figures to be an area to watch in 2015. Entering his age-25 season, Cody Asche still has a lot to prove at the hot corner but did at least demonstrate that he is not overmatched by MLB pitching. Coming up behind him, of course, is the highly-touted Maikel Franco. Still just 22, Franco seems ticketed for Triple-A to start the year but could push his way onto the roster at some point. He was not dominant in his first run at the highest level of the minors last year, struggled in a brief call-up, and could ultimately be shifted across the diamond to first. Of course, a combination of Howard and Darin Ruf currently occupies that role, so the team's actions with regard to Howard and the progress of Asche, Ruf, and Franco this year could go a long way toward pointing the future at those positions.
Up the middle, the team is probably in something of a holding pattern. Until we hear otherwise, Utley and Ruiz remained entrenched at second and catcher, respectively. And Galvis will likely keep the seat warm for top prospect J.P. Crawford, who is still just 20 years of age and has not seen action above the High-A level.
On the other side of the equation, the rotation is a huge question mark heading into the season. The focus will remain on Hamels, no doubt, unless and until he is dealt. Behind him, Harang and Williams are at least known quantities, and can be counted on to sop up innings. Billingsley represents a wild card, with Lee a mere lottery ticket at this stage. 25-year-old David Buchanan seems fairly assured of a slot after a sturdy debut campaign last year, though he appears to be a back-of-the-rotation type. The aforementioned Rodriguez, a 23-year-old picked up in exchange for Bastardo, was said to be in the running to take the fifth slot out of camp but was recently sent down. Otherwise, some combination of Kevin Slowey, Miguel Gonzalez, Paul Clemens, and Sean O'Sullivan could be deployed. Top 2014 draft pick Aaron Nola looks like a quick mover, but was not invited to big league camp and probably will not figure into the club's plans this year unless he advances even faster than expected. All told, there is immense uncertainty in this unit, which has the potential to be downright awful — particularly if Hamels is taken out of the equation.
If there is a clear bright spot at present, it may lie in a bullpen that now features not only the veteran Papelbon, but a rising closer-of-the-future in Ken Giles. It remains to be seen whether the Phils will look to move Giles into the 9th inning this year, but he was rather dominant as a rookie last season and certainly profiles into that role. Jake Diekman, a lefty, also possesses intimidating stuff and could combine with Giles to form a devastating combination for years to come. Justin De Fratus put up impressive numbers last year as well, and will look to establish himself as part of that group. There are several other options, many of them mentioned above, with the two most interesting being Gonzalez and fellow righty Phillippe Aumont. The former has shown little sign of delivering on the three-year, $12MM deal he signed out of Cuba last year, while the latter is the last man standing from the 2009 deal that sent Lee to the Mariners. Now out of options, Aumont will need to produce or will likely end up on the waiver wire.
Deal Of Note
Jimmy Rollins unquestionably belongs on the Phillies' list of all-time greats after racking up over forty five wins above replacement and an MVP award in 14 seasons with the club. Over his tenure, he compiled a .267/.327/.424 slash with 216 home runs and 453 stolen bases, adding value with his glove all the while.
Indeed, there's an argument to be made that Rollins will ultimately deserve a place in Cooperstown. He ranks among good company statistically: 20th lifetime in fWAR for a shortstop, nestled amongst several Hall of Famers. A few more quality seasons could put Rollins over the top. Barring a future reunion, however, he'll make that run wearing another team's uniform.
Trading a player of that magnitude is never easy, particularly when you have to eat some salary and do not receive a projected impact player in return. While it obviously made sense in theory for the Phillies to cash in a veteran asset, there is some potential for regret here. For one thing, the club still has some ways to go before handing the position over to the heir apparent (Crawford), who must still prove himself in the upper minors and the bigs. For another, any mid-season shortstop needs that arise around the league could look like missed opportunities to have extracted more value.
Ultimately, while Amaro has been panned for his supposed unwillingness to take a fair price for Hamels, his commitment to breaking up the team cannot really be questioned after the Rollins deal.
Overview
The Phillies got started on a future plan this winter, even if it came one year too late. It's still fairly early in the process, and the near-term looks rather bleak, but it should be recalled that Philadelphia's rebuilding project will benefit from the team's substantial spending capacity. That will not only open opportunities to acquire high-level young talent, but should enable the team to ramp up quickly when it sees the light at the end of the tunnel.
Amaro's decision to exercise patience in moving veteran assets has drawn a good bit of ire, as has become common for most any moves he makes. But the fact is that Philadelphia is not only well-suited to carry large financial obligations while it searches for fair value, but also is likely unwilling to completely gut its big league roster — and risk even greater attendance decline — just to be rid of its most recognizable players. While a spring deal or two remains possible, it could be that the team will wait until the trade deadline, if not beyond, to send out a few more big contracts.
Of course, trades are not the only way to add young talent, and neither is the annual amateur draft. It is at least somewhat notable, then, that the Phillies did not end up landing any of the top international players this offseason, despite the fact that the international market arguably represents the best chance for large-market clubs to gain an edge in the acquisition of young talent. The club was said to be the top pursuer of Yasmany Tomas, but ultimately backed off — perhaps because Gillick was not on board with that signing. Likewise, Philadelphia had at least some interest in Yoan Moncada, but never seemingly entered the bidding picture. Neither was the team one of those that busted its international bonus pool allocations by signing July 2 prospects or other recent Cuban defectors. Amaro has said that he intends to be "very aggressive" in the international arena, and it could still be that the club is set to do just that — while several other big-spending clubs serve out two-year periods of strictly limited international spending.
All in all, it is far too early to judge the organization's still-fledgling efforts to chart a new course. There is little doubt, particularly in retrospect, that it waited too long to shift its gaze to the horizon — and paid for that by losing the chance of cashing in on Lee. But money talks in baseball, as elsewhere, and Philadelphia still has plenty in its war chest: having opened last year with nearly $180MM in payroll, the club has just $76MM committed for 2016, $34MM on the books for 2017, and only $23.5MM promised beyond that.
Photo courtesy of USA Today Sports Images.